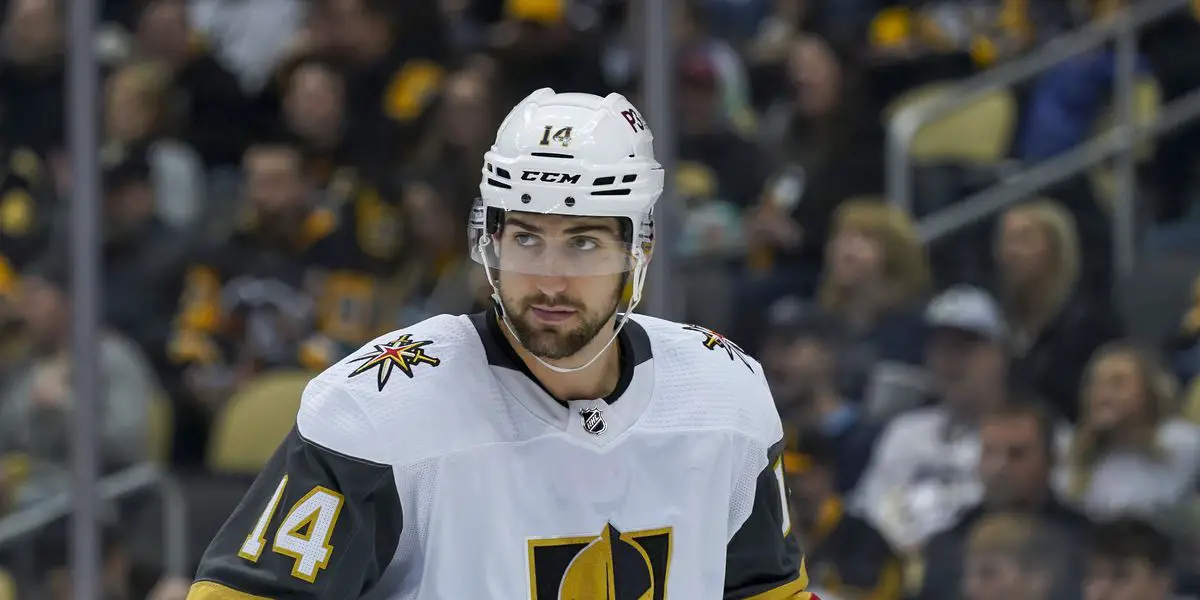 The defense was once the bread and butter of Devils hockey. The Devils loved their defense by boasting names like Scott Stevens, Ken Daneyko, Scott Niedermayer, Brian Rafalski, and even Andy Greene. They not only thrived off of it, but they lived it, and it helped capture three Stanley cups. While management has turned its eyes towards forwarding Jesper Bratt, it is worth noting that they need to shore up the bottom pair defense.  
The Devil's top four is all but secured. Damon Severson and Jonas Siegenthaler are the best shut-down pair, while the team boasts Dougie Hamilton and Ryan Graves. Young gun Ty Smith is on the bottom pair, and with PK Subban all but headed to the open market, it creates room for another name. Enter Nicolas Hague. 
Nicolas Hague has spent the last three seasons with the Vegas Golden Knights. Due to the cap crunch that the team faces, they are looking to trade the young defencemen to create space. It's been reported that two Eastern Conference teams are eyeballing the rearguard. The New Jersey Devils may not be one of them. However, the shoe does fit the bill, even with him being a pending RFA.
The Statistics
Nicolas Hague has been consistent from a production standpoint. While spending time with Zach Whitecloud on the bottom pair, he has seen his fair share of top-line minutes. In 2021-22 he spent most of the season with Alex Pietrangelo; in 2019-20, he spent it alongside Shea Theodore. He has also been paired with Derek Engelland and Dylan Coghlan when he first broke into the league. Now while he doesn't have to log those types of minutes in New Jersey, it's worth noting he can log those long minutes and play effectively.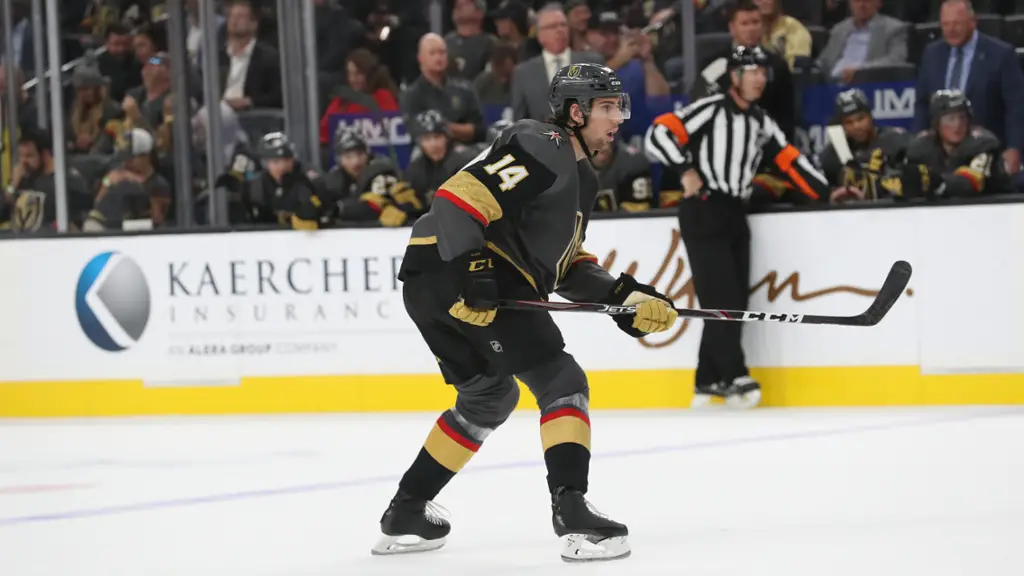 Hague has spent 918.45 paired with Zach Whitecloud, and the pair finished with a Corsi For Percentage of 51.91% and an expected goals percentage of 53.65%. While being paired on the top line with Alex Pietrangelo, the duo posted a CF% at 52.49% and an expected goals for percentage at 52.73%. Another top pair rearguard was Shea Theodore, and the duo also posted solid numbers for the Vegas Golden Knights. Together they posted a CF% of 50% and XGF% of 47.54%. These are large sample sizes, and the Vegas Golden Knights were a better team with him on the ice than off the ice. 
The shoe fits with him being on the bottom pair with Ty Smith. With Ryan Graves being a pending UFA after this upcoming season, he could see his role increase. As a bottom pair defenceman with Zach Whitecloud, the duo posted some nice numbers together. In the 2021-22 season, the pair had the best expected goals per 60 minutes with 3.64 and the best-expected goals against per 60 minutes with 1.72. They carried the best expected goals percentage at 67% as a pair. They would finish with a goals for percentage of 54.5% and a Corsi For Percentage at 51.91%. For not being the top pair, they sure played like it. It was a smaller sample size in 28 games, but it paints the picture of being on the bottom pair. They were effective it gave the team a boost when on the ice.
To compare, the Devil's third pair consisted of Ty Smith and PK Subban, who had an expected goal for per 60 minutes with 2.71 and expected goals against per 60 minutes with 2.32. The pair would finish with 2.87 goals per 60 minutes, which is slightly under Hague and Whitecloud.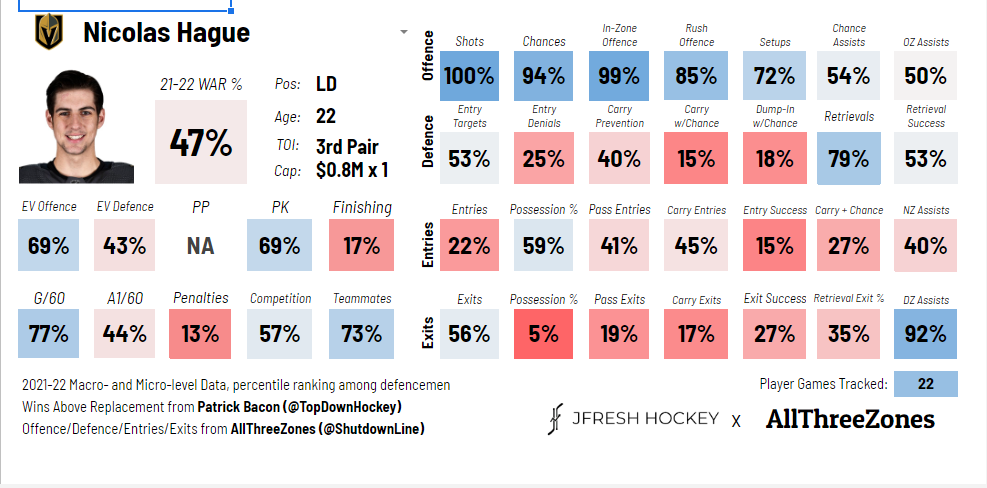 Nicolas Hague is a solid defenceman when heading into transition. He has all the tools to be an offensive defenceman. Hague is a bigger version of what Ty Smith is in terms of his ceiling as a player. As shown above, he is better on the ice than off the ice and could boost the third pair.
Why The Fit?

Nicolas Hague could be something special. He is young, and as an RFA, the Devils could offer him a contract and keep him in the fold. He is young, which fits the Devils' core group of players. There is a need for him as a bottom pair defenceman, and he can play up the depth chart. If Lindy Ruff had to shuffle things around, he could play effectively with Dougie Hamilton. 
The defenceman has been consistent. He has hit the double-digit point mark every year. Although he has never scored double-digit goals, he has always had double-digit assists. In 52 games this season, he scored four goals, ten assists, and 14 points. He fired the puck a lot this season, finishing with 116 shots on goal. He has ten goals, 32 assists, and 42 points for his entire career. Hague averaged 18:39 of ice time this season, proving he can handle the load. 
He finished with slightly fewer points than PK Subban, but being younger; he could bring the Devil's third pair to life. It is worth calling about if you are Tom Fitzgerald. 
The boys squeak in an episode before Jake heads off to Florida. They touch on the Bruins' recent milestones, especially Bergerons 1000 points. They head over to the metro to see can Pittsburgh and Washington turn things around before heading out west to take Shane Wright and the Seattle Krakheads.Thanks for listening! Please rate and review our show on your favorite listening platform. Check out our partner's website at www.insidetherink.com for all your latest hockey news.