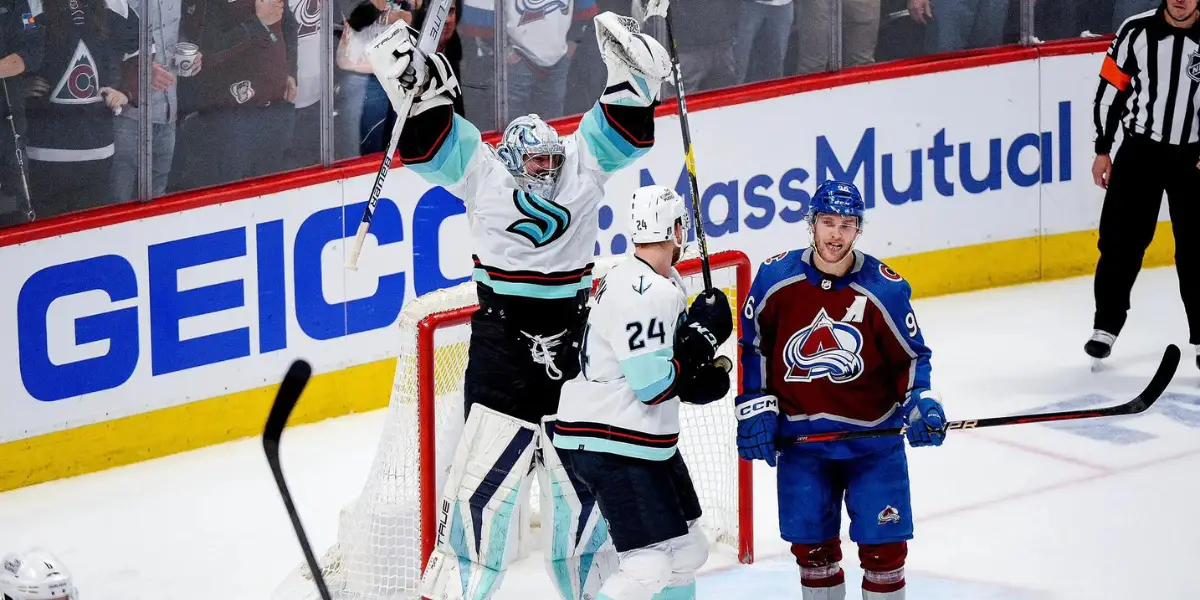 Defending Champs Denied:
Last night, the long first round ended for many teams in the NHL. As the Florida Panthers advanced, the Boston Bruins were eliminated in a tremendous league-wide upset. In addition, the Seattle Kraken knocked out the reigning champs Colorado Avalanche in their seventh and final game of the series. Both of the eliminated teams were knocked out on home ice in their home arenas. The first round of the Stanley Cup playoffs have been nothing short of mind-blowing and dramatic, especially for the Kraken. This first round of the playoffs had every fan on the edge of their seats. Going into last night's game with a series that had been very back-and-forth with three wins and three losses, the game was their final chance at advancing. Very few expected the Kraken to defeat the Avalanche. Many had predicted that Colorado would eliminate Seattle in 5 to 6 games. Not many fans from either franchise expected such a hard-fought seven game series between these two teams.
Solo Second Period Scoring:
Game seven was a low-scoring game concluding with a final score in Seattle's favor, 2-1. Not only was there a shortage in the number of goals scored, but also a lack of shots taken by Seattle. Oliver Bjorkstrand scored both of Seattle's goals of the evening, roughly five minutes apart from each other. His first was assisted by Yanni Gourde and Adam Larsson, while the second was scored with the help of Eeli Tolvanen and Yanni Gourde again. The defending champs scored their only goal on a power play, while Vince Dunn had the only penalty of the game called on him for tripping. The game finished with a Kraken win and advancement. However, the Avalanche out-shot them 34-27. This thrilling win and advancement shows just how formidable Philipp Grubauer was in the net for the Kraken and how incredible their defense played.
Three Stars of the Game:
Oliver Bjorkstrand (two goals)
Philipp Grubauer (33 saves)
Nathan MacKinnon (power play assist)
Kraken Commentary: 
Although last night was not the Kraken's best offensive performance, they played amazing and managed to knock out last year's Stanley Cup champion. Game seven was, without a doubt, a memorable one for each and every player that was on the ice, as well as each and every one of their fans. The defense from both teams fought incredibly well in the first and third periods, as no goals from either team were scored. On the other hand, it could be argued that those two periods were the worst for both teams offensively for the same reasons. The Seattle Kraken, who have received an immense amount of doubt since becoming a franchise, outlasted the one team that everyone thought would win the whole thing: the Boston Bruins.
The Kraken will start their second round tomorrow in their first game against the Stars at 9:40 EST.
They will then play in Dallas again on Thursday. Time has not yet been announced.
For more news and updates on the Seattle Kraken, follow me on Twitter @gabriellediane0
The boys are back after a long break but have plenty to talk about as the playoffs are in full swing. We go series by series, looking at how teams have fared so far and who will come out on top. Thanks for listening! Please rate and review our show on your favorite listening platform. Check out our partner's website at www.insidetherink.com for all your latest hockey news.