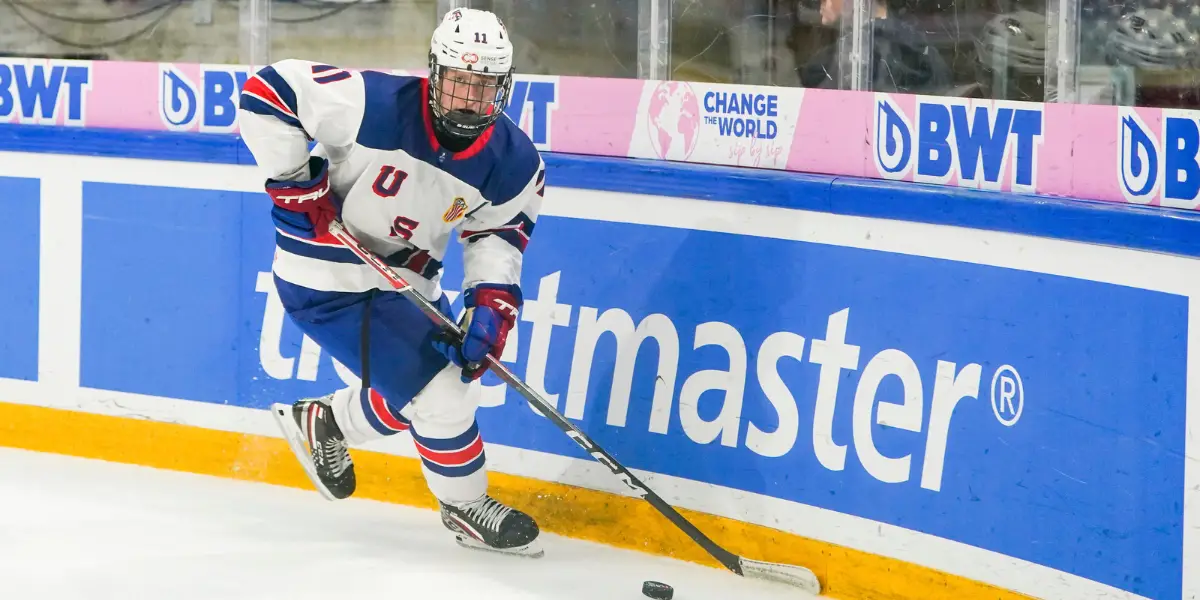 Oliver Moore might be the most electrifying skater in the 2023 NHL draft and is one of the top center prospects of this class. Born on January 22nd, 2005, in Mounds View, Minnesota, Moore is a member of the United States National Team Development Program (USNTDP) and has worn the red, white, and blue over the past two seasons in the USHL, miscellaneous games, and tournaments including the recent U18 World Championships. In the 2022-23 season, he finished fourth on his team in scoring, totaling 31 goals and 44 assists in 61 games, including an assist on Ryan Leonard's gold medal-winning goal against Sweden in the U18 Worlds. Playing second-line and second-powerplay minutes in that tournament, Moore finished with four goals and five assists in seven games. 
Throughout the season, Moore has fluctuated quite a bit in rankings amongst players projected to be selected at the top of the draft. He is projected to be selected anywhere in the  5-15 range and will likely be among the first handful of centers to come off the board. With his 5-11 176 lb frame, he plays a competitive two-way brand of hockey and has all the tools to become a quality 200 ft center at the NHL level.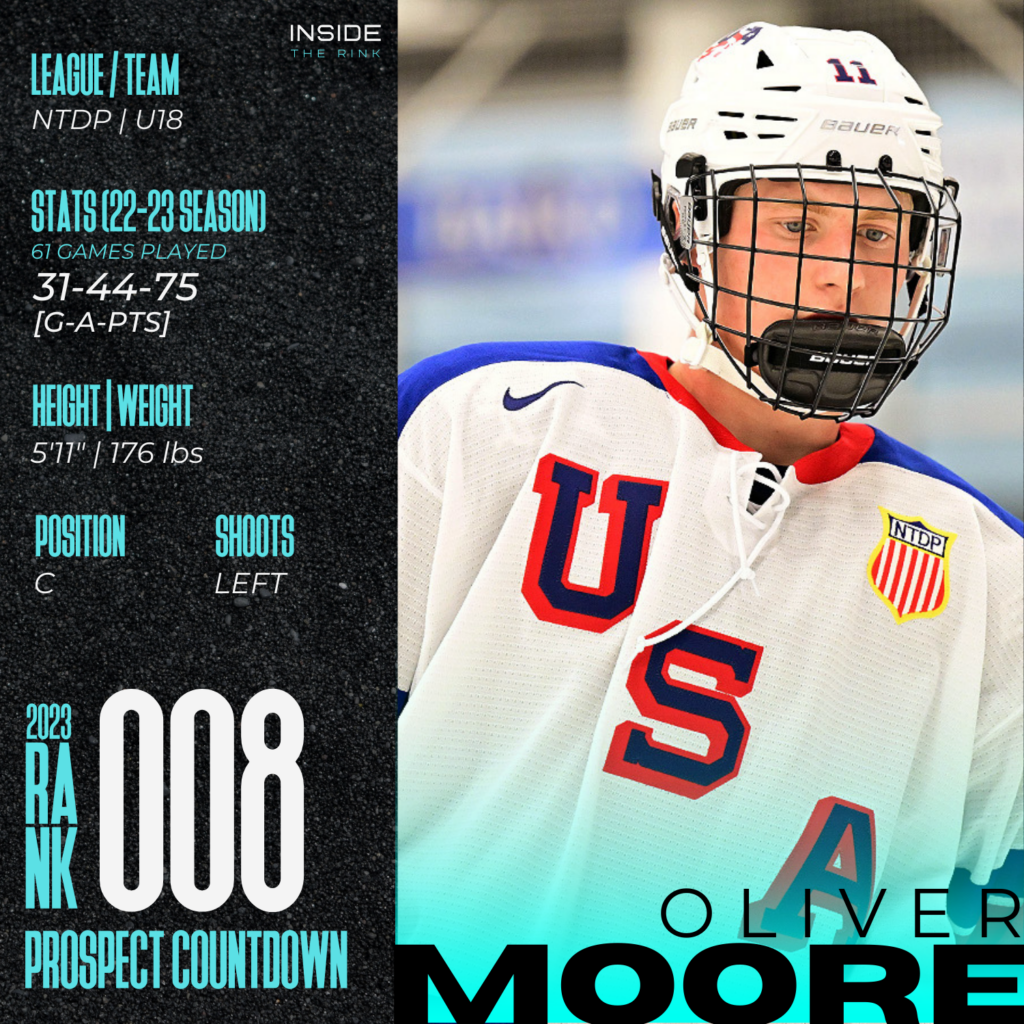 Scouting Report
Upon first viewing Moore's game, he is impossible to miss. Due to his non-stop motor and blinding speed, he is constantly around the puck and involved in the play regardless of where it is and in which zone. Playing primarily on the second line behind one of the most potent offensive lines in the history of the NTDP (Perreault-Smith-Leonard), Moore was not only a stabilizing force for the rest of the lineup, but he contributed to scoresheets as well and ensured that opponents couldn't just hard match the top line. 
Skating
The first thing that will be talked about when Oliver Moore's name is called on draft night will be his skating. It's a true game-changer. Some great skaters are smooth and shifty, like Connor McDavid and Jack Hughes, who seem to be weightless at top speed with the ability to cut or pivot on a dime. Oliver Moore skates more like Nathan MacKinnon; they are both violent with their strides, galloping up ice like they're in the Kentucky Derby and cutting deep into the surface with every push. 
Moore has the rare ability to dictate play with his up-tempo skating. He loves to "wind up" when his team is breaking out of the defensive zone or regrouping in the neutral. He swings low as an outlet for his defensemen to hit him with a short, easy pass, and in doing so, builds his speed to attack off the rush. This also forces opposing defensemen to elongate their gap and respect his speed, which opens up lanes for his linemates to get into dangerous areas. 
Moore isn't just a phenomenal north/south skater. He uses his extraordinarily strong lower body strength and wide posture in puck protection as he's quite difficult to knock off the puck in small area situations. As a center low in the defensive zone, he eliminates perceived time and space for opponents in the blink of an eye and jumps on loose pucks or into passing/shooting lanes. He's also quick to support the puck if a teammate is in duress and consistently beats his counterpart to the battle. 
Forechecking
In today's NHL, aggressive forechecks are becoming increasingly fashionable. Teams are using them to pressure the opposition's first pass out of the zone and jump on their "safety net" options. Oliver Moore is a disruptive force who is seemingly shot out of a cannon every time the puck is dumped deep into the offensive zone. That isn't to say he goes crashing low into the zone with reckless abandon either. Though he flies at top speed, he is surprisingly cerebral with how he attacks. 
Moore is effective and tenacious when playing any of the three forechecking positions. As an F1, he jumps on the opposing defenseman, often winning a race or battle for a loose puck and, at the very least, forces him to make a difficult pass. As an F2, he recognizes and eliminates the puck carrier's primary option. As an F3, he pounces on loose pucks that dribble up the wall or forwards who are attempting to make a connecting second pass out of the zone. No matter what his assignment is, he's relentless in his pursuit of the puck and makes life difficult for his opponents. 
Other Areas of Strength
Though he seems to be all over the ice, skating a hundred miles per hour with his jersey flapping in the wind, he is actually quite calculated and precise with his movement. Whether knowing when or how to pounce on a loose puck, pressure an attacker, or make himself available as an outlet option, he has unique anticipation skills. He is also an effective and tenacious back-checker. He's rarely not the first forward back into the defensive zone (even if he started the play below the opposing goal line). 
Moore is an underrated playmaker. When he wins battles low in the zone and is great on the cycle at finding teammates or making clever passes to dangerous locations. Whether he is in tight areas around the net and below the goal line or he has time and space like on a powerplay, he can thread seam passes with the best of them. 
Side Note: It's extremely fun to watch when he compounds all his strengths into a single sequence to generate a scoring chance. For example, maybe once or twice per game, he swings low on a regroup with speed, receives a pass, hits the redline, dumps it deep, crashes in as an F1 forechecker, wins a battle, protects the puck, and cleverly finds a teammate cutting to the slot for a high-danger shot. 
What Needs Improvement
Moore is so adept at moving the puck from the defensive zone through the neutral zone and into the offensive zone. He needs to work on creating offense off the rush after having built up all that speed. When he gets to the defenseman defending the rush, he needs to work on deciding whether to put his head down and drive the net with a power move, attempt a one-on-one move around the defender, or use the space he created to find a teammate with a crafty pass. Sometimes he skates himself into trouble and doesn't have the puck skills or creativity to recover. Improving his puck handling at top speed will go a long way in his development. 
I'd also challenge Moore to improve his play away from the puck in the offensive zone. He could improve in finding soft spots in the slot when his teammates have possession on the cycle. With the lower-body strength he possesses, I'd like to see him battle for position and work on his game in front of the net (tipping pucks/finding rebounds) when the puck is on the perimeter.
Looking Ahead to the Draft
Oliver Moore will likely be one of the first 10-20 players to hear their name called on June 29th in Nashville. On the ice, he has a lot of qualities that NHL coaches adore (he competes, is defensively eager, is a high-motor forechecker). He also plays a position that NHL general managers view as a premium. He possesses skills that can push his ceiling to that of a top-six center in the NHL. His floor is that of a third-liner. Moore will be attending the University of Minnesota in the fall to begin his NCAA career. If he can polish his offensive game during his time there, he may find himself playing professional hockey after his Freshman or Sophomore season.