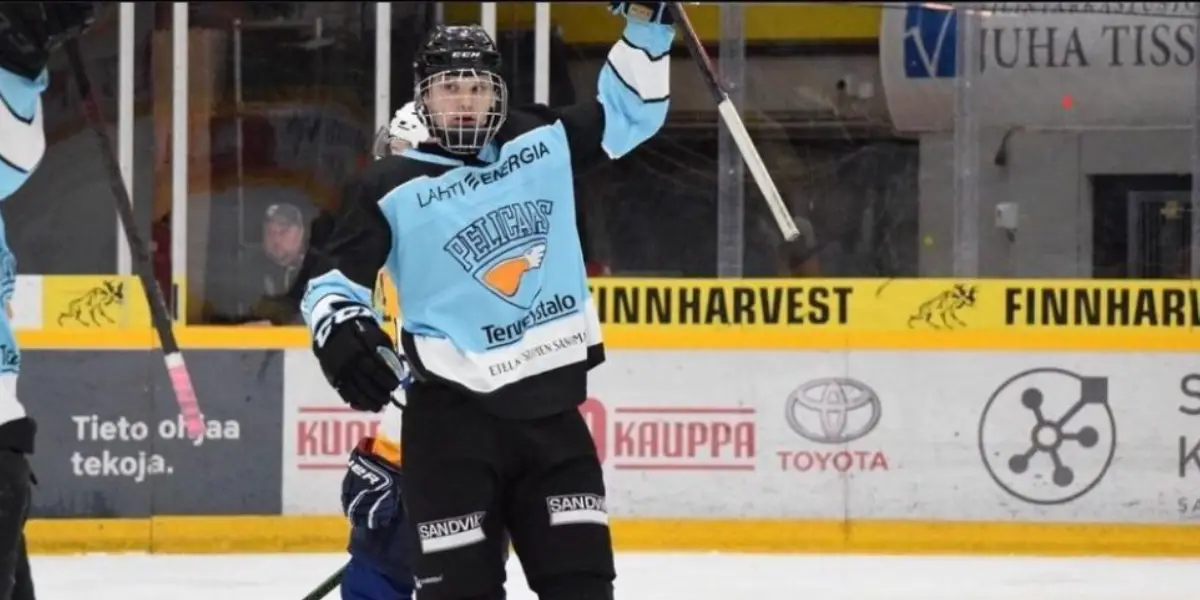 Rasmus Kumpulainen is a structurally sound, left-shot 2023 NHL Draft-eligible center. Born on August 8th, 2005, in Lahti, Finland, Kumpulainen is among the younger draft-eligible players this year and is a product of the Pelicans organization. In 2022-23, he played most of the season in the U20 division, where he was Pelicans fifth-leading scorer with 11 goals, and 23 assists in 41 games. He then represented Finland at the U18 World Championship in April, where he donned an "A" on his chest while playing on the top powerplay unit as the net-front man and on the top penalty kill unit. He scored three goals and two assists in five games en route to Team Finland's fifth-place finish. 
Kumpulainen is currently ranked in the 67-97 range by outlets covering the NHL Draft, which would project him to be taken by a team somewhere in the third round. While he lacks a "wow" factor, he plays a very projectable 200 ft game and has an NHL-ready frame as he stands at 6-2 and weighs 196 lbs. He seems like as sure a thing as it gets to play in the NHL one day amongst projected third-round picks, and if a team is in the market for a high-floor center, he could even sneak into the second round.
Scouting Report
Rasmus Kumpulainen doesn't jump off the screen at first glance. The Finnish center lives in the minutia and is more detail-oriented than anything. He plays a risk-averse and low-event brand of hockey that can be valuable in the NHL but could potentially limit his ceiling. 
Classic Center
Kumpulainen has all the tools one looks for in a prototypical center. He's big, strong, intelligent, and good at the face-off dot. He thrives in the defensive zone. Without the puck, he is constantly scanning and monitoring his check, anticipating how pucks will pop out from board battles and moving pucks away from danger. He eliminates a puck carrier's time and space with precise angles and stick work before muscling his man off the puck and moving it up ice. When his team is breaking out, he is always properly supporting as the puck moves from D-to-D or up the wall to a winger. There are so many little things he does that go mostly unnoticed, like poke pucks free, pin opponents through their hands, and eliminate secondary options.
There isn't a physical tool Kumpulainen lacks. He is a strong straight-line skater, has good touch on his passes, and has a heavy shot. He has a cerebral yet physical approach to his game. We often see young players with his kind of size not understanding how to use it quite yet. He does. He is strong in board battles and comes away with the puck far more often than not. He is willing to take punishment to get to (and remain at) the front of the net so he can provide a screen for long-distance shots. Most of his goals will come from around this area, as he is adept at finding and burying rebounds.
Forechecking
A center like Kumpulainen is rarely an F1 forechecker. He won't be the guy going all out to pressure the opposing puck retriever deep in the offensive zone. Where he likes to make his mark is as the F2 or F3 forechecker. As F2, he recognizes and eliminates the retriever's first option for where he wants to move the puck. As F3, he is quick to seal the wall and cover for the pinching defenseman, who is eliminating the second option. His job isn't to cause chaos but rather to support it. There is rarely a clean breakout of the offensive zone when the young Finnish center is on the ice. 
What Needs Improvement
I mentioned earlier that the Pelicans center is a risk-averse and low-event player. At times, however, he can be risk-averse and low-event to a fault. He lacks an "it" factor. He's so good at alleviating pressure in his own end and ensuring his team exits with possession but cannot create at the other end. 
Unless he is battling his way to the front of the net, he has an almost sleepy approach to the offensive zone. One would like to see him recognize an opportunity to make a play and explode to a loose puck or soft spot of the defensive structure. He could use a little more quick-twitch in his movements and a little more sense of urgency in his decision-making.
These are all things that can be fixed with reps and confidence. He is one of the draft's youngest players, so there is still a lot of room for growth. 
Looking Ahead to the Draft
GMs and coaches love players like Kumpulainen. Big, toolsy, bright two-way centers are a rare breed. It would be no surprise to hear his name called in the back half of the second round on day two of the NHL draft set to take place on June 28th and 29th in Nashville. A more conservative and likely scenario will predict him to go in the third round. In 2023-24, whether he is playing U20 or in Liiga (or both), he will likely be looking to explore and experiment at the offensive end of the ice to make more of a contribution to the scoresheet on a nightly basis and round out his game. If he can unlock a little more offensive production and impact, Kumpulainen could make a wonderful bottom-six center in the NHL one day.