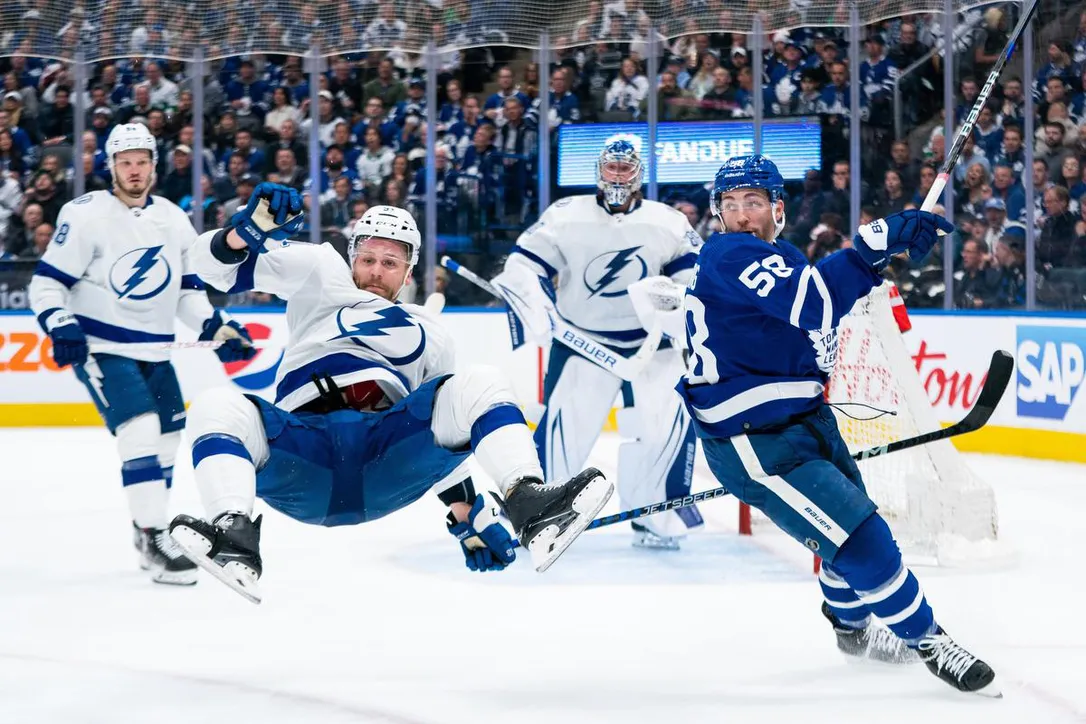 The NHL Playoffs are less than a week old, and already there's been three players helped off the ice dizzy and out of it. That's too many, especially considering the league has been trying to cut down on such hits.
While it's true that players own much of the responsibility to avoid contact when possible and keep their head up when the puck is in their possession or nearby, some of the hits seen early in the 2023 playoffs cross the line in ways they never should.
First, the Minnesota Wild's Matt Dumba laid a massive hit on Joe Pavelski of the Dallas Stars. Pavelski is still experiencing concussion-like symptoms and hasn't been in the Stars lineup since the hit in Game 1. Dumba, meanwhile, escaped a major match penalty which could have brought about supplemental discipline.
After watching the hit myself, the only reason I can find that Dumba escaped a suspension is that Pavelski was near the boards and had his head down. That made him susceptible to injury. His proximity to the boards didn't allow him to brace himself in a way that would help lessen the blow either.
Game 1 of the Tampa Bay Lightning and Toronto Maple Leafs first round series saw two hits that were borderline or totally crossed the line. Both occurred during the second period, yet one showed a complete disregard for the opponents well being.
The first hit featured Toronto's Jake McCabe and Tampa Bay's Michael Eyssimont. Eyssimont left the ice under his own power but was noticeably shaky. McCabe wasn't penalized, nor did he receive any fine or other supplemental disciplines from the league.
While there are varying opinions regarding this hit, it should be noted that Eyssimont had his head down. McCabe's principal point of contact was the shoulder, but Eyssimont's positioning made him catch a little of the head in the process. It was unfortunate Eyssimont was injured, though he seemed to escape serious injury as evidenced by his participation in practices and morning skates the past couple of days.
Unfortunately, Michael Bunting's hit on Lightning defenseman Erik Cernak crossed the line in more ways than one. Bunting blindsided an unsuspecting player in open ice, with the player targeted, not expecting to be hit with enough force to knock him off of his feet.
Bunting received a five minute major and match penalty, plus a three game suspension from the National Hockey League's Department of Player Safety. Cernak, meanwhile, hasn't seen the ice since being bulldozed in a way that could have significant consequences moving forward in his career.
That is the right call and actually a step in the right direction, especially considering Bunting knew who he was hitting and still went in with the intent of causing injury. Hopefully, a message was sent to both teams with this punishment, but there are other series still in play, and those players deserve to know they're being protected.
Yes, playoff hockey is physical by nature, but what Bunting did isn't considered physical play. It's stupid, unnecessary and shows a complete disregard for Cernak's life beyond hockey.
The league usually goes light on any suspensions during this time of year, not wanting to punish the teams the offenders play for with everything on the line. I agree with that to a point. Bunting's recklessness and complete disregard for another human being's life has me thinking he should have been suspended for the duration of Cernak's injury.
Maybe I'm being too harsh, but if the league is serious about eliminating headshots, they can start by handing out penalties that match the crime. At the least, they can come down harder on hits that cross the line in the regular season and playoffs.
Will they?
That remains to be seen, but the league can send a message these hits are unacceptable by punishing them in a way that makes players think long and hard before doing something selfish and wrong on so many levels.
The boys are back after a long break but have plenty to talk about as the playoffs are in full swing. We go series by series, looking at how teams have fared so far and who will come out on top. Thanks for listening! Please rate and review our show on your favorite listening platform. Check out our partner's website at www.insidetherink.com for all your latest hockey news.