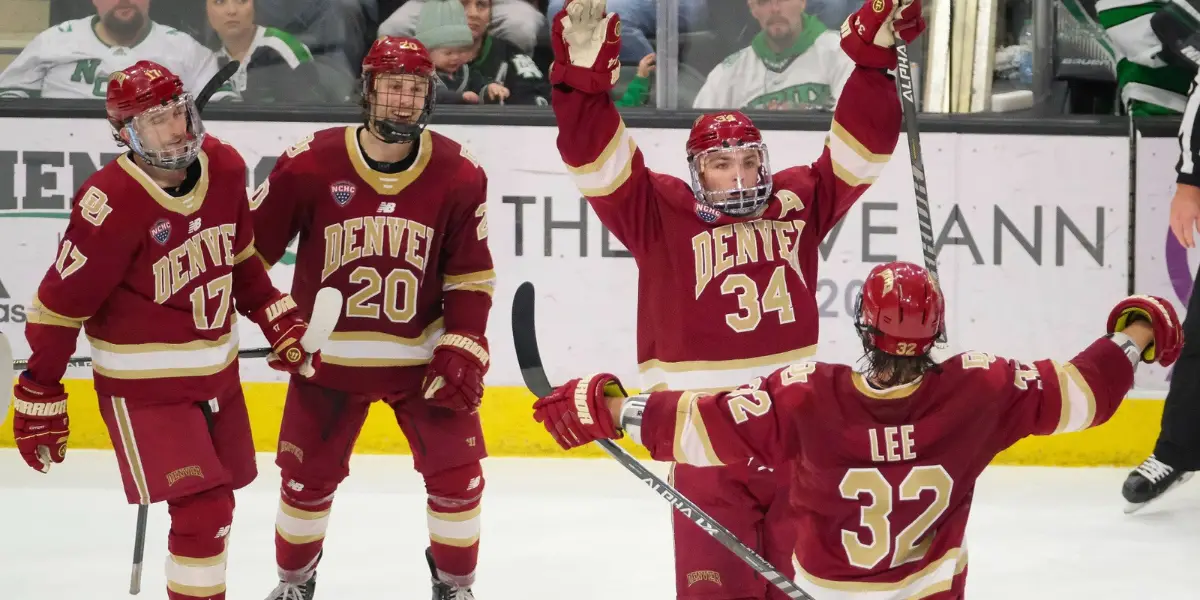 The No. 2 ranked Denver Pioneers completed their first sweep in Grand Forks in more than a decade. David Carle's club followed up with Friday's 3-2 win over UND with a convincing 6-3 on Saturday.
UND took an early 1-0 lead just seven seconds into the game. Denver dominated with a 14-3 shots-on-goal advantage but couldn't get anything past Jakob Hellsten in the first period.
Denver responded with three goals in the middle frame, kickstarted with Carter Mazur's (Detroit Red Wings) powerplay tally from the right dot at the 3:41 mark into the period. Four minutes later, Denver took a 2-1 lead on McKade Webster's re-direct of Justin Lee's bomb from the blue line.
After UND responded with just over five minutes remaining in the period, Aidan Thompson's (Chicago Blackhawks) second goal of the weekend put the Pioneers back in front with less than two minutes remaining.
Into the third period, Denver added three more goals, including Jared Wright's (LA Kings) second goal of the weekend. Carter King fed Wright up the middle, and the speedy forward took it the distance, beating Hellsten five-hole.
Less than two minutes later, Mazur added his second goal of the game, extending Denver's lead to 5-2. UND responded with a goal shortly after, but Wright's empty-netter and third goal of the weekend closed the door on UND.
Pioneers netminder Magnus Chrona (Lightning) made his 11th start of the year, stopping 18-of-21 shots faced.
POWERPLAY
The Pioneers went 2-for-3 on the man advantage, with Mazur and Thompson accounting for the powerplay tallies. UND went 1-for-4.
NOTES
Defenseman Sean Behrens missed his second game due to an injury
Sophomore Jack Devine collected two assists in the game and has seven points (3-4-7) on the year
Forward Jared Wright and defenseman Mike Benning led the Pioneers, each with five shots on goal
UP NEXT
Denver (9-3-0) are off until a two-game set with Omaha on Friday, November 25, and Saturday, November 26.
HIGHLIGHTS