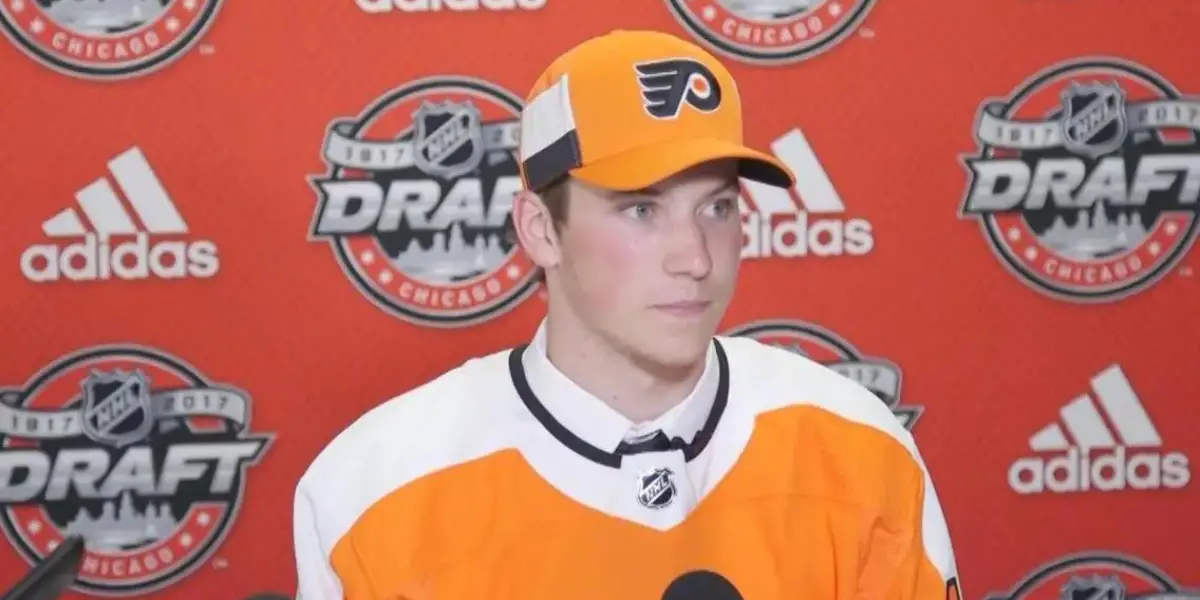 Nolan Patrick was born and raised in Winnipeg, Manitoba; he would play for teams within the province, such as the Winnipeg Hawks Bantam AAA and the Winnipeg Thrashers Midget AAA. As Patrick became more involved in the sport of hockey, the family garage quickly turned into a home gym. In his AAA bantam playing days, Patrick recorded 75 points in 19 games, missing nearly half of the season with a shoulder injury. The strong showing made Patrick a highly valuable prospect, being selected by the Brandon Wheat Kings fourth overall. Patrick would stand out on several occasions, earning him the honor of joining Team Manitoba in 2013-14 and a few games with the Brandon Wheat Kings that season. Even though the circumstances of Nolan Patrick's three-game stint with the Wheat Kings were injury-related, Patrick would impress the team enough to earn a full-time spot.
In the following years, Nolan Patrick would represent Team Canada on five separate occasions, winning a gold medal at the Hlinka Gretzky Cup in 2015-16. In 2013-14, Nolan Patrick won a bronze medal in the Western Canada Challenge Cup and was nominated to the All-Star team. This impressive performance in the Manitoba competition would earn Nolan Patrick a full-time spot with the Brandon Wheat Kings in 2014-15. If it weren't for a sports hernia, Nolan Patrick would've won a silver medal or maybe something more with Team Canada at the World Junior Championships in 2017. This injury would cause Patrick to miss most of the regular season and four WHL playoff games.
In Nolan Patrick's tenure as a Brandon Wheat King, he would earn the Most Goals Scored by a Rookie award and be the Rookie of the Year in his debut season. In the following two seasons, Nolan Patrick would continue his dominant pace. Patrick was nominated to the Eastern Second All-Star Team in the 2015-16 season. Nolan Patrick would march his way to earning the WHL Playoffs MVP, Playoffs Most Points at 30 points, and become a WHL Playoffs Champion. That same year, Nolan Patrick also won his Hlinka-Gretzky Gold Medal. To put the cherry on top of everything, Nolan Patrick would win the CHL Top Draft Prospect Award in 2016-17. Through Patrick's long injury list heading into the draft, teams didn't hesitate to consider drafting him. Patrick proved he had the tools to be a dominant NHL forward for many years.
Ahead of the 2017 NHL entry draft, the question was who would go first overall, Nolan Patrick or Nico Hischier? Many articles were written about who's better, providing breakdowns of each player's style of play, why they played a certain way and breakdowns of advanced analytics. During the NHL scouting combine, Hischier and Patrick performed almost identically, making it an even tougher decision on draft day.
The day of the 2017 NHL entry draft came, Hischier was selected first overall by the New Jersey Devils, and Patrick was selected second overall by the Philadelphia Flyers. Not too long after being drafted, Nolan Patrick signed his entry-level contract with the Philadelphia Flyers.
The Flyers who wanted to get a look at their new prospect and building block for the future would, unfortunately, have to wait a little while longer. Nolan Patrick had abdominal surgery on June 13, 2017, ten days before being selected second overall. The Flyer's development camp would have everyone but Nolan Patrick, and fans started to wonder if injuries were going to be an issue for the young forward.
Patrick would make his NHL debut on October 4th, 2017, where he would play against the San Jose Sharks. It would take three games before Patrick would get his first NHL point, scoring an assist on teammate Ivan Provorov's goal against the Anaheim Ducks. As for Patrick's first NHL goal, that would come in the next game against the Nashville Predators. On October 24th, 2017, some concerns became a reality as Nolan Patrick took a hit, resulting in him being injured, missing nine games total. It wasn't until the 2019 off-season that Nolan Patrick started to deal with some headaches. It took a couple of months, but Nolan Patrick would later be diagnosed with a migraine disorder, which saw him out for the entire 2019-20 season. This wasn't the first concern, especially long-term concern for Nolan Patrick's health. Patrick was coming off back-to-back 30-point seasons with the Philadelphia Flyers, which was a bump in the road.
Nolan Patrick originally started skating in February of 2020, hoping to make a return near the end of the season for the Philadelphia Flyers. However, March 2020 would bring along a pandemic that would shut the world down and delay the return of Nolan Patrick.
Nolan Patrick would return in the 2020-21 season, playing 52 games, posting four goals and five assists for nine points. Patrick was a shell of his former self, and the Philadelphia Flyers honored Nolan Patrick's trade request on July 17th, 2021. The Philadelphia Flyers would trade Nolan Patrick and Philippe Myers to the Nashville Predators in exchange for Ryan Ellis. Ellis would stay in Philadelphia; meanwhile, the Predators would immediately trade Nolan Patrick to the Vegas Golden Knights in exchange for fellow Winnipeg native and 2017 sixth-overall pick Cody Glass.
Former Brandon Wheat Kings General Manager and Owner Kelly McCrimmon now had his former player in Nolan Patrick. Patrick would immediately start playing for Vegas in the 2021-22 season, playing 25 games, and posting two points and five assists before being hit, which led to a season-ending injury. Nolan Patrick is in the final year of his two-year, $1.2 million contract, his contract is set to expire, and he will be a restricted free agent with arbitration rights. Nolan Patrick has not played since October 22, 2022, and it remains yet to be seen if he will play again or retire ahead of next year.
References:
Nolan Patrick – Elite Prospects – career stats and accomplishments
Nolan Patrick Contract, Cap Hit, Salary and Stats – CapFriendly – NHL Salary Caps – contract details and trade history
Flyers' Patrick ready to return from debilitating migraines (nbcsports.com)
Vegas Golden Knights center Nolan Patrick to miss 2022-23 season – ESPN
Kelly McCrimmon Team Staff Profile – Elite Prospects
The boys are back after a long break but have plenty to talk about as the playoffs are in full swing. We go series by series, looking at how teams have fared so far and who will come out on top. Thanks for listening! Please rate and review our show on your favorite listening platform. Check out our partner's website at www.insidetherink.com for all your latest hockey news.