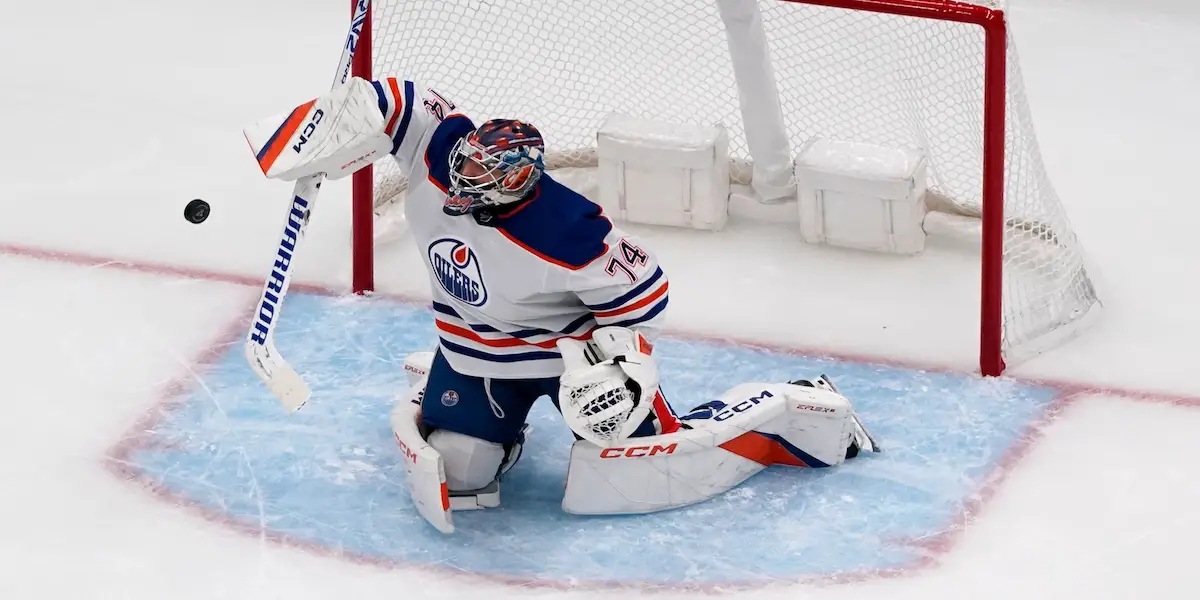 A team can have all the firepower, skill, and talent up front, but if they cannot keep the puck out of the net, it is not going to matter.
This is the case when it comes to the Edmonton Oilers. As of this writing (Monday, February 20), the Oilers sit in the first wild-card spot with a 30-19-6 record for 68 points, which also has them four points behind the Pacific Division-leading Vegas Golden Knights.
The team's offense is the reason why they are where they are. Of course, they are led by Connor McDavid, who has 102 points on 42 goals and 60 assists.
Overall, the Oilers are first in the league in goals scored with 214 in 57 games (3.75 goals per game) and are also first in the league on the power play as they have converted on 31.3 percent of the opportunities they have been given so far. They are an offensive juggernaut, and that is something that is not going to change anytime soon.
What needs to change is the play of their goaltenders. The team is 22nd in the league in goals allowed, as they have given up 187 goals (3.28 goals against per game) so far this season.
All of the blame cannot solely be placed on the goaltenders. The team in front of them needs to be much better and play with a bit more structure.
With that said, there is no doubt that their goaltending could be what hurts them when it matters the most – the Stanley Cup playoffs. It hurt them in the Western Conference Finals last season, and if things keep trending in the direction they are now, it will be their undoing in the spring.
This past offseason, the Oilers went out and signed unrestricted free-agent goaltender Jack Campbell to a five-year, $25 million contract to be their starting goaltender. At the time, it seemed like a smart signing because Campbell, 31, played well with the Toronto Maple Leafs last season, where he went 31-9-0-6 with a 2.64 goals-against average, a .914 save percentage, and five shutouts.
Well, so far, at least, Campbell has not played up to his contract. He has only played in half of his team's games this season, as he has split time with Stuart Skinner.
in 30 games this season, Campbell is 17-8-0-4 with a 3.39 goals-against average and a .887 save percentage. Those are not good numbers.
Campbell has especially struggled in his last three starts, all games that his team lost in overtime or a shootout. In those games, he has allowed 14 goals on 103 shots.
Yes, the Oilers were obviously able to pick up a key point in each of those games, but with time winding down in the season, this team needs to do everything they can to get two points every night. With the way Campbell has been playing, that is not always possible.
Skinner, 24, the team's other goaltender, has put up much better statistics than Campbell this season. He is currently 13-11-0-4 with a 2.95 goals-against average and a .913 save percentage.
Skinner has impressed the Oilers' brass so much this season that back on Monday, December 20, the team signed him to a three-year, $7.8 million contract. As such, the Oilers have both Campbell and Skinner under contract for the next eight seasons.
While it is certainly nice that Skinner is getting the job done, is he someone the team, can trust come playoff time? Can he handle the pressure of playing for a Cup in a Canadian market that is dying for one?
I'm sorry, but I really do not think that this tandem can get the job done come April.
The boys are back after a long break but have plenty to talk about as the playoffs are in full swing. We go series by series, looking at how teams have fared so far and who will come out on top. Thanks for listening! Please rate and review our show on your favorite listening platform. Check out our partner's website at www.insidetherink.com for all your latest hockey news.