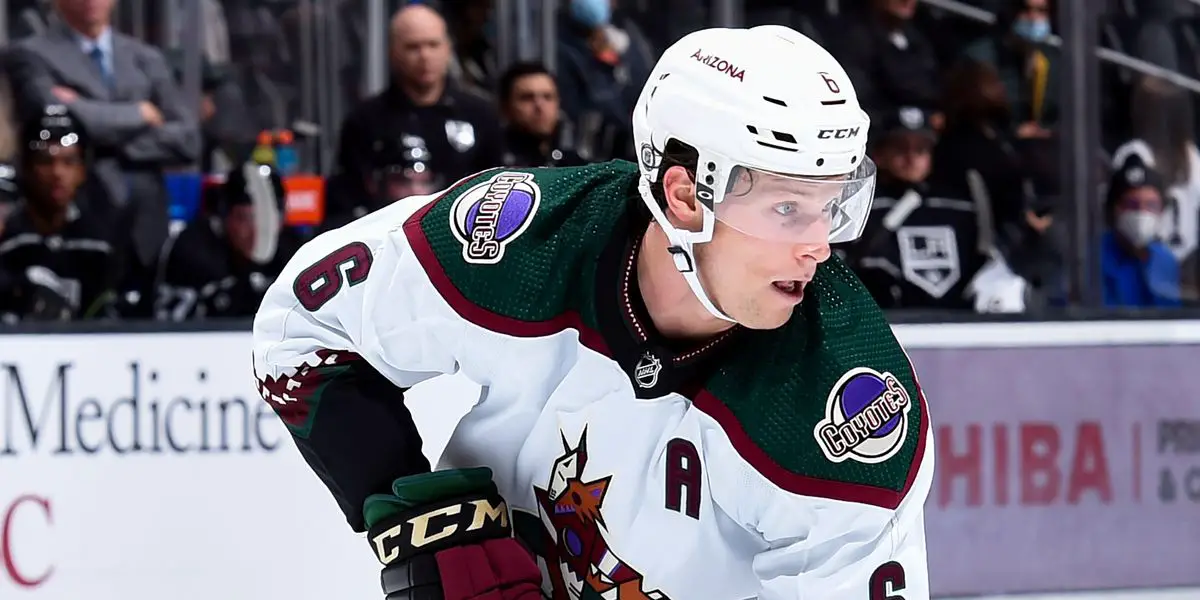 Just when you thought the 2015 tank for McDavid was bad, the Coyotes said hold my beer. It was evident from their opening game that the Coyotes would be tanking for the 1st overall pick in this year's draft. From acquiring Andrew Ladd to claiming Harri Sateri off waivers from the Maple Leafs, it was going to be another long year for the Coyotes.
It was a season full of losses and mixed in controversy, from not paying rent for the Gila River Arena to being forced by the city of Glendale to move after they said they would not renew the arena agreement with the Arizona Coyotes.
One of the bright stories for the Coyotes this season was signing Karel Vejmelka on May 5, 2021. Fittingly, he was drafted in 2015 by Nashville. Never suiting up for the Preds, he found himself playing in the Extraliga. For a goalie that majority of fans have never heard of, he was one of the fun stories to follow along with. One of the more memorable performances by Veggie this season came against the Winnipeg Jets on November 29th where he recorded his first career NHL shutout in a 1-0 win.
No matter how you slice it, this season was full of distractions. Among those that will follow the Coyotes, this offseason includes the new arena they will be playing in next season and trade rumours surrounding their best defenceman Jakob Chychrun.
Arizona Coyotes x Arizona State University
On February 10th, it was brought to the attention of many that the Coyotes will be playing in a newly renovated, 5,000-seat arena home to the Arizona State University Sun Devils hockey team. This agreement will last up to three years with an option for a fourth year.
I've never seen a downsize work for a pro sports team. I understand upgrading and moving into a new arena, but this considerably decreases. Maybe filling up a college arena will help. Perhaps it won't. Only time will tell.
It's okay to admit your failures, and Gary Bettman has failed to realize that hockey in the desert does not work. Time and time again, we see the Coyotes have empty buildings, and going into a college rink is just a sore eye for the league.
It's such a wrong move that the San Jose Barracuda, who are moving into a new arena themselves, poked fun at the Coyotes on Twitter…
Not only will the Coyotes' new arena rank at the bottom in attendance, but it's also on par with junior hockey arenas. You could even argue that some junior hockey arenas host more fans than this new Coyotes arena.
This agreement between the Coyotes and the Sun Devils states that both the Coyotes and Sun Devils logos would be painted at center ice; the Coyotes can't digitally cover up any ASU logos on the broadcast. ASU remains the priority for scheduling events and games. Due to the many controversies over the years the Coyotes have had, ASU made sure to include a clause in the contract that states if Alex Meruelo is the victim of any scandal or bad publicity, ASU has the right to terminate the agreement.
Jakob Chychrun trade
Many Arizona fans don't want to get rid of Jakob Chychrun. He is the best defenceman on the team, and teams willing to trade for Chychrun will have to give up a lot to get him.
Twenty-four-year-old left shot, very good offensively, and has excellent IQ. There is not much to dislike about the way Chychrun plays. These are the main reasons why his price is so high. In addition, his contract is very cheap at $4.6M for the next three seasons.
The asking price for Chychrun was reported by Jeff Marek on January 9th when he said, "young player, a high-end prospect plus a first-round pick." He later added that the St. Louis Blues and the Los Angeles Kings have the assets to pull off the trade. As we go into the offseason, this will be something to follow along with; more teams may show interest in Chychrun.
How can the Coyotes be competitive again?
The Coyotes are going on year two of missing the playoffs (It's year ten if you exclude the Coyotes winning the qualifying round against the Predators in 2020). The streak will continue as they are many years away from being competitive again.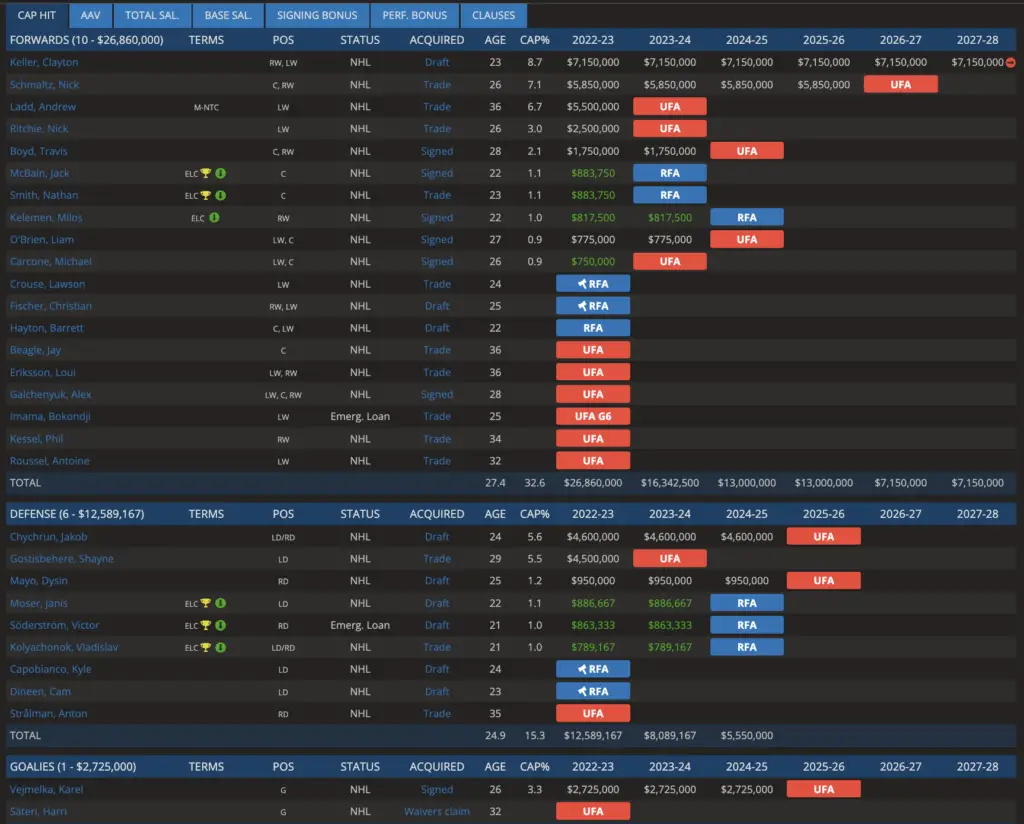 Looking at the salary cap situation for the Arizona Coyotes, they don't have any significant re-signings they have to make. Jay Beagle, Alex Galchenyuk, Boko Imama, Antoine Roussel, and Anton Stralman are players I would re-sign to cheap deals. Bridge deals for Christian Fischer, Lawson Crouse, Kyle Capobianco, and Cam Dineen. Try to go long-term with Barrett Hayton.
It might be of best interest for Bill Armstrong to extend Jack McBain going into the season if both parties can strike a deal.
Bill Armstrong will be very busy at the draft as he will draft with all seven picks in the first two rounds. "It's a little spotty in some areas, but some good players are there. And I think with its depth, I can see us making all those picks." Armstrong said during the NHL Combine. It would surprise me if that were to remain true.
Predicting who Arizona drafts…
The Coyotes have three first-round picks in the 2021 NHL Draft. They select #3, #27, and one of #31 or #32.
The Coyotes don't have much selection to choose from in the top 3 as Montreal and New Jersey own the top 2 picks and are going to set the tone for how the draft will play out. At #3, the Coyotes should draft Shane Wright, Juraj Slafkovsky, or Logan Cooley. No matter what, the Coyotes will be grabbing another stud forward to put alongside Dylan Guenther.
At #27, it might make sense for the Coyotes to draft a defenceman. Someone who fits the bill for the Coyotes is Owen Pickering. Perfect replacement for Jakob Chychrun, who seems to be on his way out this offseason. Pickering stands at 6'5″ and is a left-shot who has excellent mobility. Plus, the Coyotes could use some star defensive prospects.
Finally, at #31/#32, the Coyotes should draft Filip Mesar. He is a winger from Slovakia who possesses elite talent. You don't want to give Mesar any open ice, or he will dangle you. The reason why you may see Mesar drop down the draft board is that he is undersized. He stands at 5'10" but don't let that distract you from his qualities.
Other teams mentioned in the offseason outlook series: Anaheim Ducks
The boys are back after a long break but have plenty to talk about as the playoffs are in full swing. We go series by series, looking at how teams have fared so far and who will come out on top. Thanks for listening! Please rate and review our show on your favorite listening platform. Check out our partner's website at www.insidetherink.com for all your latest hockey news.