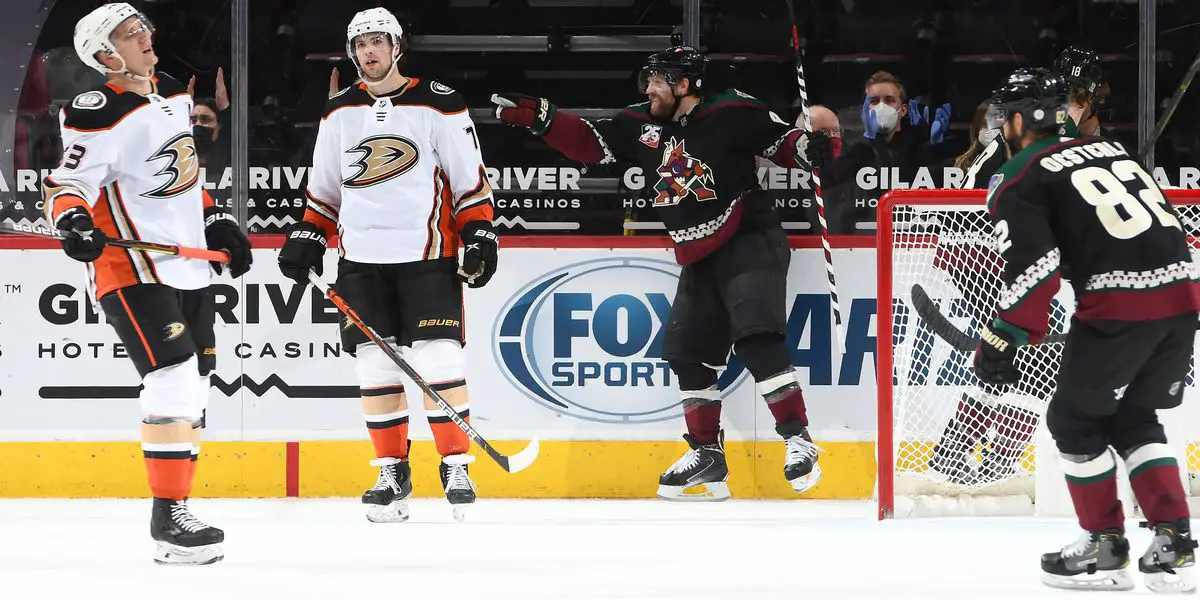 The first team I'll be analyzing this off-season is the Anaheim Ducks. To begin this series, it's worth noting this is the 3rd straight season the Ducks have missed the playoffs. It looked like the Ducks had a promising season ahead of them, but for a young team, they will still need to make further strides forward.
Anaheim Ducks Past Season Review
The Ducks had a slow start to their season in October, but things looked bright in November as they won 9 out of their 13 games played in that month. Sonny Milano had instant chemistry with linemate Trevor Zegras. John Gibson was playing great. Troy Terry finally showed us his skill as he became a 30-goal scorer.
Things tapered off for the young Ducks as they struggled during the middle of the season. They had multiple losing streaks and had a hard time stringing wins together. Even coming out of the Christmas break, they lost three straight games.
Post-trade deadline, the Ducks went 4-11-3 to end the season. While there were many downsides as the season wound down, the one highlight that many Ducks fans will remember is Ryan Getzlaf getting an assist in his final NHL game against the Blues on April 25.
Off-Season Cap Situation
The Ducks' cap situation shows they only have a couple of essential contracts to sign, such as Sam Steel & Sonny Milano. Those two players will be demanding a pay raise given the season they are coming off of. Steel finished the season with 20 points in 68 games, and Milano finished the season with 34 points in 66 games.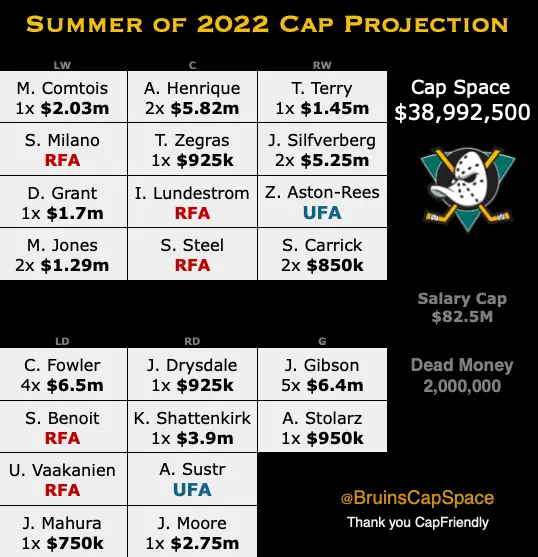 You can save money on Isac Lundestrom and Urho Vaakanainen. You can afford to let ZAR, Lettieri, Mayhew, Simon, and Sustr leave and replace them with other players in free agency or re-sign them to cheaper contracts since they will be playing in the bottom six.
Possible Moves for the Ducks
One move that I would like the Ducks to make is trading Cam Fowler. There are some evident difficulties with dealing a player like Fowler, such as him having a modified NTC and how he is making 6.5M for the next four seasons. With the Ducks rebuilding, it's easy to say that moving Fowler would be in the best interest of Pat Verbeek.
The Ducks currently own the 10th overall pick in the upcoming draft, and one player that I would like for the Ducks to draft is Cutter Gauthier. The Ducks could use some secondary goal-scoring behind Zegras. Gauthier also can play center, which is crucial given the retirement of Ryan Getzlaf. That move has created a hole in the 2C position, and I believe that Gauthier can help fill that.
This past season he had 65 points in 54 games with the U.S. National U18 team and appeared in the U18s, and had an outstanding performance with 9 points in 6 games. He is committed to Boston College for next season. One player in the past that they have developed is Johnny Gaudreau.
I'm very interested to see what moves Verbeek makes as he enters his first offseason as an NHL GM.