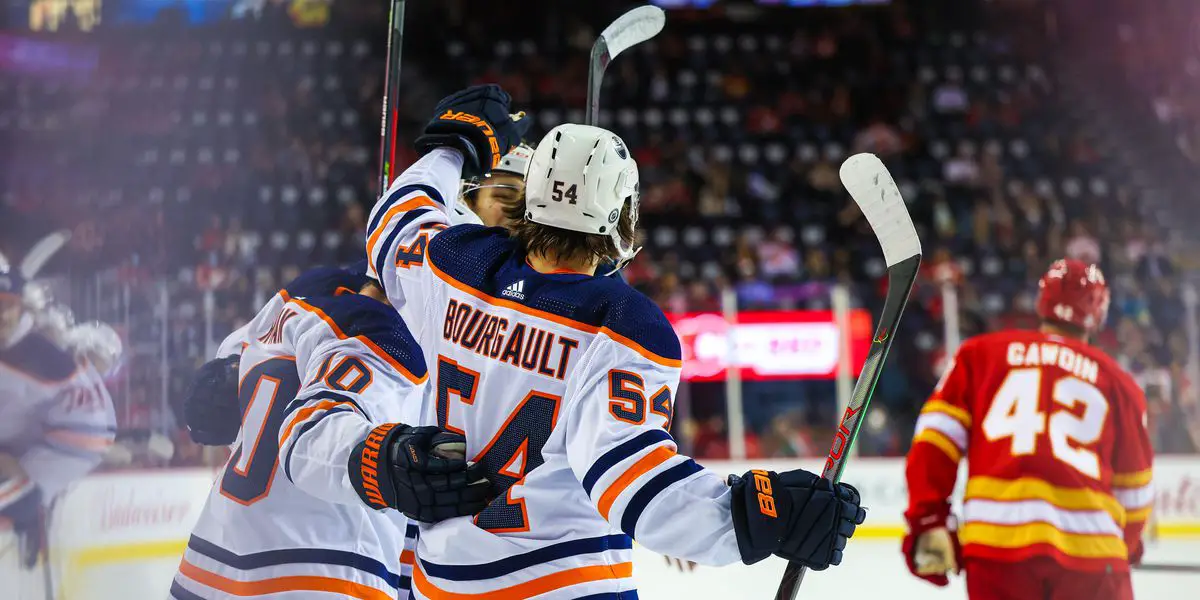 2006-2016 will forever be known in Oil Country as "the decade of darkness," as the Edmonton Oilers failed to make the playoffs in each of those ten seasons. Many issues contributed to the lack of success, but none was bigger than the issue of failing to draft well or develop their prospects into NHL players. The Oilers have turned things around since then, however, and the organization has been churning out NHL players on a regular basis the past few years. The Oilers have had 12 players play at least 1 NHL game this season that were drafted and developed within the team's system. Most notably, 6 of the top 8 point scorers on the team are homegrown talent. With a large percentage of the salary cap allocated to the top stars on the team, the Oilers will need to continue to get production out of players on their entry-level contracts. In this article, I will be reviewing the top forward prospects in the system and seeing where they could fit into the organization in the future.
Dylan Holloway (LW)
Dylan Holloway hasn't played since the conclusion of the 2020-21 NCAA season, as he has been healing up a surgically repaired wrist for the past three months. He is set to return soon after the Christmas pause and could see some NHL action sooner rather than later. The Oilers are looking at an exhilarating prospect, as Holloway lit the lamp with the University of Wisconsin last year, putting up 35 points in just 23 games. What is most impressive about Holloway isn't just his offensive production. However, as he is hands down the best two-way player, the Oilers have in their system. His speed and skill, combined with his penalty-killing experience and responsible defensive play, make him a coach's dream. The Oilers need players who know how to defend and are willing to do the little things to win hockey games. Dylan Holloway is that guy. I could see Holloway being a swiss army knife player with speed to play with McDavid and the tools to play lower down in the lineup when needed.  
Xavier Bourgault (C/RW)
While Holloway is the Oiler's most well-rounded prospect, Bourgault is easily the flashiest offensive player. Bourgault plays center, so perhaps he could be the answer at long last for the 3LC position in Edmonton. As a right-handed shot, he also has the potential to slip into a top 6 RW position as well due to the Oilers' relative weakness on the right side. Like Holloway, Bourgault possesses above-average skating and speed. If he and Holloway develop on their current trajectory and become NHL regulars, the Oilers could have one of the fastest forward groups in the league. Bourgault has excellent skating and silky mitts that he utilizes to perform creative dekes that turn the defense and goalies inside out. With 22 goals and 42 points in just 24 games, Bourgault is currently top ten in QMJHL scoring. His defensive game is a work in progress, but that is very common for young players, and I believe he could provide the Oilers with another scoring threat should he continue his development. Bourgault was recently promoted the Team Canada's top line going into the World Junior Championships. Coach Dave Cameron cited "his overall hockey sense" as the reason behind the promotion. It will be interesting to see how he performs in the biggest junior tournament of the year.
Matvei Petrov (LW)
In the 2021 draft, the Oilers selected Matvei Petrov 180th overall in the sixth round. The left-winger then shocked many by putting up an impressive 49 points in the first 29 games with the OHL's North Bay Battalion this season. His production seems more fitting of a late first-round pick than a sixth-round selection. Petrov is a sniper that possesses a dangerous one-timer and a strong playmaking ability. Stylistically, Petrov has often been compared to Patrick Laine. He isn't as fast as the previously mentioned prospects, and his defensive game needs work, which may have contributed to his low draft stock. However, he has been so lethal offensively that if he continues to fine-tune some of the other aspects of his game, he has a pretty good shot at becoming an NHL player. A steal of a sixth-round pick for sure.
Carter Savoie (LW)
Savoie is yet another promising left winger in the Oilers system that makes it seem more likely that Ryan Nugent-Hopkins is destined to slide down into the 3rd line center position in order to make room for at least one of them on the left side. Savoie has made a significant leap offensively with the University of Denver, increasing his production from 0.83 P/GP last year to 1.38 P/GP this season thus far. The former fourth-round pick has a solid shot and a good skating ability. While his top-end speed is average, Savoie has excellent agility and edge work that can help him separate himself from defenders while cycling in the offensive zone. Savoie isn't necessarily a slam dunk to make the NHL, but he definitely has top 6 upside if he can iron out his game.
 Verdict
The Oilers have become a much better organization in terms of drafting and developing players than they had ten years ago, and Jay Woodcroft has done an excellent job building a respectable program in Bakersfield. The current crop of forwards contains several players with top 6 potential in the NHL. A promising sign for an organization that could always use a little extra help for McDavid and Draisaitl.