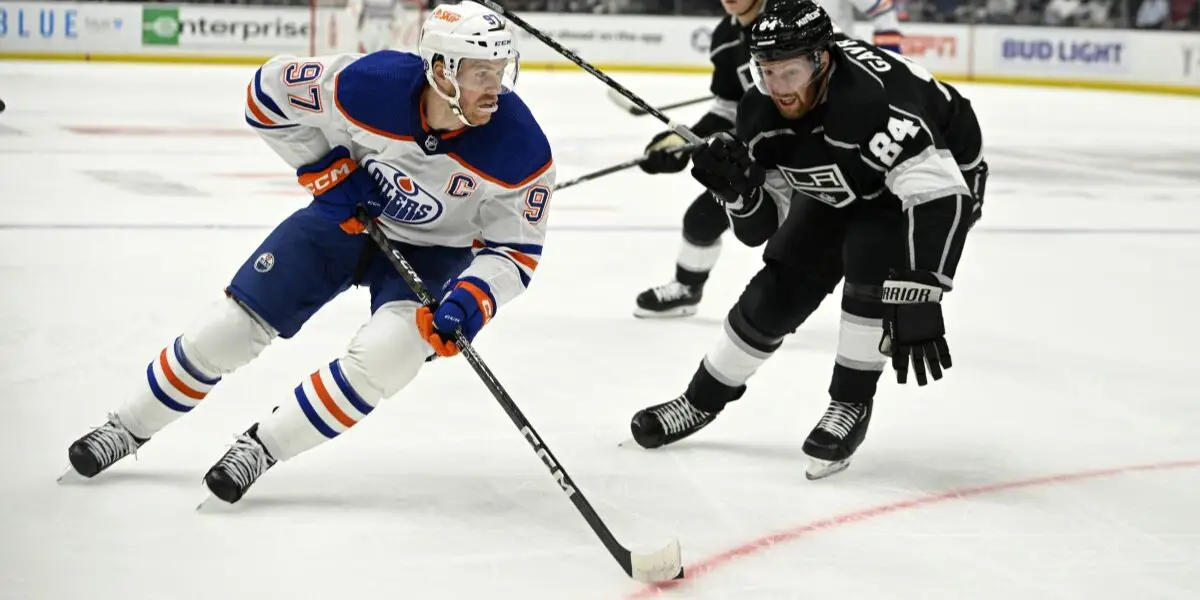 Even though every sports fan is slightly biased, I try not to be THAT fan. However, it is admittedly hard to preview the next playoff game without mentioning the elephant… I mean, hockey stick in the room. The Edmonton Oilers are swallowing yet another tough loss. Gabriel Vilardi's high stick before the OT winner is the Ryan Kesler Holding Cam Talbot's Pad of 2023.
Now, as I brought up in my series preview, every fan and every team takes issue with Playoff officiating. No matter how many highlights or still frames you show someone, they will counter that with their own highlights and still frames. I don't want to pretend that the high stick is the game's only highlight. The real issue has been the goals or non-goals instead of the calls or non-calls. But as much flack as referees get, they can still make the right calls. Putting Darnell Nurse and Drew Doughty in the box was an even call. Doughty held Nurse's stick a bit, but Nurse was still a bit aggressive with his check. When Viktor Arvidsson got tripped by the edge of Nurse's skate, it would look like a five minute major against Nurse. It wasn't a major, but Nurse still got two minutes.
McDavid scored two powerplay goals within two minutes before Kempe tied it up. So I won't say there is a leaguewide conspiracy against Canadian hockey teams. Part of being a contending team is learning how to win while playing through adversity, and this is just another lesson for the Oilers. Last year's Round 1 against the Kings wasn't an easy one, either. They went into Game 6 on the brink of elimination and then won the series. Even LA will remind you it's still a long series. Anze Kopitar and Drew Doughty were on the Kings team in 2014 that erased a 3-0 series deficit in the first round and then went on to win the Cup. It is never over until a team wins four games, and the Oilers need to play as if they remember that. The keys to Game 4 are…
Oh, Top 6, Where Art Thou?
McDavid got the brief monkey off his back on Friday night, and Draisaitl has been Edmonton's best player. The rest of the top six was not getting enough done in the first three games of the series. Zach Hyman and Ryan Nugent-Hopkins are coming off 80+ and 100+ point seasons but have yet to get their names on the goal count for Edmonton. Evander Kane, who led last year's Playoffs in goals, has one, but it was an empty netter. And Kailer Yamamoto looks like he lost all offensive confidence throughout his time with injuries. A lot of scoring opportunities have been dying on his stick. They've had chances, but they must find a way to solve Korpisalo, who is making life miserable for the Oilers' offense.
Scoreboard Over Feelings
When Draisaitl made that light slash on Doughty after McDavid's second goal, it reminded me of their game against the Rangers in November. He scored the game-winner late in the third period and tossed Jacob Trouba's stick out of his hands. At the time, that incident was more deserving of an unsportsmanlike penalty than the one from Friday night that I'm referencing. The difference is probably just regular season hockey versus postseason hockey. You can play the game with emotion without getting emotional. Be intense but still responsible.
If OT Happens Again…
The Oilers have gone to Overtime in 12 Playoff games throughout the McDrai era, and they've only won two of them. Another two of them were lost in just this series alone. If we don't have a winner in regulation, don't take another OT penalty. I know the high stick is hard to get over, but they can't keep putting themselves in positions to suffer those tough losses.
The boys are back after a long break but have plenty to talk about as the playoffs are in full swing. We go series by series, looking at how teams have fared so far and who will come out on top. Thanks for listening! Please rate and review our show on your favorite listening platform. Check out our partner's website at www.insidetherink.com for all your latest hockey news.