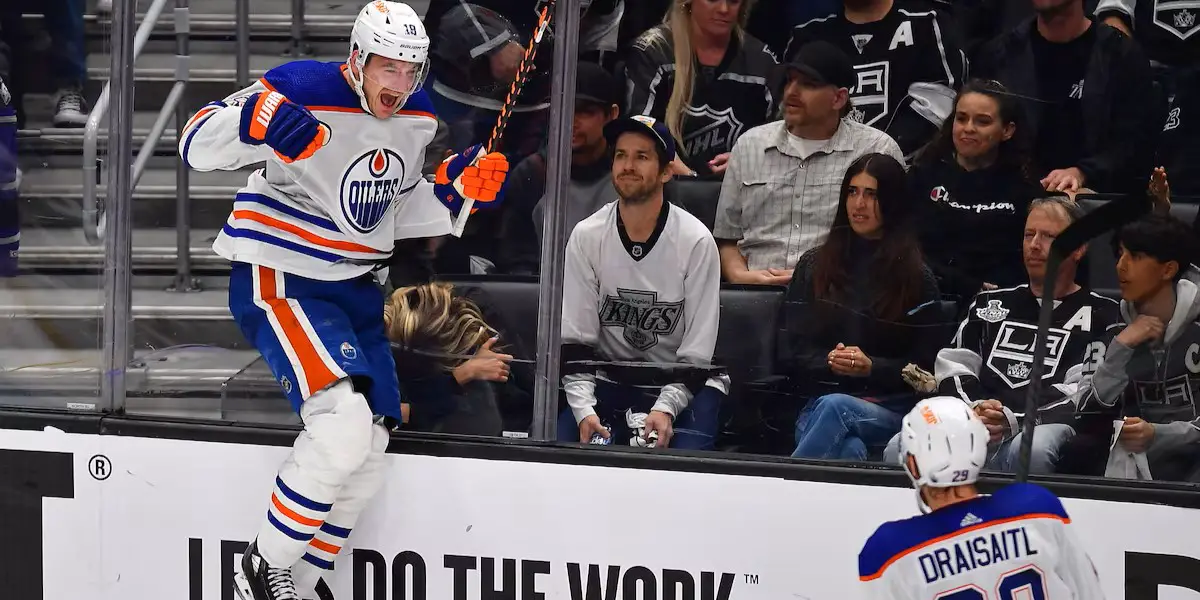 "Up and down like a toilet seat." Monday night was the return of Ken Holland's famous words for the first time in these Playoffs. Whatever was said in the Oilers locker room after that first period worked. Down 3-0 after 20 minutes, they started the game looking deflated. They looked like they were too afraid to start driving play. They skated as if the series was already over. And it was certainly the general mood felt by most Oilers fans.
Once the miracle second period happened, hope was renewed, and it carried on. For all the talk of Zach Hyman and Evander Kane needing to step up in their production, they picked the right time to do so, with a late third period tying goal and an OT goal. But the feel-good story of the night belongs to Jack Campbell. A new five year contract, $5M per year, expected to be the #1 goalie in the 2022/23 season and then had a nightmare regular season. Who had him coming in relief to start the second period and saving Edmonton's postseason for one more day on their Bingo card?
Previous Article: Who should start in goal for Game 5?
He stopped 27 of the 28 shots he faced, but none more vital to the comeback win than when his team was down 4-3 with just a few minutes to play and stopped Viktor Arvidsson on a breakaway. A potential series saving save played a big part in a potential series saving win. After blowing a Game 5 3-0 lead in the 2017 second round against Anaheim and a Game 3 4-1 lead in the 2021 first round against Winnipeg, it felt nice to be on the opposite side of that for once. That being said, it's still business as usual. From L.A.'s perspective, their Game 4 loss is a tougher pill to swallow than Edmonton losing Games 1 and 3. But the Kings will just be looking to move on the same way the Oilers did. The beauty of Playoff hockey is that it tests every team's ability to have short-term memory. Will Edmonton have Game 4 dictate their momentum in Games 5 and 6, possibly 7? Or will LA have their short-term memory save them? The keys to Game 5 are…
Stay In On The Play
On the first Kings goal, Kailer Yamamoto stopped skating when Gabriel Vilardi inched closer to a rebound attempt, leaving the eventual goal scorer uncontested. On the second Kings goal, Vincent Desharnais allowed a spin move by Arvidsson to get passed him. He may've been afraid of getting a penalty and no disrespect to Arvidsson, but it shouldn't have been that easy for a 5'10" forward to breeze by a 6'6″ defenseman. I took no offense to the goals against; I took offense to the stoppage in effort on defense. With their team getting home-ice advantage back, there are no excuses for having these moments. Don't take shifts off. Play them all like you want it and need to have it.
Fial-ing Good
The Kings started this series with both Arvidsson and Drew Doughty, as opposed to last year. Vilardi came back to their lineup in Game 3, and Kevin Fiala returned for Game 4 and looked pretty good after being sidelined for half a month with an injury. This Kings team has gotten healthier as the series goes on. Their offense got more balanced again, and the Oilers defensive structure will have to keep all of LA's forward lines on their radar.
Your Own Fans Are Back
Going back to Edmonton for Game 5 feels different than last year. In 2022's EDMvsLA series, the Oilers dominated the Kings with 6-0 and 8-2 wins in Games 2 and 3, then the Kings came back in Game 4 with a 4-0 win to tie the series 2-2. In 2023, the Kings should be up 3-1, but let that opportunity massively slip. The confidence and the excitement should be back on the side of the home team. Though I must also ask; if you're attending Game 5 and there's another tough loss at Rogers Place, please don't toss your things onto the ice like in Game 1. It doesn't change how the team plays, and it's also really disrespectful and dangerous. You need a positive attitude to build momentum. Send the players cheers, not beers.
The boys are back after a long break but have plenty to talk about as the playoffs are in full swing. We go series by series, looking at how teams have fared so far and who will come out on top. Thanks for listening! Please rate and review our show on your favorite listening platform. Check out our partner's website at www.insidetherink.com for all your latest hockey news.