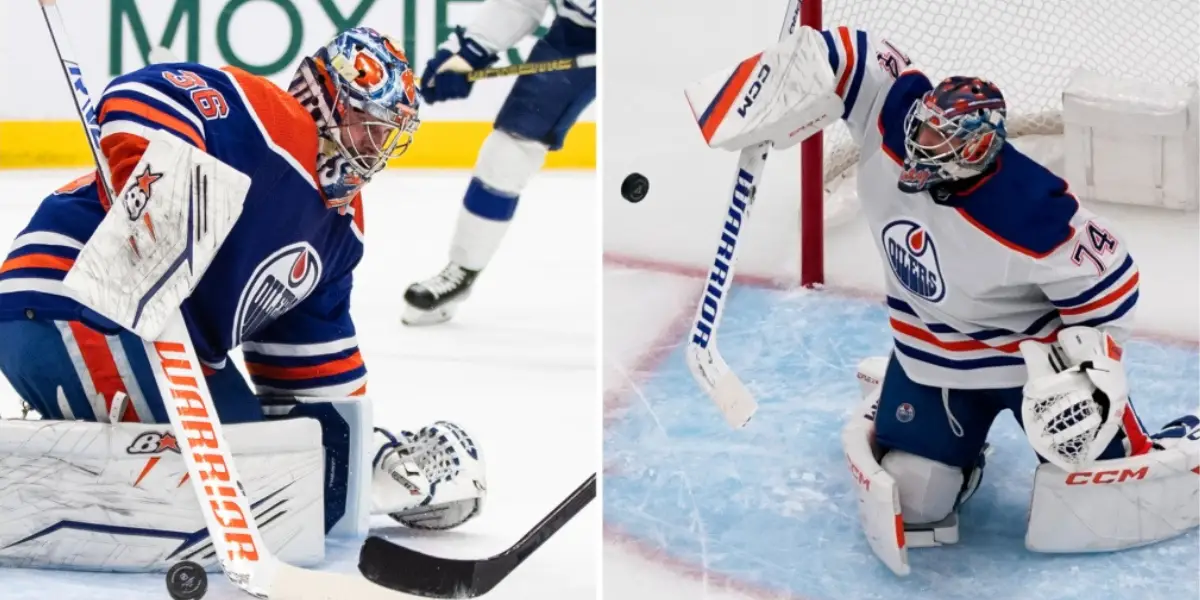 Coming into the first-round Stanley Cup playoff matchup between the Edmonton Oilers and Los Angeles Kings, it was clear that the Oilers' net belonged to rookie Stuart Skinner.
Skinner, 24, certainly earned the starting job for the playoffs thanks to a terrific regular season. He went 29-14-5 with a 2.75 goals-against average, a .914 save percentage, and one shutout while also being selected to play in the All-Star game.
In the playoffs, however, Skinner has not been himself. In four games, he is 1-2 with a 3.38 goals-against average and a .881 save percentage and was pulled in Game 4 after allowing three goals on 11 shots.
While the blame cannot solely be placed on Skinner's shoulders, there is no doubt that his play has not been up to par in this series. He has allowed a few soft goals and even put his team behind the eight ball heading into Game 4 as his team was down 2-1 in the series.
The series is now tied at two games apiece thanks to Zach Hyman's overtime-winning goal on Sunday night, April 23, to help the Oilers win 5-4. It was a game that the Oilers had to win, and they were able to do so, but it was not because of Skinner.
It was because of the Oilers' other goaltender, Jack Campbell, that the Oilers were able to escape Los Angeles with a tie in this series. After Skinner was pulled, Campbell came in and stopped 27 of 28 shots.
Campbell made a lot of big saves and allowed his team to come back to tie the game and then win it in overtime. He looked like the Campbell that the team signed to a five-year, $25 million contract in the offseason.
For Campbell, it was a change from the way he played in the regular season. He stopped the shots he should have stopped, he did not allow any soft goals, and he gave his team a chance to win a hockey game.
This was not the case for Campbell in the regular season, as he was terrible for the Oilers this season, even though he won 21 games. He finished the regular season with a 3.41 goals-against average, a .888 save percentage, and one shutout.
Now, Oilers head coach Jay Woodcroft has some thinking to do regarding which goaltender to start in Game 5 on Tuesday night back in Edmonton. Does he go with the guy who was a major factor in the Oilers' success during the regular season in Skinner, or does he give Campbell a chance to start living up to his big contract?
You could certainly make a case for both. While his numbers are not great, Skinner certainly has not been terrible in these playoffs. A key save here and there, and his numbers look a lot better, and his team is probably up in this series.
As for Campbell, he showed that he could come up big when the team needs him the most. The Oilers could easily be going into Game 5 down 3-1 in this series, but because of Cmpbell's timely relief performance in Game 4, this series is tied.
I certainly would not want to be in Woodcroft's shoes!
The boys are back after a long break but have plenty to talk about as the playoffs are in full swing. We go series by series, looking at how teams have fared so far and who will come out on top. Thanks for listening! Please rate and review our show on your favorite listening platform. Check out our partner's website at www.insidetherink.com for all your latest hockey news.