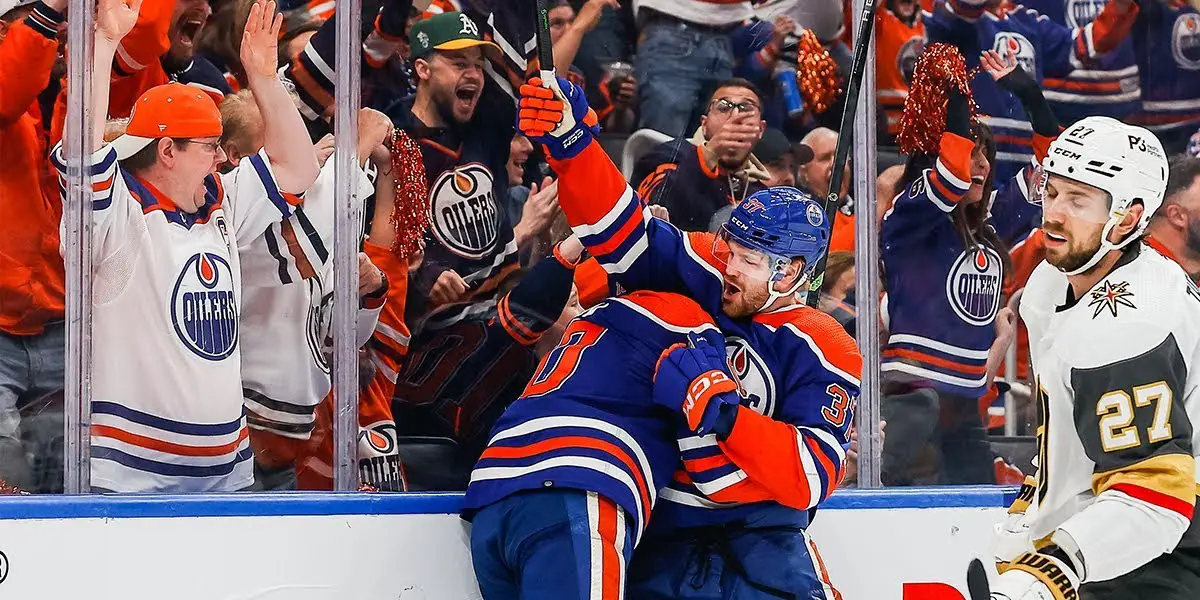 I couldn't sit and watch Game 3 on Monday night. I could only check the score on my phone every once in a while. I was out of the house that whole evening but did make it home on time to watch the third period if I wanted to. But I felt there was no point when the game was 5-1 for the Golden Knights. When I saw that score, I thought, "Good thing I couldn't watch this after all." I went on Twitter after the final score. Some tweets blamed the refs, and some said the Oilers didn't start the game on time. I recorded the game and then started my afternoon yesterday sitting through it all to see which side of Oilers Twitter was right. My conclusion? Neither. While the first period was still on, I kept thinking, "How did this game end up finishing 5-1?" They got the game's first goal on their first shot, and Draisaitl had some grade A chances to bury it himself, prompting Louie DeBrusk on the Hockey Night In Canada broadcast to joke, "They can't all go in."
There were many other great scoring chances for the Blue and orange. Maybe I'm in the minority here, but I don't think the Oilers looked like a team that lost by four goals. Everything went in for Vegas, and everything stayed out for Edmonton. There should have been a penalty when Yamamoto was high-sticked before the second Vegas goal. Still, Kane should not take a cross-checking penalty in retaliation before the first period ended. They had a key penalty kill in the first two minutes of the second period, but it wasn't enough to motivate a comeback. If you claim the referees defined the outcome in the first 20 minutes of a 60 minute game, you probably don't deserve to win many games. The Oilers had been playing two months of really good hockey. They were bound to play a stinker eventually. I am, however, happy for Warren Foegele getting his first Playoff goal as an Oiler. Here's hoping he keeps that trending in the right direction. He's done good little things even without the goals. The keys to Game Four are…
Road Warriors
The Golden Knights were sixth in road wins during the regular season, while the Oilers were fourth. Both teams traded ugly home losses (or spectacular road wins, depending on who you cheer for). At this moment, Edmonton will look to disrupt the consistency of that streak in order to tie the series.
King Of The Hill
We hope that Laurent Brossoit will be okay after his groin pull in the second period on Monday night. Adin Hill was solid coming in for Brossoit, stopping all 24 shots he faced. He also had a solid regular season in Vegas' rotating goalie situation, a 16-7-1 record with a 2.49 GAA and .914 SV%. With the #1 goalie now out with an injury, the Golden Knights will need their backup to be a Playoff hero the same way that Jack Campbell was for the Oilers in Game 4 against the Kings.
Order Soup instead Of Stu?
I already referenced Campbell in the second key, and this third key may or may not even be relevant come puck drop. While nobody blames Stuart Skinner for every goal he's allowed in these Playoffs, I feel he could've stopped one or two of them on Monday night. He's only allowed less than three goals in one game during this postseason. This is the time to have the goals against drop. Campbell saved Edmonton's Playoffs in the first round. I know Skinner was Edmonton's second MVP after McDavid, but I sometimes wonder if Jay Woodcroft would consider giving Campbell the goalie's net with Skinner having normal rookie troubles. The goalie matchup would still be pretty even with two fresh faces between the pipes on opposite ends.
The boys are back after a long break but have plenty to talk about as the playoffs are in full swing. We go series by series, looking at how teams have fared so far and who will come out on top. Thanks for listening! Please rate and review our show on your favorite listening platform. Check out our partner's website at www.insidetherink.com for all your latest hockey news.