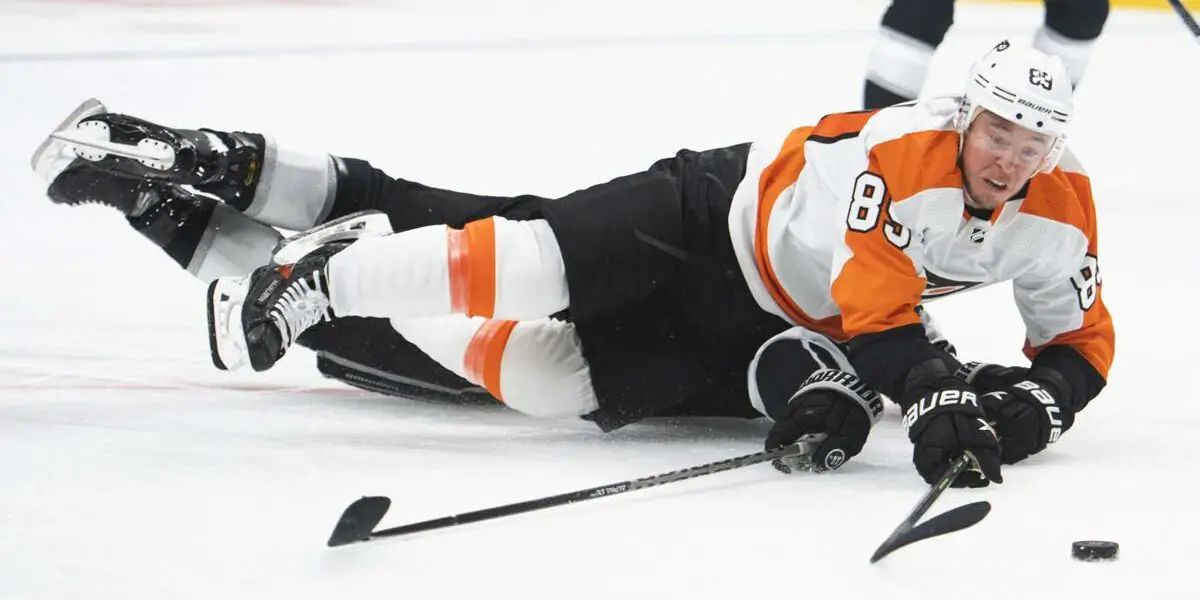 After suffering a 6-3 loss at the hands of the Los Angeles Kings Saturday night, the Philadelphia Flyers' point streak came to an end. Although seven games with at least one point are nothing to scoff at, Philadelphia needed it to happen to claw itself back to relevancy this season. Once a team appeared more destined for a lottery pick than a playoff spot, the Flyers sit just one point behind the second wild-card spot in the Eastern Conference. At first glance, one might declare that Philadelphia has patched up their sinking ship, with smoother sailing ahead. However, when you dive into these past eight games, it might be more challenging to come to that conclusion.
Rewinding to December 9th, the Flyers could not have been in a worse place. The team suffered a lifeless 3-0 shutout loss to the New Jersey Devils, extending their losing streak to double-digits with no end in sight. Alain Vigneault was out as Philadelphia's head coach, and interim bench boss Mike Yeo failed to get anything different from the floundering Flyers. The focus shifted to rebuilding a large portion of the fanbase, demanding the organization burn it all down and start anew.
One night later, the Flyers finally put an end to the losing, defeating the Golden Knights 4-3 on the road. Then came two more wins against the Arizona Coyotes and New Jersey before losing in a shootout to the Canadiens in Montreal. After that, Philadelphia managed overtime victories against the Ottawa Senators and Seattle Kraken before losing in overtime to the San Jose Sharks. As mentioned, the Flyers removed themselves from the "lost cause" category.
Unfortunately, Philadelphia's play during that time remained far from impressive. In at least four of those seven games, the Flyers still looked like the inferior team. Against Ottawa, Montreal, Seattle, and San Jose, Philadelphia witnessed utter domination by the opposition but found ways to escape with at least a point. The team rarely appeared like the better team for prolonged periods, merely demonstrating an ability to survive. That "just hold on" approach may have worked against their recent opponent, six of which are out of the playoff picture. But it is hard to picture the Flyers holding their own against organizations destined for the postseason and potential Stanley Cup aspirations.
Aside from the 6-1 win over the Devils, Philadelphia struggled to produce another convincing victory during the seven-game point streak. Yes, the team possessed fair reasons for not looking like a well-oiled machine. Still, it is hard to argue that they are in a different situation than any other NHL team. If a team cannot demonstrate a killer instinct against opponents they are "supposed to beat," what makes anyone think they can do so against the more talented franchises? Although the Flyers technically climbed back into postseason contention, one can make a convincing argument that they will not be there when the season concludes.
Philadelphia's following string of games should be pretty telling as to determining where this team will land in the end. They finish their road trip against the surprisingly strong Anaheim Ducks before playing four of their next five games at home. The Flyers take on Pittsburgh, San Jose, Carolina, Boston, and the New York Rangers during that span. Aside from San Jose, five of those six contests will serve as actual measuring sticks for Chuck Fletcher and the Flyers organization as they attempt to determine which direction to take the franchise.
If Philadelphia can muster convincing wins against some of their upcoming opponents, an honest conversation regarding playoff likelihood is justifiable. If not, talking points may shift to selling at the trade deadline.