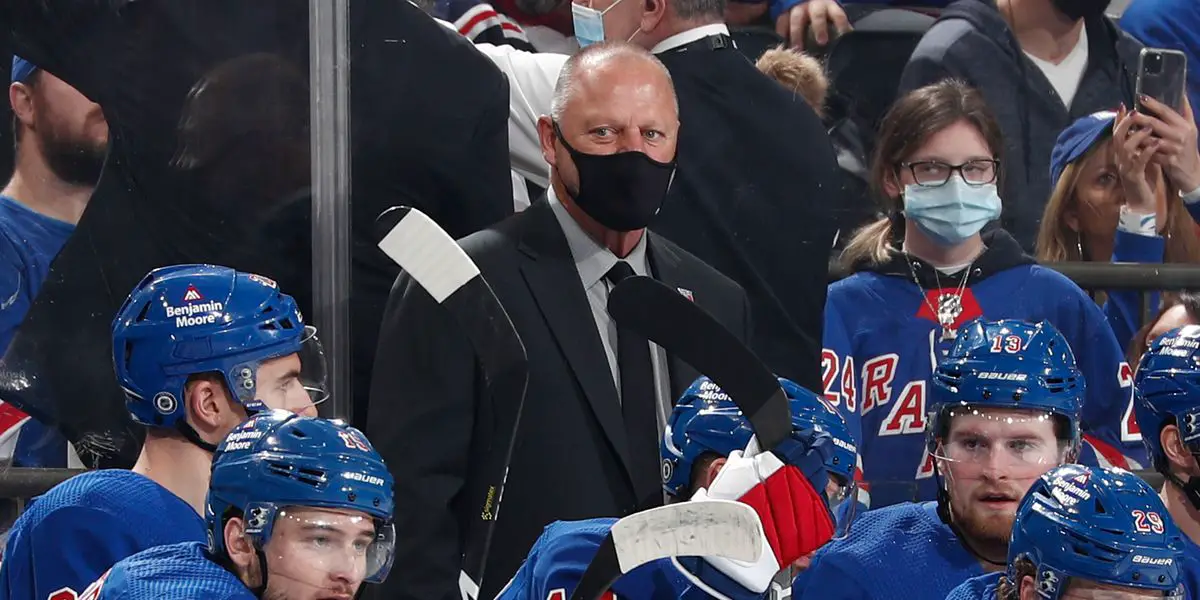 It's no secret that the Rangers have made significant strides in the right direction this season. The biggest reason for this is a new coaching staff, specifically Gerard Gallant. After experiencing three seasons under David Quinn, a change was inevitable. Fans were ecstatic with the hire of Gallant, but he has somehow managed to exceed our expectations.
This season has been the best start for the Rangers since they were serious contenders. We talk about the importance of Chris Kreider's consistency and Jacob Trouba starting to live up to his contract, but why are all these things coming together this season? The answer is simple, coaching. Gallant has been great at coming up with line combinations that work. Our healthy fourth line consists of Kevin Rooney, Ryan Reaves, and Barclay Goodrow, who have proven to play very well together.
Gallant took a struggling Lafrenière and found linemates that fit him and complimented his abilities. Although the former first overall selection hasn't hit the offensive stride we had hoped, he has been showing significant improvement.
The Rangers have become a team that makes others nervous. They offer both a physical aspect along with the skill of their top six and goaltenders. Not to mention the overall togetherness they're exemplifying this season. As MSG Analyst Steve Valiquette said, the Rangers feel like a team this year, not just a club. They have started to feel more like a family than in previous years, and it's clearly displayed on the ice. Alternate Captain Jacob Trouba said in an interview, "The morale of the group is definitely higher. It's been a good atmosphere to be around."
A great coach can do that for you, change the whole atmosphere around the team. Gallant having such a positive impact on the top guys like Zibanejad and Kreider ultimately leads to a positive influence on younger guys like Lafrenière and Kakko. They feel like a complete team now. Not one person seems out of place, and everyone has a role. As a fan, it's refreshing to see a coach like Gallant behind the bench, hopefully leading us through the playoffs in the near future.