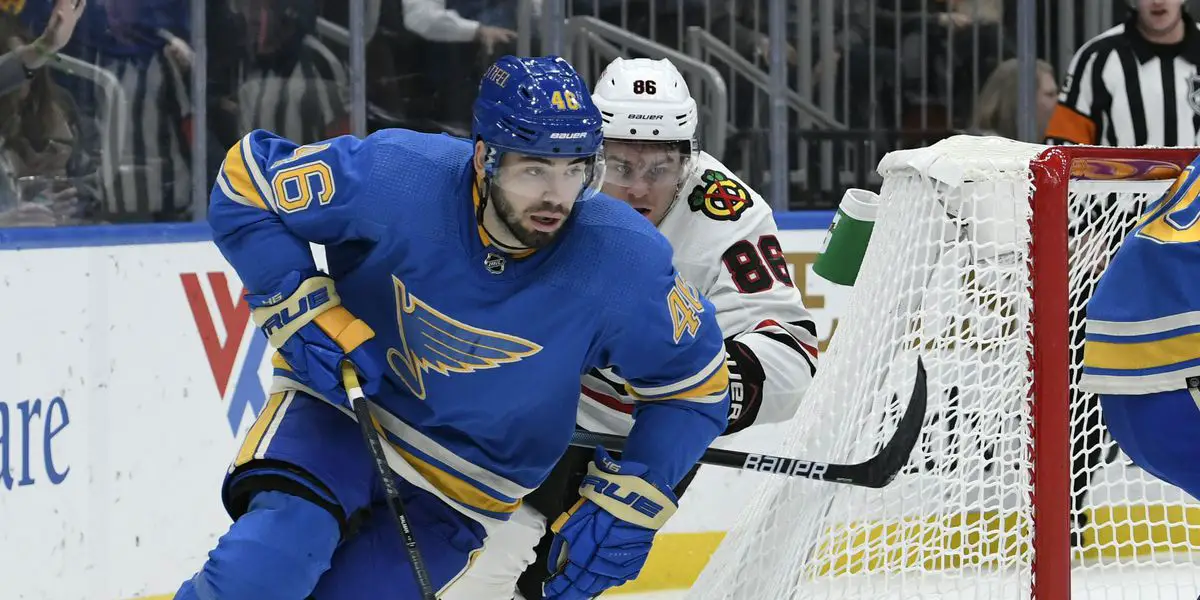 The 2021 NHL trade deadline was highlighted by Steve Yzerman making a surprise trade that sent Anthony Mantha to the Washington Capitals in exchange for Jakub Vrana, Richard Panik, a 2021 first-round pick, and a 2022 second-round pick. While the Red Wings didn't make as big of a flash this past Monday, the management team was able to turn a pending unrestricted free agent defenseman in Nick Leddy into three assets. The trade could be viewed as a wash, as Detroit gave up a second-round pick and Richard Panik (50 percent retained) for Leddy this past summer. But there is a possibility of more upside for Detroit.
Here is the official trade:
Oskar Sundqvist
Sundqvist is a 6'3, 210 28-year old forward who has prided himself in being a responsible 200-foot player and also being a go-to penalty kill specialist. In the 2018-19 season, Sundqvist enjoyed a career year, scoring 14 goals and 31 points in 74 games. He centered the Blues' fourth line between Ivan Barbashev and Alex Steen, which turned out to be one of their best lines en route to winning the Stanley Cup.
The past two seasons, Sundqvist has struggled to stay healthy, playing in only 28 games in the 2020-21 season due to an unfortunate ACL tear he suffered during a game in San Jose. He didn't return to the lineup until November of this season and played 41 games with the Blues, registering four goals and 11 assists.
Sundqvist is under contract until 2023 at a $2.75 million cap hit, which is what made him the perfect player to come back to Detroit for Nick Leddy, who, at 50 percent retained salary, also has a $2.75 million cap hit. But in his post-trade deadline press conference, Steve Yzerman's comments suggest there is more to bringing in Sundqvist than just a "cap dump." On the roster next season, the Red Wings have only one right-handed shooting forward, that being Lucas Raymond. The Red Wings have expiring contracts in the bottom six at the end of the season. Sundqvist gives Detroit a player who shoots right under contract and has proven to have a positive impact on the penalty kill throughout his career. 
On Tuesday night versus Philadelphia, Sundqvist showed the Red Wings what kind of impact he can have on the lineup. While he scored his first goal as a Red Wing and assisted on Tyler Bertuzzi's goal, they were both registered while the Flyers had their goalie pulled. Sundqvist slotted in on the third line right wing spot alongside Joe Veleno and Givani Smith, where Sundqvist made his impact was on the forecheck as he was the first player on a loose puck and was physical on the Flyers defense, which is something the Red Wings' forwards haven't done enough of this season.
Sundqvist was a fan favorite in St. Louis and is already well on his way in Detroit. In his opening press conference, he was asked about his favorite Red Wing player growing up and responded with Tomas Holmstrom, who was also a fan favorite.
Jake Walman
When I first saw that Walman was included in the trade, I assumed he was an add-on to make room for Leddy in St. Louis, given that they are both left defensemen. Walman is a 26-year-old, left-handed defenseman that played a very sheltered role for the St. Louis Blues, averaging less than 12 minutes a night. But during Yzerman's press conference, his comments about Walman were a cause for excitement from Red Wings fans. Yzerman said that he has had his eye on the defenseman for a while, dating back to when Walman was playing at Providence College, and Yzerman was the General Manager of the Tampa Bay Lightning.
Walman has upside, as he is a 6'2 215 pound defenseman who is a good skater, especially in transition. He also has been described as a "trigger-happy" defenseman, which is something the Red Wings have been missing in their current defensive core.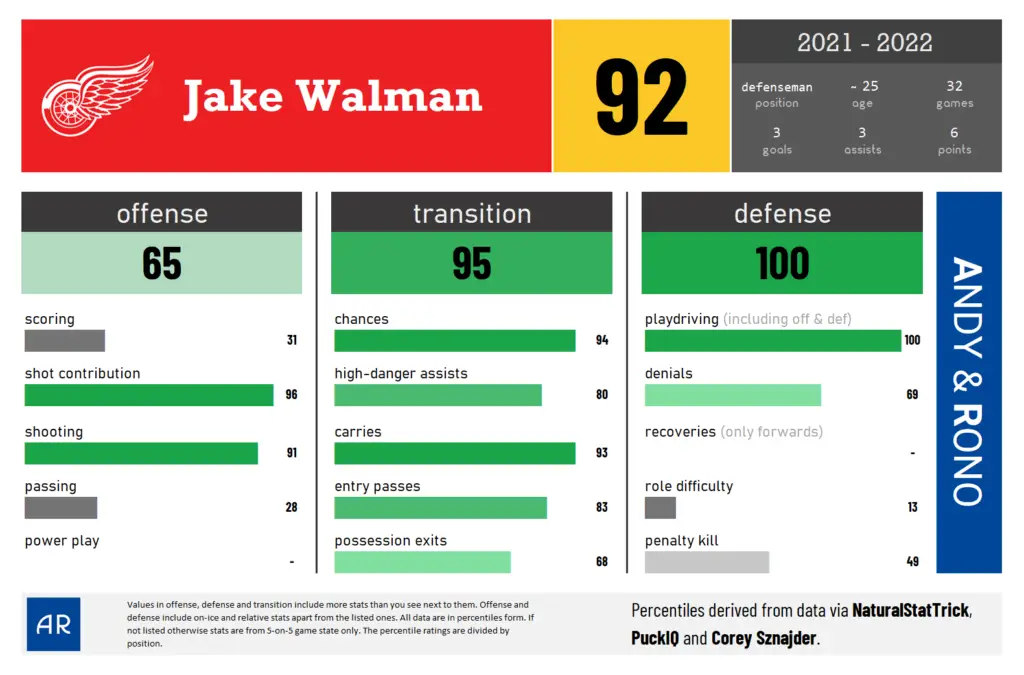 After doing some digging on Walman, I came across this chart from Andy & Rono on Twitter. It lays out how impressive Walman has been compared to the rest of the league, granted he was in a sheltered role in St. Louis, but there is untapped potential.
That potential was on display Tuesday night versus Philadelphia as Walman was one of the Red Wings' best defensemen. Walman played a total of 17:19 minutes, which was the second-most he has played all season. His ability to carry the puck out of the defensive zone and into the neutral zone with possession was something that stood out to be. Walman also has a cannon of a shot, and this play right here puts it on display, as he steals the puck after a Flyers turnover, weaves through the neutral zone, gains entry into the offensive zone, and steps into a quality shot on net.
The Red Wings didn't have any powerplay opportunities versus Philadelphia, but I am curious if Walman would've gotten an opportunity on the Red Wings' second unit. With his shot and the loss of Nick Leddy, there is a natural replacement and possibly an upgrade, as Leddy was never a real shooting threat.
Walman will still be a restricted free agent under team control at the end of the season if he plays 16 out of Detroit's final 19 games. With Yzerman mentioning that Walman will get an opportunity in Detroit and the need for NHL-ready left-handed defenseman, Walman will most likely hit that threshold.
Jeff Blashill also mentioned Walman being similar to former Red Wing Nick Jensen, as both players can defend with their skating ability. With the one-game sample, we have to go on for Jake Walman in Detroit, and I think he has a chance to be another nice find by Yzerman from St. Louis.
On top of the two roster players, the Red Wings also received a 2023 second-round pick in the trade, which is an asset that Yzerman can use in a couple of different ways.
The Red Wings' drafting under Yzerman in the second round of the draft has been pretty direct, as they have targeted players with first-round talent but have deficiencies that kept them outside of the top-31 picks. As they develop, there is some promise that the likes of Albert Johansson, Shai Buium, and William Wallinder will pan out to be NHL defensemen. The Red Wings could shift their focus to forwards who also fit the profile of a "home run swing" and fill the biggest organizational need.
Last offseason, Yzerman also proved that he was willing to spend futures on improving their team in the present. For example, Nick Leddy was acquired for a 2021 second-round pick, and Alex Nedeljkovic was the cost of a 2021 third-round pick.
With the arrival of Moritz Seider and Lucas Raymond and the career years that Tyler Bertuzzi and Dylan Larkin are having, there could be an argument that the Red Wings should spend a few of those picks to support those players. A trade that would fit this bill that happened over the summer was the Los Angeles Kings trading a second-round pick and a third-round pick in exchange for Viktor Arvidsson. Arvidsson has been a key member of the Kings' success this season, as he sits fourth on the team in points with 38.
With the salary cap, there should be plenty of teams this offseason who are strapped for cash and have to move a player that they necessarily don't want to move, and the Red Wings could take advantage while also improving the roster. Either way, the Leddy trade has given the Red Wings' current roster new life and also set up Steve Yzerman and the rest of the Red Wings management with a valuable asset that can be used in the future.
With five picks in the top-50 of the 2023 NHL Draft, the Red Wings are in prime position to make a trade for a top-six forward. We breakdown fits of players that are potentially on the trade market and what a potential package could look like. We also start with how Red Wings at the World Championships are performing, focusing on Dominik Kubalik, Carter Mazur, and Lucas Raymond.