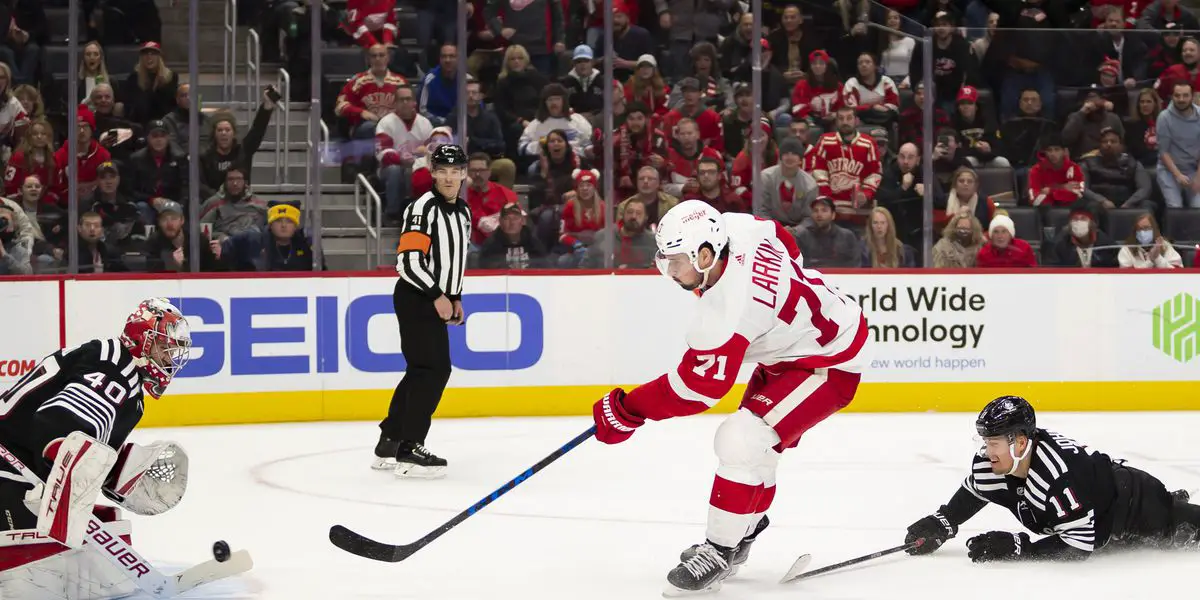 Dylan Larkin has been the heartbeat of the Detroit Red Wings since he was drafted 15th overall in 2014. He has never played for a team outside the state of Michigan in his life and grew up loving the Red Wings. After his mentor, Henrik Zetterberg retired in the fall of 2018, Larkin became the organization's face at only 22 years old. Recently, there have been questions about whether or not Larkin is an elite center in the NHL. This season so far, Larkin has been just that.
Dylan Larkin's breakout season for Detroit came in 2018-19, where he scored 73 points in 76 games. Larkin's 32 goals led the team and was the first time a Red Wing scored over 30 goals since the 2008-09 season where Hossa, Datsyuk, Zetterberg, and Franzen all met that mark. Larkin would follow up with 53 points and 23 points in the next two seasons, respectively. The 2019-20 Red Wings were historically bad, as they ended up with only 17 wins in 71 games, so offensively Larkin was respectable considering the circumstances. With the start of the 2021-22′ for Larkin, this begs the question; What is Larkin doing differently from the previous season?
Larkin's 2020-21 Season
The 2020-21 season was a nightmare season for Dylan Larkin. With NHL finally returning in a bubble format, Dylan Larkin played his first season as captain with no fans. Nine goals in 44 games from your 1st line center is less than ideal. But to start the season, through 9 games, he had 7 points, which was the same amount as his linemate, Tyler Bertuzzi. During that 9th game versus Florida, Bertuzzi would leave the ice due to a back injury that would lead to him needing surgery and missing the rest of the 20-21 season. Without Bertuzzi, Larkin would have a plethora of different linemates, leading him to struggle to develop on-ice chemistry and struggle offensively. His most common linemate, Anthony Mantha, was traded to Washington at the trade deadline.
There was a glimmer of hope for Larkin turning his season around as the return for Mantha brought in Jakub Vrana. That brought together the line of Vrana-Larkin-Zadina, which was only able to play together for a total of a little over 16 minutes. That line was dominant as they had a CF% of 72.7%. Unfortunately, Larkin's season would come to an end as he took a nasty cross-check from Dallas' forward Jamie Benn.
This Season
So far in the 2021-22 season, Larkin leads the Red Wings in points with 30 and has only played 29 of the team's 33 games. This puts Larkin on pace for 81 points in 78 games, which would be his best offensive season to date. On his current pace and barring injury, Larkin would sail past his 2018-19 goal total and finish with 40 goals. The big difference with Larkin's game from last season to this season is his shooting. Larkin's amount of shots he has been taking has relatively stayed the same, with roughly five shot attempts and three shots on goal per game. The difference is that Larkin is shooting from more dangerous areas in the offensive zone. 
According to MoneyPuck, Larkin has registered 15 high danger unblocked shot attempts this season. In comparison to 20-21, Larkin only had 13 high danger unblocked shot attempts the entire season. With Larkin having more high danger chances, he has increased his shooting percentage. From a young age, as a hockey player, you are taught to get areas around the net to score, and this goal right here is a great example.
Larkin has had stability both in the offensive and defensive zone with his wingers and has focused more on offense. He's been the driving force of one of the best offensive lines in the entire league, with Raymond and Bertuzzi on his wings. According to MoneyPuck, The trio currently sits 3rd in the NHL in xGoals per 60 minutes with 3.09 for lines that have played together over 220 minutes. With having a healthy Bertuzzi and an elite playmaker in Raymond, Larkin has been able to create offense at a rate we have not yet seen from him.
Another factor to Larkin's breakout season is having a capable second-line center with Pius Suter. Since taking over for Zetterberg as the #1 center, Larkin has never really had a guy behind him that was worthy of second-line minutes. Having a guy like Suter take some of the defensive assignments and be a quality penalty-kill option has helped Larkin this season. Larkin played well over 20 minutes a night with a lot of time in challenging defensive situations. This season Larkin is averaging 18:56 minutes a night, with Pius Suter right behind him, averaging 16:39 minutes a night.
For the week ending December 19th, Larkin was named the NHL's first star of the week. Besides leading the Red Wings in points, he is also sitting towards the top of the NHL for points by a center. Larkin currently ranks 11th, and he has also missed 4 of the Red Wings' 32 games this year. Larkin had five goals and two assists through three games, including his first career hattrick against New Jersey.
All-Star Apperance?
On December 11th, the NHL announced that Dylan Larkin, Lucas Raymond, and Moritz Seider were nominated and available for the 2022 NHL All-Star Fan Vote. It is has been a few years since Detroit has had multiple worthy nominees, and gone are the days where Frans Nielsen and Mike Green represent the Red Wings due to the 1 player per team rule. Lucas Raymond is currently leading all NHL rookies in points and is second on the Red Wings, only behind Larkin. Moritz Seider quickly has taken over the #1 defensive rose, leads all rookie defensemen in points, and sits 3rd in all rookie scoring. But I still think Dylan Larkin deserves a spot in the NHL All-Star Game.
He is among the best when you compare Larkin to other forwards in the Atlantic Division. Larkin is tied for 6th in points, behind Steven Stamkos, Johnathan Huberdeau, Auston Matthews, William Nylander, and John Tavares. One of the staples of Larkin's game is his speed. Larkin is arguably the fastest player in the Atlantic Division and would be a headliner in the fastest skater competition at this year's All-Star Game. He currently holds the fastest skater record in the NHL with 13.172 seconds, which he won at the 2016 All-Star game beating Mike Gartner's record set in 1996.
The Fastest Skater Competition is always a highly anticipated event when it comes to the NHL All-Star Game. It is probably only behind the Hardest Shot Competition when it comes to popularity. Having Larkin in that event would give the NHL the ability to market the current record holder against the likes of Connor McDavid and Mat Barzal. Larkin also won it under the old rules, so if he has a good showing, he may be able to quiet the crowd, saying he holds the record on a technicality.
Ultimately, I think Larkin deserves to be at the event as he has been one of Detroit's best forwards and the entire NHL's. But what may end up happening is that Detroit only gets one representative, and since defense isn't as deep as forward in the Atlantic division, Moritz Seider would be the guy. If it were up to me, I'd say that all three Red Wing nominees deserve to be in the event as they are all among the best in their positions.
With this mic'd up clip alone, Larkin should be a shoo-in for the 2022 NHL All-Star Game in Las Vegas.