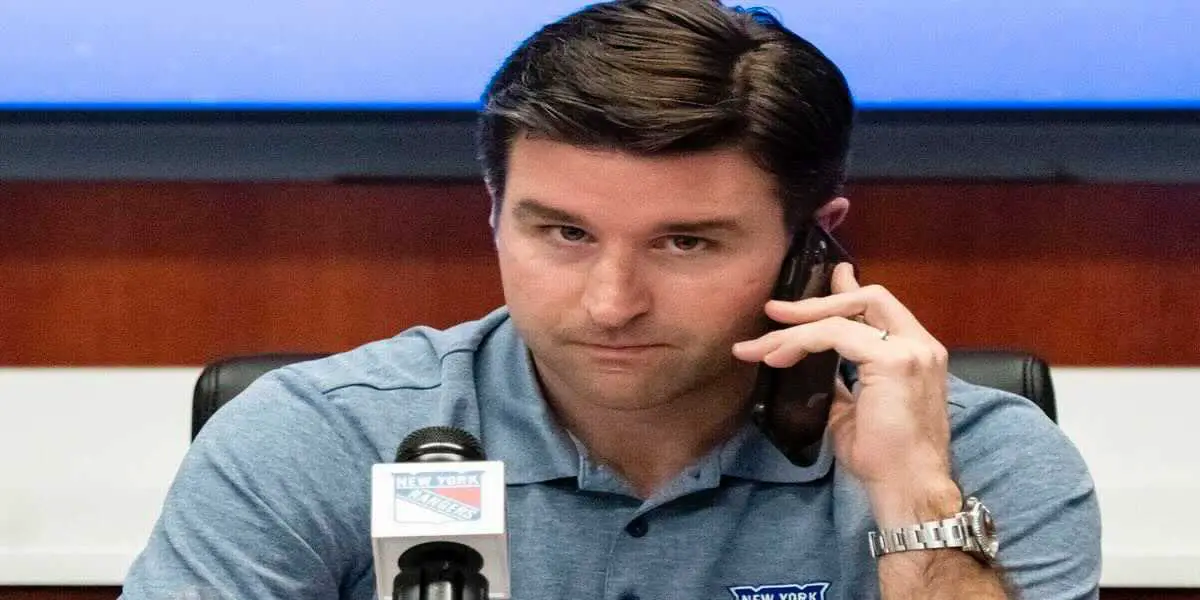 The New York Rangers have been a peculiar team this season, having an outstanding record of 19-7-4 in 30 games (3rd in their division as of today), but does that tell the whole story? They are 13-0-1 against teams under .500. However, they are 6-7-2 against teams that are above .500. This record shows that maybe they're just taking advantage of the bad teams. So what do the Rangers need to do to get from being pretenders to contenders?
The organization has multiple options internally, but that doesn't seem enough. It's no secret that Mika Zibanijad has been struggling without Pavel Buchnevich since they gave him up last summer for a bag of pucks. However, there is a problem. Do you go after a top right-winger, or do you get a Center to replace Strome? Cap-wise, you can't do both, so what is the more significant need? Figuring this out will help target what players you want to go after to take the next step.
If you think Strome is the answer to the second line, then that means going after a top-notch winger. Now, do you go the rental way or the long-term route? It seems to be that the Rangers would not be willing to trade their blue-chip prospects for a rental; however, for a long-term investment, it seems to me they'd be willing to part ways with a few top prospects. Here are the rentals you can be looking after.
Rental Wingers
Phil Kessel – 1 Year UFA, $6.8 Million Cap Hit 
Kessel has been pretty solid on a team that has been pretty much disastrous. With five goals and 12 assists for 17 points in 29 games this season, he won't require a departure of top-notch prospects as well as Arizona will likely eat 50% of the cap hit since they only pay him 1 million dollars in real money this year.
Joe Pavelski – 1 Year UFA, $7 Million Cap Hit 
Dallas is still in the playoff hunt, but they will probably be willing to part ways with someone like Pavelski if the wheels come off the wagon. While I am not a fan of this since he essentially accomplishes what Kreider does in front of the net, he will undoubtedly make this team better.
Reilly Smith – 1 Year UFA, $5 Million Cap Hit
With Vegas's cap problems, Rangers might be able to take advantage of that and snag up one of Gallant's original players from Vegas. A winger like Smith would provide that little extra push the Rangers might need.
Longer-Term Wingers
Vladimir Tarasanko 2 Years UFA, $7.5 Million Cap Hit
His cap hit would be tough to bring in but doable. The sniper is having a fantastic bounce-back year after a shoulder problem. During a downswing for Tarasanko, he requested a trade. Teams were unwilling to trade for him because of injury questions in the summer. Now they are likely kicking themselves as the price has gone up, but the Rangers have the assets to make that happen.
Tyler Toffoli 3 Years UFA, $4.25 Million Cap Hit 
With Montreal just in ruins, they might want to sell off some pieces to rebuild. Toffoli would garner much interest if he hit the market and has an extremely reasonable cap hit. This trade would require a solid package to get him, but this is an excellent option if the Rangers want to take the next step.
Jonathan Marchessault 3 Years UFA, $5 Million Cap Hit 
For the same reason as Reilly Smith, Vegas has to trade a player to be under the cap by the trade deadline because of the Eichel trade earlier this year. If Vegas decides that he is up for grabs, the Ranges might take a swing at him, and again, Gallant is very familiar with him.
Let's assume now you are in the camp that a winger is not the way to go, and you believe the Rangers should be targeting a center. The rental market for a center is likely an unrealistic solution, so we'll move forward with only looking at potential options for longer-term solutions for a second-line center.
Tomas Hertl 1 Year UFA, $5.6 Cap Hit 
OK – admittedly, this is a rental option, but you'd have to hope you can re-sign him before he hits free agency. The addition of Hertl would be huge, as it would give you a 1-2 punch of Zibanajad and Hertl. This trade would likely require the most extensive package we've discussed in this article but would be worth it to get a stud of a second-line center. This option is honestly my dream scenario.
William Karlson 6 Year UFA, $5.6 million Cap Hit 
Again with Vegas, someone has to go. If they believe in Stephenson, he's probably the likely one out. With Gallant's familiarity and him being on a long-term deal, this isn't someone they'd need to worry about re-signing anytime soon.
Dylan Larkin 2 Years UFA, $6.1 Million Cap Hit 
Now, wait before you object that there is no way the Red Wings would ever trade him. Remember, he only has one year left after this year, so he might not be down for another couple of years of rebuilding. The Red Wings can't just let him walk, and as a rental next year, they will only get the price of a rental. Still, if they trade him this year, they would get a much bigger package; yes, he's a 25-year-old center that you have to try and sign at all cost, but there's something as assets management, and Yzerman isn't going to have this guy walk come next year. 
Wild Card 
Cloude Giroux 1 Year UFA , $8.25 Million Cap Hit 
It's a possibility that the Flyers, at all costs, won't want to send him to the Rangers. Still, if they would, he is probably one of the intriguing guys on the list as he can play center and wing. The Rangers are brutal in the faceoff dot, so adding someone as excellent in the dot as Giroux would be a significant upgrade. If needed, he can be a rental, or he can be a guy you try to re-sign. If the Flyers are willing to play ball with the Rangers, they should be all over this. 
Before we end, we're just going to finish off with in-house changes. Nemeth does not belong on any D-Pair for the Rangers, and you should call up Zach Jones to replace him, who has been fantastic in Hartford. Georgiev was not built to become a backup goalie since he needs to play consistently to be good. If you can trade him and get another quality backup goalie, who doesn't need to play consistently to be good, that would be a plus.
The Rangers have a few more additions they need to make to go on a Stanley Cup run, but this rebuild has already shown a lot of promise.