While you might be looking at the title of this article and saying to yourself, 'the Rangers power play is fine,' or 'the Rangers power play is good,' hear me out. The New York Rangers are 7th in the league on the power play. 7th isn't bad, but I'm sure the team would like to be higher considering they're a top team in the league and a possible contender. When fully healthy, the top power play consists of Zibanajad, Kreider, Strome, Panarin, and Fox as the quarterback. While this looks like a dynamic power play, there may still be room for improvement.
What are the problems with the power play?
The major problem is that when either Panarin or Zibanajad are on the left circle, the other team's penalty killers immediately cover them because there is no threat, in Storme on the other side. So now, since the other team's penalty kill focuses on Panarin and Zibanajad, the passing lanes are closed. Even if you can pass it, it's not enough for a clean one-timer. All you have available is Strome, and I am confident the other team's penalty kill will take that any day of the week.
Now, some of you may argue that Storme belongs on that top power play unit, but I'd disagree. There are a couple of reasons for this. First, he's a right-handed shooter, and because of this, you don't have a one-time on that circle. His only option is to corral the puck and take the second or two reset to fire on the net. That split second allows the goalie to get across to the proper angle and get set. That takes away the opportunity a left-handed shooter would have and potentially a bunch of goals from that top unit. Let's look at an example.
As you see on that play, if it were a left-handed shooter going in for that shot, the game might be all tied up, but because he's a right-handed shooter, that allowed the goalie to get in position. Strome had to corral the puck onto his stick, and that split second is the difference between no goal and a potential goal. This clip is more of an extreme example because it was right across the crease, but even when he's on the red dot, there are so many more grade-A scoring chances if that's a left-handed shot.
The second reason is Ryan Strome misses way too many open nets for comfort. In combination with his inability to bury a goal on a wide-open net, he does not have an elite shot. The only reason you'd put a right-shot over in that circle is if they are an elite goal scorer.
So who do you put there instead of Strome?
The answer is Kaapo Kakko . He's a left-handed shot and deserves a promotion after the way he's been playing this season. Also, he has excellent puck possession skills, which is great when they want the power play to get set again after a shot. Now that we figured that out, the second question is, who do you put on the left circle, Panarin or Zibanajad? People may be screaming Zibanajad, which is understandable. He can likely score a ridiculous amount of goals on that circle; however, I don't see Panarin being in the middle. Zibanajad is better at deflecting. Here is the power play that I believe would be the most successful out of any version they could ice.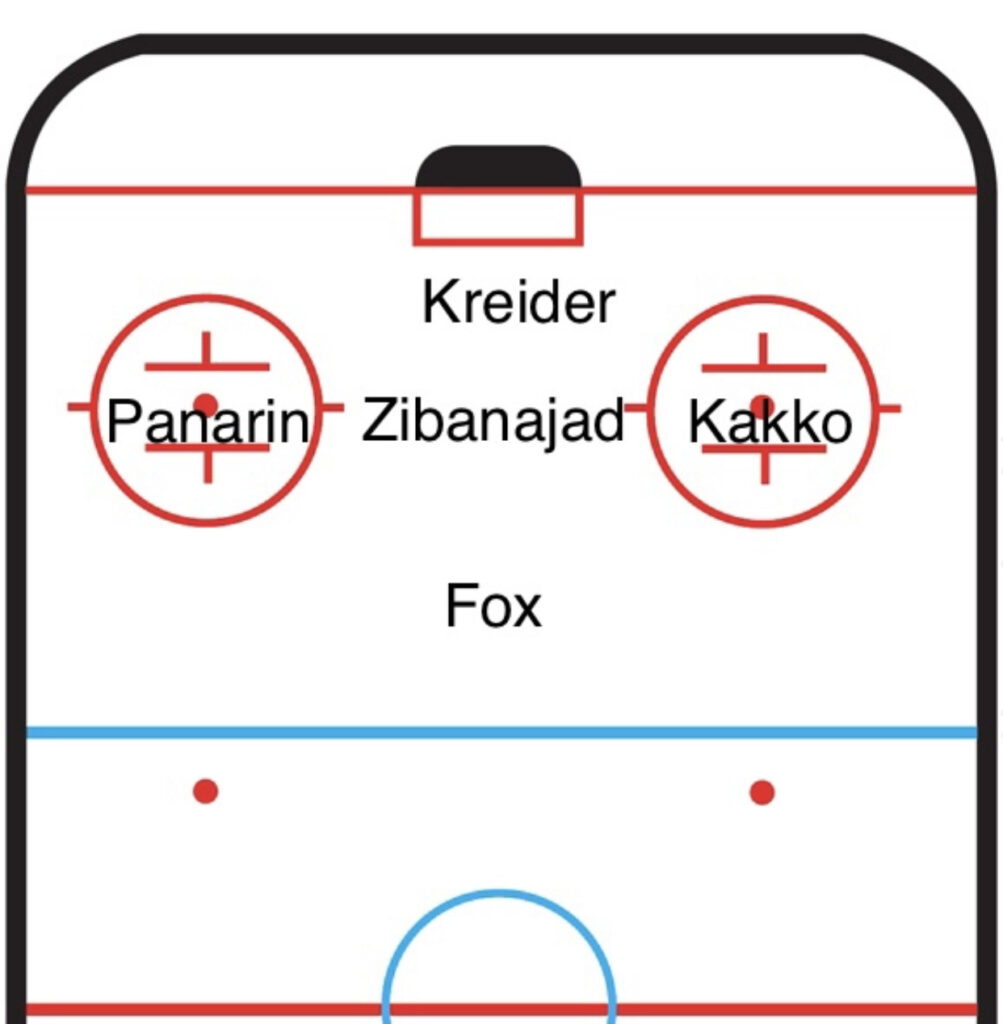 While I hear the argument of putting Zibanajad on the left circle, it's not like he still can't get a one-timer. Kakko can feed him, and if not, Zibanajad can tie up the defender's stick, and it goes straight to Panarin and vice-versa.
This whole plan can give Kakko more chances on the power play with better players, and it gives the Rangers the missing piece to make their power play the best of the best. Oh, and one more thing if it's Lafrenière instead of Kakko, I would be fully behind that too.