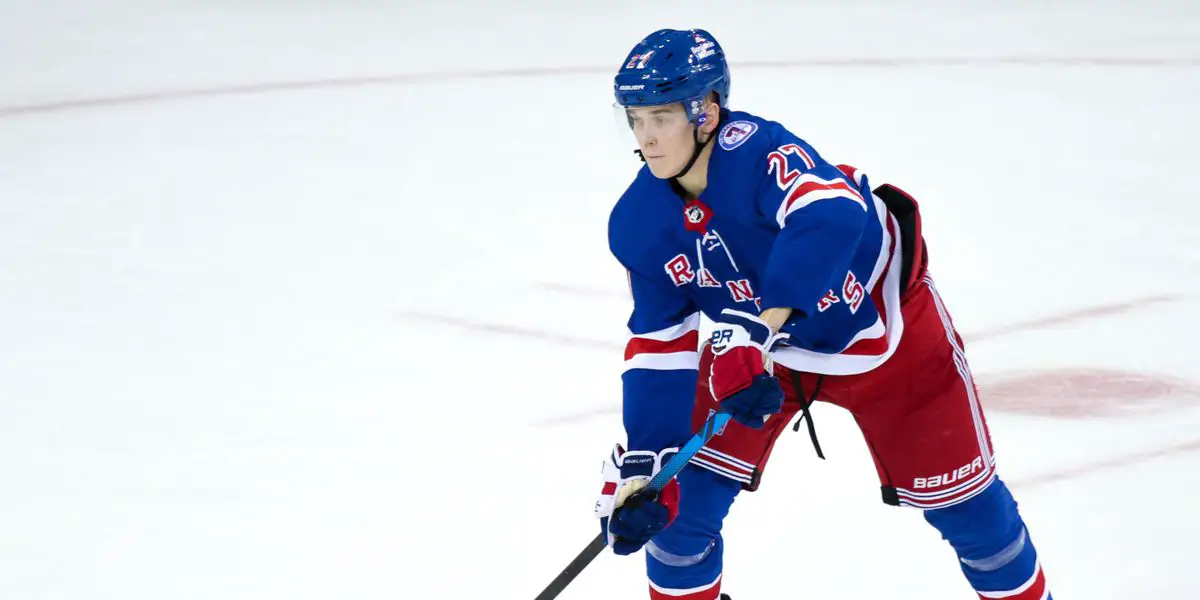 Any child of the '90s could be transported back to a middle school cafeteria with the simple phrase, "gotta catch 'em all." Every generation has their fad collectible, whether it was Pokemon, Pogs, baseball cards, Beanie Babies, buttons (for the parents of children of the '90s). Unfortunately for GMs, prospects aren't collectibles; they are, in fact, human beings.

When Chris Drury was thrust into his predecessor's job last May, he inherited a revitalized and talented prospect pool that the organization hadn't seen since the late '80s. With many of those prospects having graduated to the big club over the course of the last two seasons, the Rangers are currently fielding one of the youngest teams in the NHL while en route to a 50-win season. Despite the recent promotions, there are still a number of prospects stuck in Hartford. Chief among the logjams in the formerly highly touted blue-liner, Nils Lundkvist.

At the beginning of the season, Lundkvist was widely regarded as one of the top defensive prospects outside of the NHL. Having racked up numerous distinctions in the SHL, most notably the Salming Trophy as Defenseman of the year (20-21), Lundkvist made a move across the pond this year with anticipations of being an immediate impact player. The expectations were probably unfair as comparisons of Lundkvist to a certain 23-year-old who was fresh off a Norris Trophy-winning season were abundant.

Since arriving in New York, Lundkvist hasn't blown people away with his often-referenced elite offensive skill, but he hasn't been an issue defensively either. He had the unfortunate pleasure of being paired with Patrik Nemeth for most of his 25-game stint with the Rangers. While Nemeth has played better of late, he was atrocious for most of his time with the young Swede. Nemeth was brought to New York to help ease Nils's transition to the NHL. Instead, he's helped diminish his stock as a prospect.

After being called up in favor of Lundkvist, Braden Schneider has seemingly leapfrogged the young Swede in the eyes of the organization. The good news is that Nils didn't take his assignment to Hartford like some toddler who will not be named. In his last ten games, Lundkvist has two goals and seven assists. The offensive talent that put up the most goals by a defenseman in the SHL last season is starting show, and it couldn't be better timing with Monday's trade deadline fast approaching. Like it or not, the stock of young players is extremely fluid and changes quickly. Hopefully, Lundkvist's stock didn't take too much of a hit in the past few months, but it seems like he's FINALLY adjusting to the North American game. How dare it take him five months to get acclimated to an entirely new continent and a smaller playing surface at the age of 21.

With the play of Schneider, it's becoming more apparent that Lundkvist will most likely be moved. It's up to Drury to get the most back for this talented defenseman or any of the other excess prospects that are blocked. If he doesn't get a suitable return for Nils, there's no harm in letting him finish out the season in Hartford, especially given the way he's turned it on the past few weeks.

A year ago, Vitaly Kravtsov was increasing his value with a solid season. Kravtsov got 20 games in New York after his season ended in the KHL. Similar to Lundkvist, he didn't exactly set the world on fire in his quarter-season cup-of-coffee, but he didn't look out of place either. However, Kravtsov's stock has taken a severe hit after refusing to go to Hartford in October. If the Rangers decide to keep Lundkvist past this deadline and into the offseason, they need to properly assess if he is capable of pulling a similar stunt.

Any GM's nightmare is trading away or giving up on young cost-controlled talent for dollars on the penny, but you can't just collect them and wait for their stock to go down either. It's a fine line Drury must tightrope, and the next five days should be very telling.
We have on Former NHL referee and ESPN rules analyst Dave Jackson. He brings us behind the scenes details on NHL refs, rules, and more.Thanks for listening! Please rate and review our show on your favorite listening platform. Check out our partner's website at www.insidetherink.com for all your latest hockey news.