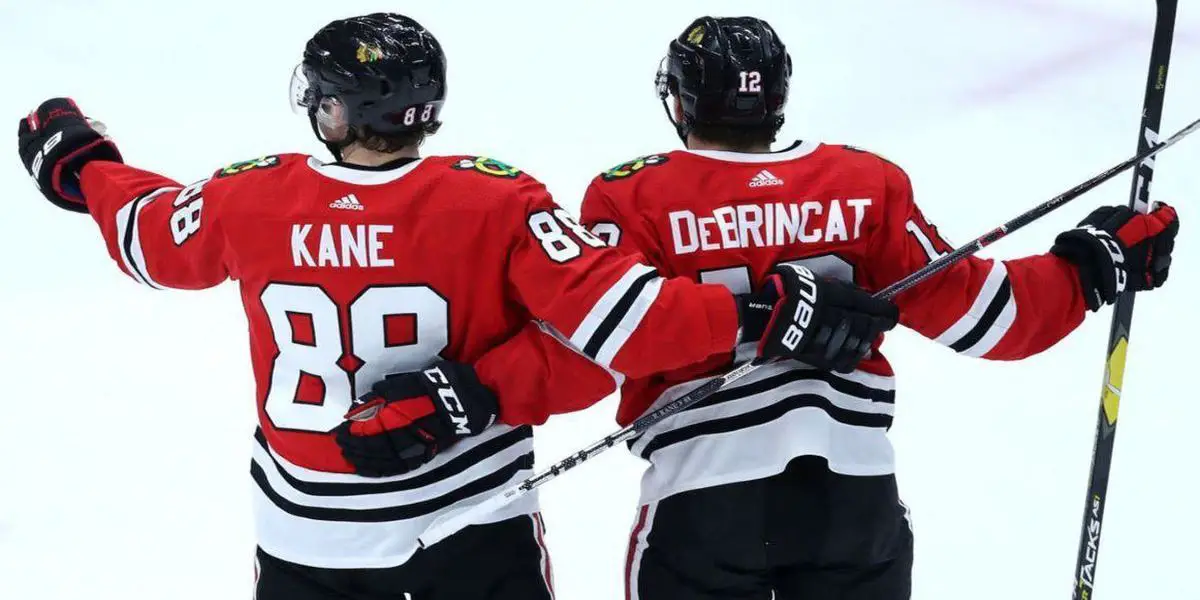 The Stanley cup finals are underway, and Kyle Davidson should be working the phone lines with the NHL draft less than a month away. With the Blackhawks heading down a rebuild, the central question for Blackhawks fans is, will Alex DeBrincat be traded, or will he sign an eight-year deal worth a massive amount of cash. 
According to Elliotte Friedman, Chicago is willing to listen to any player not named Kane, Toews, or Seth Jones. To top that report off, Frank Seravalli of the Daily Faceoff said it's not a matter of if but a matter of when DeBrincat is traded. If Kyle Davidson moves on from a 40-goal scorer, the return will have to be massive! Only a few teams in the NHL have collateral while also being in a position to make a move of this magnitude. A few teams have had a lot of speculation around the LA Kings; if you are interested in what a potential trade package with the Kings would look like, click (here). Another team is the New Jersey Devils.
The trade
New Jersey Devils Receive:
Alex DeBrincat
Chicago Blackhawks Receive: 
2022 First-round pick (2nd overall pick)
Dawson Mercer or Alexander Holtz
The Devils side
New Jersey is a young and coming team with their star playmaking center locked up long-term. Jack Hughes lit the NHL on fire last season, showing why he was selected number one in his draft. Hughes put up 56 points in his 49 games played. Injuries derailed his season, but Jack Hughes proves he's an elite player. The Devils also have Hischier down the middle forming a great one-two punch for the Devils on the center role. Jersey also has Jesper Bratt, who put up 73 points this season. 
In the last off-season, New Jersey made it clear that they are looking to win by spending big money to sign Dougie Hamilton. The Devils have almost everything on their roster to take the next step but a true goal scorer. Not one player broke the 30 mark, and Jack Hughes, who missed nearly half the season and was still tied for the team lead in goals with 26. Hughes can score goals but is more of a playmaker. Adding an ELITE goal scorer like Alex DeBrincat could be game-breaking for the Devils. Hughes and DeBrincat would be an insane line no matter who is the player on the other wing. It wouldn't be out of the realm of possibilities that Hughes would shatter the 100-point mark. 
New Jersey has also done a fantastic job with their cap space locking up their young players for the long term early and keeping the cap hits to a minimum. So signing Alex DeBrincat to an eight-year contract extension will be zero issues regardless of the asking price from DeBrincat's agent. This move would give the Devils a core of Jack Hughes, Nico Hischier, Dougie Hamilton, and Jesper Bratt (once they sign him this off-season, he's an RFA), and the Devils would still have one of the top prospect systems in the NHL. This is a massive amount to trade, but forty-goal scores don't just fall off trees; to receive, you have to pay. 
Chicago Blackhawks Side 
The Chicago Blackhawks would be receiving two players (whoever they select second overall and Mercer or Holtz), both of which would immediately become the best prospect they have in the system jumping over the likes of Lucas Reichel. Adding two prospects would help "jump-start" the rebuild. It would also help the Blackhawks lose more games next season as they have their eyes set on the number one pick and the chance at picking Connor Bedard. 
Mercer played in the NHL this season, playing 82 games and putting up 17 goals and 25 assists for 42 points; he was selected 18th overall in the 2020 NHL draft. 
Holtz has only skated in nine NHL games, only collecting two assists. Holtz spent most of the season in the AHL, where he was just fantastic. In 52 games, he scored 26 goals and 25 assists for 51 points. Hotz was selected 7th overall in the 2020 NHL draft. 
This would be a move that would upset Blackhawks fans, but it could pay off in the long run. Kyle Davidson could ask for more to be thrown in the trade to sweeten it (Hagel did get two first-round picks). 
The time is ticking, with only a few weeks until the NHL Draft.
Season 2 Episode 10: Is Patrick Kane The Greatest Blackhawks Player Of All Time
–
Cue The Dagger
In this episode, we discuss if Patrick Kane is the greatest Blackhawks player of all-time, Lukas Reichel's one NHL game, and his unbelievable shootout goal. We also break down Seattle's chances of making the playoffs, is hitting and fighting making a comeback? and much more NHL news and topics  #Blackhawks #ALLCAPS #NHL #SeaKraken #LetsGoBuffalo