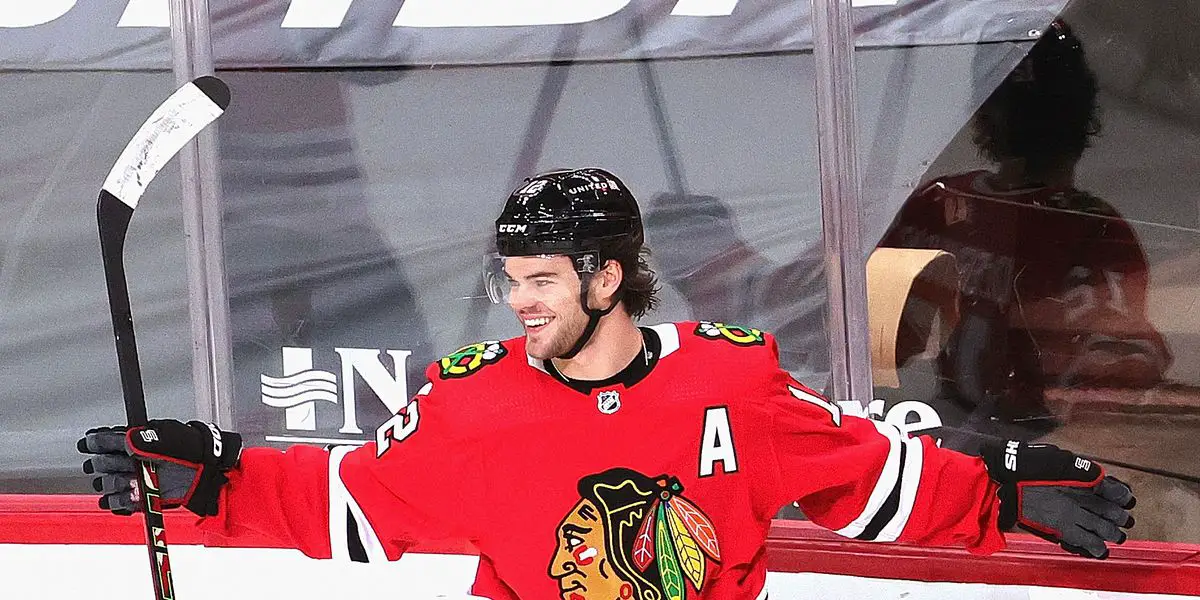 With the report from Elliotte Friedman that Chicago is willing to listen on any player not named Kane, Toews, or Seth Jones, an eerie feeling was cast on the Alex DeBrincat extension front. Kyle Davidson made it clear that he will trade any player if a team can rock his socks off. Just look at Brandon Hagel. Could there be a team that can? If you take the Hagel trade and use it as a guideline for the "value" that Davidson will be seeking, it would take a MASSIVE haul to pry DeBrincat out of The Windy City. But a team in the NHL is in the perfect spot to acquire DeBrincat.
The Los Angles Kings
This season, the Kings were a surprise taking a significant step in their rebuild, making the playoffs for the first time since 2018. The Kings did have a breakout season from Kempe, who scored 35 goals this season. However, they only had two other players over 20 goals on the season outside of Kempe. This was also Kempe's and Danault's first time breaking the 20-goal mark. Los Angles would be the perfect spot for Alex DeBrincat.
The Kings have plenty of cap space. With the only "major" player to resign being Kempe, the Kings should have zero issues extending Alex DeBrincat if they trade for the elite goal-scoring winger. Quick's contract also comes up next season, giving the Kings, even more, wiggle room. But what would the Kings have to give up?
The Trade Package
LA Kings acquire:
Alex DeBrincat
2022 Minnesota Second-round pick
2022 Edmonton Third-round pick or (Kubalik or Kurashev)
Chicago Blackhawks acquire:
Quinton Byfield
Kings 2022 First-round Pick
Kings 2023 First-round Pick / A grade prospect
According to Lisa Dillman of The Athletic, "a deal involving Quinton Byfield is not out of the question." The Kings would be giving up a lot in this deal, but they would be getting back a twenty-four-year-old elite sniper who they would be able to lock up for the next nine seasons. The Kings get better while adding a player whose age perfectly fits LA's young core. Plus, how often does a team have the opportunity to add a 40-goal scorer to their roster? Chicago could also upgrade the pick to another second if they needed to sweeten the pot.
Chicago would get a young center selected second overall in the 2020 NHL draft. Byfield has only played in forty NHL games due to a fractured ankle. Byfield scores five goals and five assists during his short NHL season. Byfield is only nineteen with a massive frame (6'5″) and could be the perfect player to replace Toews. With Dach's struggles in the faceoff dot, a transition to the wing could be in his future, opening up the center position in Chicago. Kyle Davidson would also get his first-round pick in this year's NHL draft that he has stated he wants.
This deal is challenging for both teams but could be a win-win in the long run. The Kings get better now while also staying young, and the Blackhawks get much-needed draft capital and a young player with a high-end upside.
Season 2 Episode 10: Is Patrick Kane The Greatest Blackhawks Player Of All Time
–
Cue The Dagger
In this episode, we discuss if Patrick Kane is the greatest Blackhawks player of all-time, Lukas Reichel's one NHL game, and his unbelievable shootout goal. We also break down Seattle's chances of making the playoffs, is hitting and fighting making a comeback? and much more NHL news and topics  #Blackhawks #ALLCAPS #NHL #SeaKraken #LetsGoBuffalo