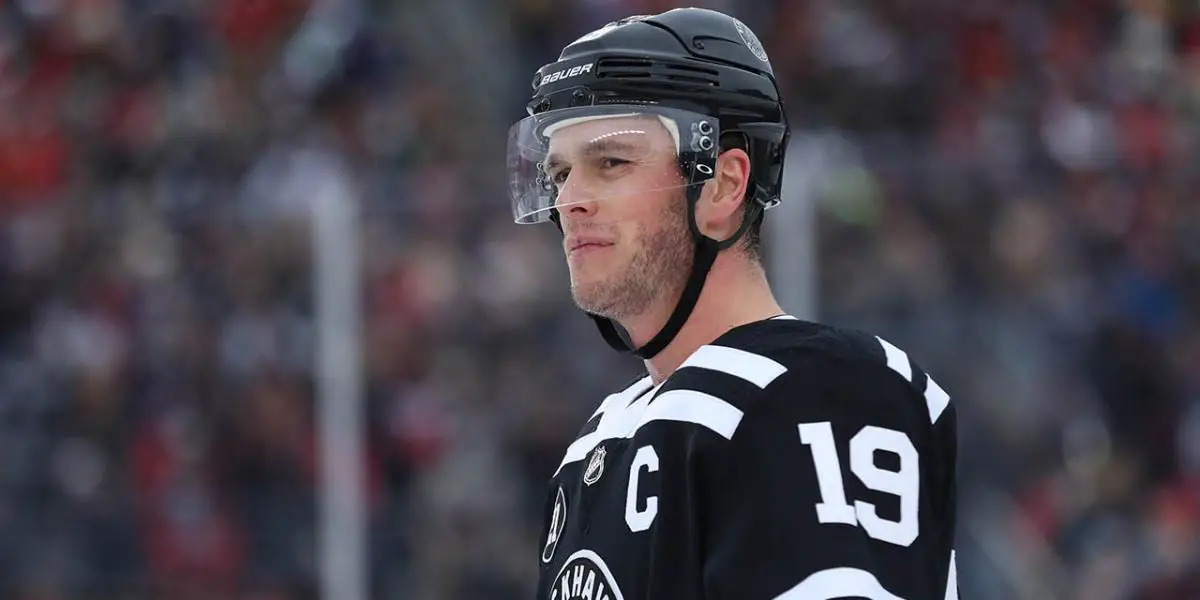 It has not been a good season for the Chicago Blackhawks. They have transitioned from Stan Bowman to Kyle Davidson in the General Manager role. Davidson said he was going to start a rebuild, and that is what he did come to the deadline. But, unlike Stan, Davidson stuck to his plan and shipped guys out who were loved in the locker room and by the fans for the team's betterment.
Toews especially has had the most frustrating season of his career. It took twenty-six games for him to notch his first goal of the season, and he hasn't necessarily caught fire since that. Toews is coming back from missing over a year due to health issues. Toews has publicly stated that he does not feel he played his best hockey. "Obviously, I should say these last few years have been frustrating, and as that saying goes in hockey, you're only as good as your last game; it's tough not to think that way sometimes. In my heart, I feel like I haven't played my best hockey in my career," Toews said. Toews may be optimistic that his best hockey is still ahead, but his play would suggest otherwise. On the season, Toews has eight goals and eighteen assists for twenty-six points and has a -9 plus-minus.
Hagel's trade again sparked Toews to get on his soapbox and start playing the world's smallest violin. When Toews got asked about the Hagel trade, he responded, "I'm not going to lie, it was disheartening to see a couple of really good friends go… When you cultivate that chemistry and friendship and connection with your teammates, you want to keep building off it. So it's definitely a little disheartening." Toews would also add, "For the longest time, the thought never entered my mind to leave Chicago. And in this case, you can't help but picture yourself and what it'd be like to play for another team and what that experience would bring. The thought pops into your mind. But Chicago is my home."
I fully understand that Toews is a true competitor, but coming out and making comments like this is nothing but a distraction for the Blackhawks. He's the Captain of this organization and should be setting the standard for young guys like Reichel. Instead, this season, Toews has been throwing himself a pity party. Toews look in the mirror, and you'll see one primary reason the Blackhawks need to rebuild. With a cap hit of 10.5 million, Toews takes up 12.9% of the Blackhawks cap space. Toews has not even come close to living up to his contract. If Toews were making half that, the Blackhawks could field a much deeper roster around him.
Toews has three Stanley Cup, a Conn Smyth, Olympic gold, Selke Trophy, five-time all-star, and the youngest member of the triple gold club. He will get a statue at the United Center, and his number nineteen will be in the rafters. So get off your soapbox and play out the season. Say the right things and set an example. Just look at your counterpart Kane. Stop crying in the media. Your getting paid McDavid money while putting up third-line stats. Toews start to perform on the ice before complaining to the press about going through a rebuild.
Now to be clear, Toews is an all-time great Blackhawks. Without him, the Blackhawks never win the three cups. Toews will go to the Hockey Hall of Fame. Some Blackhawks fans jumped on Twitter and said he shouldn't wear the "C" anymore; let's all calm down. He deserves to wear the "C" as long he is in Chicago. Toews is the Captain and always will be Captain Serious, get off the pity wagon and play hockey.