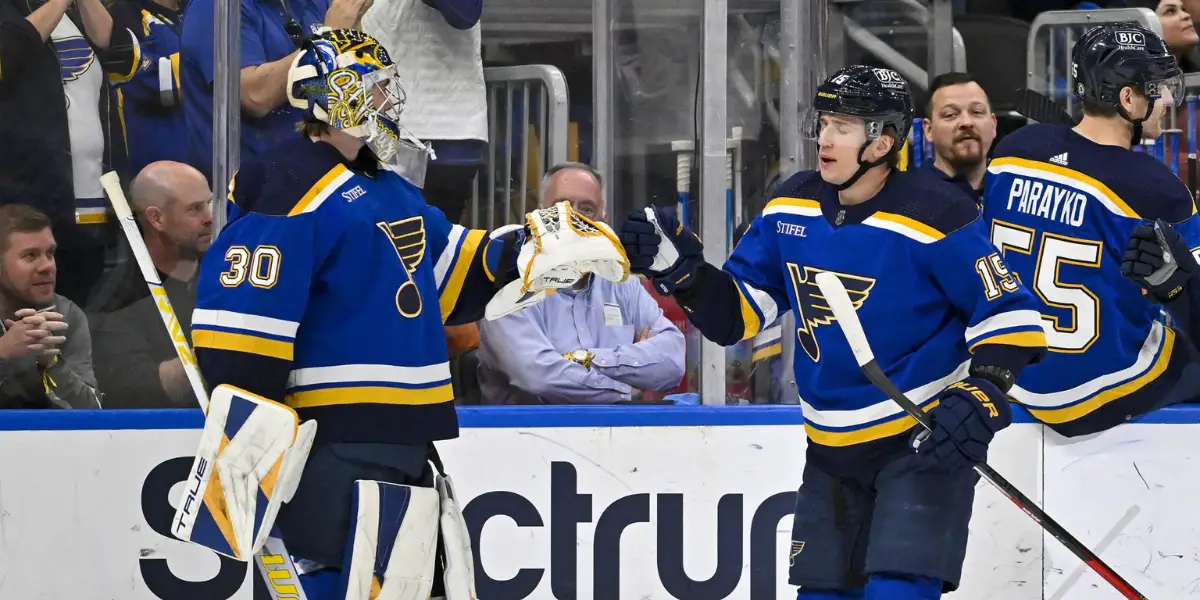 The title says it all.

"What's going on with the St. Louis Blues?" you ask.

Many things are going on, but that's just my thought.

In my opinion, the St. Louis Blues are an NHL team heading toward a rebuild.

The Blues traded away some of their top players, such as Vladimir Tarasenko and Ryan O'Reilly, and received some draft picks, which I think are the future.

I believe the Blues made a good choice when they traded forward Ivan Barbashev for prospect forward Zach Dean from the Vegas Golden Knights. Barbashev seems to get along with center Jack Eichel and forward Jonathan Marchessault on the Vegas' first line, while Dean's a solid, two-way forward who can play with some physicality. Since St. Louis is a rebuild-on-the-fly team, Dean can potentially improve the Blues' third line with his versatility, physicality, and competitiveness.

The Blues' AHL affiliate, the Springfield Thunderbirds, has young, up-and-coming talent that might contain the next face of the franchise. Take, for example, goaltender Joel Hofer. Hofer can serve as the backup goaltender to Jordan Binnington as soon as next season, as the current backup goaltender Thomas Greiss sustained a season-ending lower-body injury. Greiss might want to test the waters in this summer's free-agent goaltending market as an unrestricted free agent.

I recently talked to a friend of mine who's a fellow journalist. He asked me if I think [Jake] Neighbours, [Zachary] Bolduc, or [Jimmy] Snuggerud will be called up next season. We shared similar thoughts. I said that I believe that Neighbours will be called up, I doubt that Snuggerud will be called up because he's staying in college, and I think Bolduc will get samples of ice time. He said yes to Neighbours, AHL for Bolduc, and NCAA for Snuggerud.
According to NHL.com, the Blues missed the postseason and finished with a record of 37-38-7. They'll participate in the NHL Draft Lottery with the tenth-best odds of landing the No. 1 overall pick in the upcoming NHL Draft — a 3.5% chance. The regular season's over, and the final odds were announced for the 2023 NHL Draft Lottery, which will be held on May 8th at 6:00 pm Central.

Speaking of the No. 1 overall pick, I think the Blues' chances of getting Connor Bedard are slim.

In case you missed it: St. Louis made two coaching changes on April 14th. Blues general manager Doug Armstrong announced that assistant coaches Craig MacTavish and Mike Van Ryn won't return for the 2023-24 NHL season. Assistant coach Steve Ott, goaltending coach David Alexander, and video coordinator Elliott Mondou will return for 2023-24.

I believe the Blues' coaching changes were bound to happen, but I don't think they'll make a massive impact in 2023-24. I don't see the Blues making the playoffs until 2024-25. I like head coach Craig Berube, but he can only do so much. If the players don't show up and compete like there's no tomorrow, the team probably won't go anywhere. But let's wait and see what happens.

If you like my work, you can follow me on Twitter @AnaKieu.
The boys are back after a long break but have plenty to talk about as the playoffs are in full swing. We go series by series, looking at how teams have fared so far and who will come out on top. Thanks for listening! Please rate and review our show on your favorite listening platform. Check out our partner's website at www.insidetherink.com for all your latest hockey news.