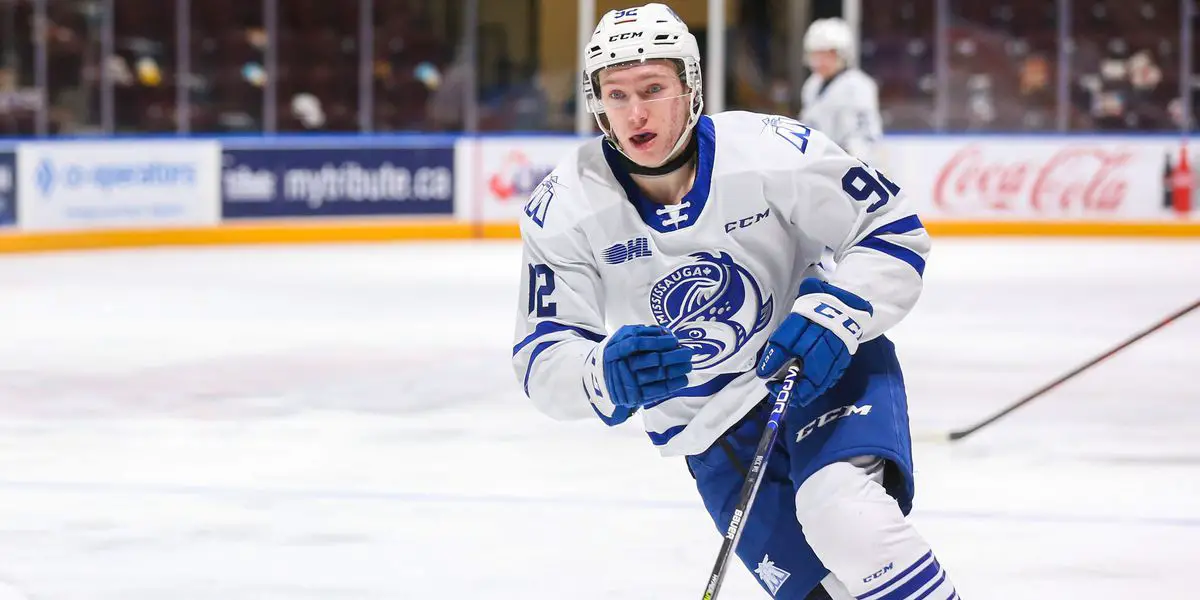 The Montreal Canadiens drafted Owen Beck with their first pick in the second round of the 2022 draft. Many people thought Beck should've been drafted in the first round, and many people were surprised Montreal drafted Beck over names like Jagger Firkus, Noah Warren, and Hunter Haight, to name a few.
Beck had an amazing rookie year with the Mississauga Steelheads scoring 51 points in 68 games. He finished top 5 in scoring in all major statistical categories for the Steelheads. He dazzled in the playoffs as well, notching 6 points in 10 games, and was one of the key contributors for the Steelheads down the stretch.
Beck earned a spot on the OHL Second All-Rookie Team at the year-end awards. This team included Seattle Kraken 2022 third-round pick Ty Nelson and Montreal Canadiens 2022 third-round pick Vinzenz Rohrer.
Meanwhile, the Montreal Canadiens had a historically bad season that saw them win the draft lottery and secure the first overall pick for the first time since drafting Doug Wickenheiser in 1980. 
Many would agree that Beck saw his draft stock rise as the season was ongoing due to his excellent two-way play. Being a center has many responsibilities, and while everyone marvels at the offensive output, Beck has it pay off in being a responsible two-way center. Many examples include supporting the puck in the defensive zone and being the high forward in the offensive zone. 
Many Canadiens fans saw what Beck can do this preseason when paired with good linemates. Just as recently as their game on October 1, Jonathan Drouin set Beck up with a pass that saw Beck shoot it right off the post. The Habs front office is very impressed with this selection as they have been putting him in a position to succeed. In some cases, he has played with Cole Caufield and has also been getting time on the powerplay. 
The Habs front office and fans should be very impressed with how Owen Beck has played throughout training camp.
With the regular season right around the corner, Canadiens fans woke up to excellent news when the team announced they had signed Owen Beck to a three-year entry-level contract. Beck will be back in the red and blue very soon.
After signing their first pro contract, athletes usually dip into and buy something special because of the occasion. Beck told me his first big purchase is getting a new car. What that car is, remains to be seen. 
With that said, it would be smart for the Steelheads to load up for this season to make a deep playoff run, as they may not have Owen Beck, a top-four scoring forward and someone who can legitimately play a 200-foot game, in the near future. 
For more information about Owen Beck, please refer to my interview that I conducted with him before the 2022 NHL Draft: https://youtu.be/eqcRqzHOFdo
The boys are back after a long break but have plenty to talk about as the playoffs are in full swing. We go series by series, looking at how teams have fared so far and who will come out on top. Thanks for listening! Please rate and review our show on your favorite listening platform. Check out our partner's website at www.insidetherink.com for all your latest hockey news.