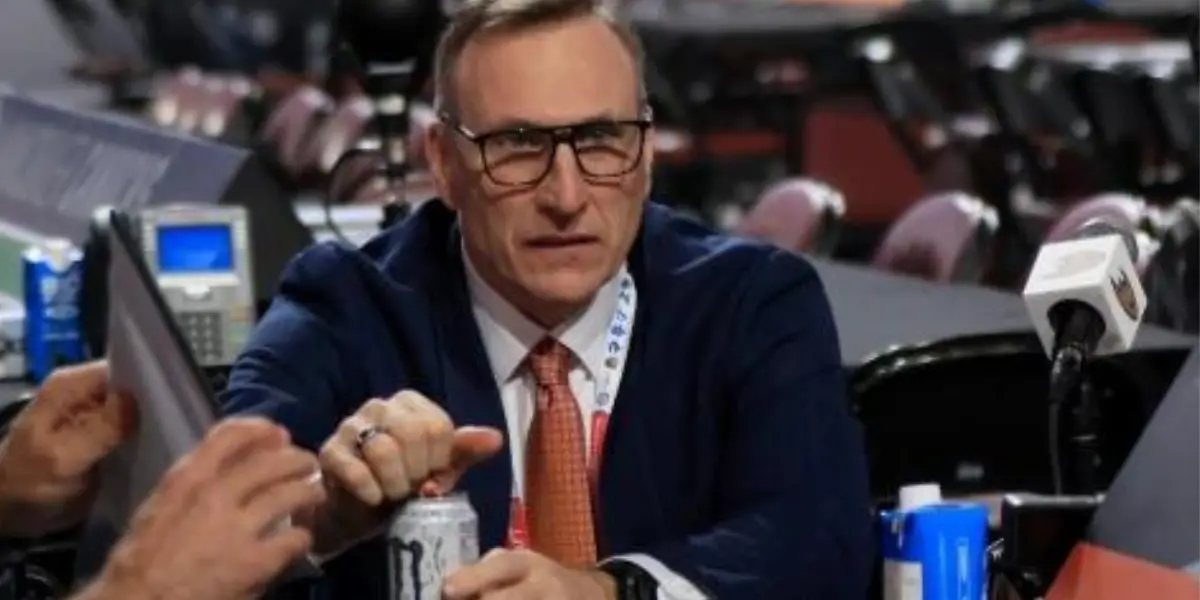 It has been 365 days since Pat Verbeek took the "big chair" as the Anaheim Ducks general manager. He has been through his first trade deadline, NHL entry draft, re-signing player period, and free agency period. To say Verbeek's been busy over the last calendar year would be an understatement. While currently doing his best to rescue the Ducks from the depths of a substantial rebuild, the new GM is also trying to establish a culture and build a team capable of sustained excellence based on his vision. 
The Ducks are just past the halfway point of one of their worst seasons in franchise history. They currently sit in 30th place out of 32 teams in the NHL standings and are one of the worst defensive teams in modern NHL history. The team's salary cap sheet is desirable as they don't have a ton of money tied up long-term and currently have almost $14 million in projected cap space (via capfriendly.com) for Verbeek to work with. The cap sheet isn't the only thing enviable about the Ducks' situation; they have excellent young players like Trevor Zegras, Mason McTavish, and Jamie Drysdale (although he's been injured for most of this season) on the current roster bolstered by one of the best prospect pools in the NHL with players like Pavel Mintyukov, Olen Zellweger, Lukas Dostal, and several more on the very near horizon (not to mention whichever player they get with their inevitably high draft pick in June). 
The Anaheim Ducks seem to be on the verge of turning a corner and dropping the "re" part of the rebuild with Pat Verbeek at the helm. While the results on the ice right are torturous, the Ducks and their fans continue to hope that the suffering will be well worth it when it's all said and done. With his second trade deadline looming in under a month, I decided to review and examine how we got here by dissecting the moves Verbeek made (and didn't make) in his first calendar year as a general manager. 
Trades He Made
So far, Pat Verbeek has made five NHL trades. They're the typical trades of a team in rebuilding mode, selling pending unrestricted free agents (UFA's) for picks and/or prospects and taking on unwanted players either with an incentive or for free. A number of picks acquired by the Ducks in these trades won't be made until the 2023 or 2024 entry draft, so the trades have to be incompletely evaluated. 
RDH Josh Manson to COL for RHD Drew Helleson and 2023 2nd round pick
LW Nicolas Deslauriers to MIN for 2023 3rd round pick
LHD Hampus Lindholm (and Kodie Curran) to BOS for LHD Urho Vaakanainen, (LHD John Moore), 2022 1st round pick (C Nathan Gaucher), 2023 2nd round pick, and 2024 2nd round pick
RW Rickard Rakell to PIT for W Dominik Simon, LW Zach Aston-Reese, G Calle Clang, and 2022 2nd round pick (RHD Tristan Luneau)
Future Considerations to MIN for Dmitry Kulikov
If I were to speculate, I would say all teams involved in these trades were happy with the results. Josh Manson helped the Colorado Avalanche win a Stanley Cup in 2022 and earned a four-year, $18 million deal. Nic Deslauriers performed admirably in a fourth-line role for the Wild and signed a four-year, $7 million contract with Philadelphia in free agency. Shortly after landing in Boston, Hampus Lindholm inked an eight-year, $52 million extension with the Bruins and is currently a top-pairing defenseman on the league's best team. Rickard Rakell found instant success as a top-six winger in Pittsburgh and earned himself a six-year, $30 million contract. 
On the Anaheim side, Pat Verbeek got an absolute haul for those four players. After trading for Dmitry Kulikov in exchange for "future considerations" (AKA nothing), both he and Urho Vaakanainen (mostly) have been regulars on the Ducks' blueline this season. Drew Helleson and Calle Clang were attached in their respective deals as prospects. Helleson is playing in the AHL for the San Diego Gulls and will likely make his NHL debut before the 2022-23 season is over. Clang is part of a tandem goaltending team for Rogle BK of the SHL. Next season, he will likely jump to North America and play in the AHL. John Moore's contract will be buried in the AHL for its duration (the remainder of this season) as he is, for all intents and purposes, retired. Aston-Reese and Simon are currently playing elsewhere, and they were only brought in to make the Penguins salary cap compliant last season. 
When the 2022 trade deadline was over, Pat Verbeek had accumulated six draft picks to add to the Ducks' total. Of those six, two selections were made in the 2022 draft (#22 overall and #53 overall). The remaining four picks will be made in the 2023 or 2024 draft. Verbeek can also use those picks in future trades to acquire other picks or players. We only have these five trades as a sample size. Still, suppose it's any indication of how Verbeek does business. In that case, he will be a very popular call among GMs around the league, as he seems willing to negotiate a mutually beneficial price for both parties in the deals he makes.
Trades He Didn't Make
The trades Verbeek made were just as impactful as the trades he didn't make. After four of the worst seasons in franchise history, many speculated whether the Anaheim Ducks would make a big splash in the offseason to expedite their rebuild. Heading into the offseason, two young, big-name forwards were made available by their respective teams; Alex DeBrincant of the Chicago Blackhawks and Kevin Fiala of the Minnesota Wild. Anaheim was one of the few teams at the time with the available salary cap space and the pieces it would take to land one of these players. Fiala (26) and DeBrincat (24 at the time) are dynamic forwards that seemingly fit into the Ducks' expected contending window and would have given the top-six forward group a much-needed boost. 
Kevin Fiala
What he went for:
Kevin Fiala (with a 7-year contract extension) for RHD Brock Faber and the 2022 19th overall pick (Liam Ohgren)
What it (likely) would have cost Anaheim:
Kevin Fiala (with a 7-year contract extension) for RHD Ian Moore/LHD Jackson LaCombe and the 2022 10th overall pick (Pavel Mintyukov)
Alex DeBrincat
What he went for:
Alex DeBrincat for the 2022 7th overall pick (Kevin Korchinski), 2022 39th overall pick (Paul Ludwinski), and a 2024 3rd round pick
What it (likely) would have cost Anaheim:
Alex DeBrincat for the 2022 10th overall pick (Pavel Mintyukov) and the 2022 22nd overall pick (Nathan Gaucher)
In hindsight, it's a relief Pat Verbeek did not pull the trigger in acquiring either of these players. While Fiala and DeBrincat are both producing and having success with their new teams (Los Angeles and Ottawa, respectively), neither would have catapulted this Anaheim roster to contention this season. Instead, they would have likely been a few spots higher in the standings which still wouldn't have been enough to be in playoff contention and would have given them worse odds at winning the lottery to select either 1st or 2nd overall in the 2023 draft. With the 2022 draft pick(s) Verbeek held on to, he selected Pavel Mintyukov and Nathan Gaucher. Mintyukov is leading OHL defensemen in scoring, and Gaucher is playing big minutes in all situations for Quebec of the QMJHL and won a gold medal for Canada at the 2023 World Junior Championship tournament. It would have been a tough pill to swallow trading away the picks used to select either or both of those players. 
Trading Summary
When Pat Verbeek took the job as General Manager of the Anaheim Ducks, it was clear from the start that he had a vision. He could have extended the contracts of one, some, or all of the pending UFA's he inherited, made a big splash on the offseason trade market, and attempted to compete immediately. Instead, he went the route of playing the long game. He parted ways with all the pending UFAs at the 2022 trade deadline and got a hefty amount of pieces in return. Verbeek also showed great restraint in not trying to make a big trade over the summer. As good as Kevin Fiala and Alex DeBrincat are, they wouldn't have significantly impacted how poor this season has been for the Anaheim Ducks. 
Draft
After the 2022 trade deadline, Verbeek's attention turned to the draft on July 7th. A poor draft (especially when a team has four picks in the top 60 as the Ducks did) can cripple a franchise for years to come. Verbeek gave us his first glimpse at what he values in his players with the selections he made in 2022. 
1st Round
Anaheim held picks #10 and #22 in the first round of the 2022 draft. In those spots, he selected Pavel Mintyukov of (at the time) the Saginaw Spirit and Nathan Gaucher of the Quebec Ramparts. Mintyukov is a left-shot defenseman and an offensive dynamo, yet capable in his own end. He excels with motion in the offensive zone as he looks for holes in opposing coverages to join rushes up ice. Gaucher is a workhorse center with an incredibly high motor that is effective in all three zones. He supports the puck over the entirety of the ice sheet and uses his body as well as his stick to win battles. 
2nd Round
Anaheim also had two picks in the 2nd round (#42 and #53). With those two picks, Verbeek selected a pair of right-shot defensemen and teammates with Gatineau Olympiques of the QMJHL, Noah Warren, and Tristan Luneau. Warren is a mountain of a defender standing at 6-5 and weighing 216 lbs. He is a modern defensive defenseman who uses his stick just as much as his body when defending. Luneau was drafted as a two-way threat, using his skating ability and angles to his advantage when defending but also producing well over a point per game this season.
Rounds 4-6
With four picks in rounds 4-6, Pat Verbeek selected three forwards and a goaltender. In the 4th round, Ben King was selected. King is an over-age center who used his size and instincts on his way to an offensive breakthrough in 2021-22 with Red Deer of the WHL. In the 5th round, the Ducks selected a pair of wingers. Connor Hvidston was selected out of Swift Current of the WHL. He was known more for his defensive prowess and tenacity but has found a new gear offensively in 2022-23. Michael Callow was the other 5th round pick. He is a smooth-skating winger with an underrated shot. He has yet to find his stride in his rookie season for Muskegon of the USHL. In the 6th round, the Ducks took a chance between the pipes. Vyacheslav Buteyets is a 20-year-old netminder putting together a very nice year in the VHL for Chelmet Chelyabinsk.
Draft Summary
If there was one thing to take away from this draft, Pat Verbeek attacked it with a clear plan in place. He wanted to add size and elevate the competitive level of his prospect pool with this draft. Every player selected was at least 6-2 with high floors in their projected development. So far, the returns on these players are favorable as three (Mintykov, Luneau, and Hvidston) are exceeding their expectations offensively, two (Gaucher and Warren) are some of the best defensive players in the CHL, and Buteyets is adjusting well to full-time competition against grown men. With another large helping of draft picks on the horizon in 2023, the Ducks organization will be bursting at the seams with hungry, talented prospects. 
Free Agency
RFAs
Pat Verbeek's first order of business post-draft was to decide which direction he wanted to go with his pending restricted free agents (RFAs). Isac Lundestrom, Sam Steel, Sonny Milano, and Urho Vaakanainen were due to receive qualifying offers, or they would become unrestricted free agents (UFAs) and could then sign with anyone. Verbeek decided to sign Vaakanainen and Lundestrom each to two-year contracts. Lundestrom has had an up-and-down season as a shutdown center on a bad defensive team. Vaakanainen suffered a severe injury early in the season but has bounced back nicely and finally seems to be finding his footing in the NHL. He can be a solid bottom-pair defenseman going forward in his career. 
Sam Steel and Sonny Milano did not receive qualifying offers from Pat Verbeek and were made UFAs. Sam Steel signed a one-year contract with The Minnesota Wild. He is currently having the best statistical season of his career, with eight goals and fourteen assists in 48 games. For the last couple of months, Steel has been the team's top-line center playing between Mats Zuccarello and Kirill Kaprizov. After signing a one-year contract with the Washington Capitals, Sonny Milano is finding similar success. He has produced 22 points in 39 games playing in a middle-six wing role. 
For a team with as much salary cap space as the Anaheim Ducks had in the summer of 2022, it was surprising to see Sam Steel and Sonny Milano walk to free agency without receiving qualifying offers. In hindsight, it's even more head-scratching because one of the most significant issues with the Ducks' roster is their lack of depth scoring. Both Steel and Milano could have played middle-six roles for this team and given that group a boost while taking pressure off the team's top offensive producers. It's a bitter feeling to see those guys find success elsewhere because the Ducks could have used them, but it's a sweet feeling knowing they are somewhere where they are appreciated and will both likely get to enjoy seeing some playoff action this season. 
UFAs
Ryan Strome and Frank Vatrano
Day one of free agency ended with the Ducks signing two forwards to multi-year contracts. Frank Vatrano was first out of the gate as he inked a three-year $10.95 million contract. Vatrano is an all-out, high-motor, forechecking winger with a wicked release on his shot. He typically hovers at around .45 points per game as a middle-six forward, and that's exactly where he's projected to finish in 2022-23, as he has 11 goals and 12 assists in 50 games. Ryan Strome signed a five-year $25 million contract later that day. He had just wrapped up a very successful three-and-a-half-year stint with the New York Rangers. Strome, like he was with the Rangers, was brought into Anaheim to be a solid complimentary piece to the young, high-end talent on the Ducks roster (Trevor Zegras, Troy Terry, and Mason McTavish) as well as a leader for that group in the years to come. So far, the returns are good on these two players as they seem to be high-character guys performing the same tasks they were brought in to do.
John Klingberg
John Klingberg was considered the biggest name in free agency among defensemen. When free agency started, he expected to be met with long-term (seven-year), big-money ($7-8 million) contract offers from multiple teams. His agents at the time told him as much. Alas, the days went by, and no such offer was made. He fired those agents and found new representation. Shortly after, he signed a one-year, $7 million contract with Anaheim. It was to be a mutually beneficial piece of business for both parties. The Ducks needed to hit the salary cap floor and were in the market for a right-shot defenseman. If the Ducks were to find themselves in playoff contention, Klingberg would be a big part of whatever run they were set to go on. If they found themselves out of playoff contention, they could trade him to a contender and easily retain half his salary. From Klingberg's perspective, he could prove himself throughout the season by getting heavy minutes on a rebuilding team, producing a ton, and hopefully earning the long-term, big-money contract he ultimately desires. 
This season has not gone exactly according to plan for either the Ducks or Klingberg. The Ducks are near the bottom of the league standings and will certainly be looking to trade Klingberg as the trade deadline approaches. Klingberg is not producing at the rate he surely thought he was going to when he signed with the Ducks. Though he's improved his numbers of late, his 17 points in 42 games is far below the standard of offense we are used to seeing from the Swedish offensive-defenseman, and he's also been a major contributing factor to the team's defensive woes they suffered in 2022-23. Both he and the Ducks hope the recent trend will continue, however, and he can improve his trade value to find his way onto a contending team down the stretch. 
Nathan Beaulieu
A move from way out of left field was the signing of defenseman Nathan Beaulieu. He was brought in during the team's training camp on a professional tryout and impressed enough to earn a one-year $850k contract. He had been an effective defensive defenseman in the past, but those days were (and are) seemingly long gone. He has played bottom-pair minutes in 24 games for the Ducks this season. He's struggled more often than he's succeeded while not producing or impressing in any meaningful way. While this deal wasn't "make or break" for the team, it did have some interesting repercussions on the waiver wire.
Waivers
Pat Verbeek's use (and lack thereof) of the waiver wire has been puzzling. With the salary cap space the Ducks had (and continue to have), he let many potentially useful and impactful players slip past Anaheim on the wire. He also made a pair of claims that have yielded lukewarm results, at best. 
Josh Mahura
As mentioned above, Nathan Beaulieu was signed on October 1st. On the 9th, 24-year-old left-shot defenseman Josh Mahura was placed on waivers in an attempt to assign him to the San Diego Gulls of the AHL. He was claimed by the Florida Panthers. As a member of the Panthers, he has carved out an excellent role as a bottom-pair defenseman playing 14 minutes per night and has set career highs in games played (52), goals (4), assists (7), and points (11) while posting a 54.3% on ice expected goals for percentage at five-on-five (xGF%) via moneypuck.com
Mahura struggled early in his career adjusting to the size and speed of the NHL. On a team in Anaheim that has been rebuilding for the entirety of his career, he should have been given an extended leash to attempt to work the kinks out of his game. Instead, he was in and out of the lineup, sent up and down from the AHL to the NHL, and never received consistent minutes in a consistent role with a compatible partner on the Ducks blueline. In Florida, he has a clearly defined role in a system that caters to his skill set and has played 444 minutes with the same defensive partner (Radko Gudas). To summarize, he had a role in Anaheim, but Nathan Beaulieu was prioritized.
Brett Leason and Jayson Megna
Brett Leason was put on waivers by the Washington Capitals and claimed by the Anaheim Ducks on October 10th. The former 2nd round pick is a towering (6-5 225lbs) right-winger who has struggled to produce in professional hockey the way he did in juniors. Lacking depth scoring, this was an upside move that was made in hopes of sparking the dormant skill Leason possesses. He has played 40 games for the Ducks but has been resigned to a fourth-line role and has only managed to tally five points. Perhaps he'll soon get an opportunity to play more consistent minutes, as he's only 23 years old. 
Jayson Megna was claimed on December 6th after being placed on waivers by the Colorado Avalanche. Megna is a 33-year-old versatile forward who has been up and down from the AHL to the NHL throughout his career. He's a good skater and a smart and instinctual player who rarely makes mistakes. His ceiling from a production standpoint is shallow, but he is a quality 12th/13th forward in the NHL. His game has impressed, and it's easy to see why coaches like his style, but it's hard not to wonder if he's taking a spot away from a younger player who's yet to receive a real shot in the NHL (BO Groulx). 
Eeli Tolvanen
Finding offense from players not named Terry, Zegras, Henrique, or McTavish has been a tall task this season for the Anaheim Ducks. When a 23-year-old shifty and intelligent winger with a lethal shot was placed on waivers by the Nashville Predators, many were hoping the Ducks would put a claim on Eeli Tolvanen to provide the middle-six depth scoring the Ducks lack. They did not, but the Seattle Kraken did. Though lack of consistency and a tendency to play along the perimeter have plagued his game at the professional level, he seems to have found the cure since being claimed. In 15 games with Seattle, he has scored eight goals and added two assists while adding a boost to a Kraken team earmarked for the playoffs in 2022-23.
Coaching
When Pat Verbeek accepted the job as General Manager of the Ducks, he had a lot piled onto his plate very quickly. He was hired on February 3rd, 2022. Six weeks later, the trade deadline was set to hit, and he had a lot of franchise-altering decisions to make with the roster. Then, it was draft preparation and free agency time. With the roster needing so much attention, coaching wasn't an immediate cause for concern.
At a distance, it's easy to like what Dallas Eakins brings as a head coach. Current and former players have nothing but nice things to say about him and how he supports them. If there's one particular thing, it's that Dallas Eakins hockey teams give 100 percent effort 100 percent of the time. Verbeek had only seen Dallas Eakins coach up close for less than half a season, so it made sense to pick up the option on his contract and have him return as the head coach of the Anaheim Ducks. With so much change around the organization, stability behind the bench wouldn't be the worst thing (or would it)? 
The decision to pick up the fourth-year option on Eakins' contract is the decision that has had the biggest impact on the 2022-23 season to this point. The Ducks stumbled out of the gate this season and continued to tumble a few months after. They have been at the bottom of the standings from the opening week of the season and are currently dead last in goals per game (2.44) and goals against per game (4.06). Their special teams each sit at 30th place out of 32 in powerplay (15.9%) and penalty kill (72.4%) percentage. 
These abysmal statistics reflect a system that wasn't conducive to Verbeek's roster. Instead of a free-flowing style that prioritized counter-attacking with speed in transition where their talented puck-moving defensemen could be involved in the rush, and their forwards could be creative, the coaching staff had them prioritizing the offensive zone forecheck and causing turnovers deep. What should have been the strength of the team was neutralized by the style they played. Players were also asked to play roles that didn't serve their strengths as well. Natural centers were playing wing, and line combinations were formed that didn't seem to mesh well.
To the coaching staff's credit, they have made needed changes to their structure as the season has rolled along. Since the beginning of the team's last road trip (the past seven games), players have been placed in situations more conducive to their abilities and playing with others that can get the most out of them. On the ice, forwards are supporting lower when defensemen have the puck, leading to easier breakout passes, defensive zone exits, and offensive zone entries with speed to create scoring chances off the rush. The top powerplay unit has also been unpredictable by design in the recent stretch, which is refreshing to see. They are constantly tweaking the breakout to gain easier entry to set up. The penalty kill has made necessary adjustments and has cut down the number of high-danger seam passes that have plagued them this season.
One is inclined to wonder where the Ducks would have been if the coaching staff had coached this way since the beginning of the season. They seem like a far more competent NHL team than they did over the first few months of the season. Alas, it's likely all for naught as the Ducks will remain among the bottom five teams in the standings and are currently in the running to win the lottery and land the first overall pick in the 2023 draft. This will mark the fifth year in a row that Anaheim is among the bottom-10 teams in the league, and it's all but a certainty that Dallas Eakins will not return as head coach next season. Pat Verbeek's search will officially begin to find the Ducks' next bench boss at the season's end (in all likelihood, it's started already).
Summary
Pat Verbeek arrived in Anaheim with a vision and came out of the gates firing. He made the kind of trades this team had needed to make (Lindholm/Manson/Rakell) for the few years prior, and he wasn't bashful about it. He attacked the draft with a similar attitude and added players of a certain mold to his prospect pool (big and competitive). He was splashy but calculated with his free agency signings (Strome/Vatrano/Klingberg) and showed restraint to avoid a potential "quick-fix" kind of trade (Fiala/DeBrincat) that wouldn't have fixed much. 
Verbeek has not had a flawless year, however. He may have cut bait on some players too soon when he didn't have to (Steel/Milano/Mahura). Verbeek took some puzzling chances on a few players (Megna/Leason/Beaulieu), leading to mixed results while perhaps passing up on chances he shouldn't have (Tolvanen).
Verbeek will have a new and exciting task this coming offseason as he will (probably) be hiring his first new head coach as General Manager of an NHL team. Drafts, trades, and free agency signings are very important aspects of the job, but the roster a GM puts together will only go as far as the person behind the bench can take them. It will be, by far, the most important and most exciting decision Verbeek makes in the 2023 off-season. 
Pat Verbeek has not lost the trust of Anaheim Ducks fans (nor is he close to it). He is clear about his vision and communicates that throughout the organization and even to fans of the team. Everyone is on the same page. His second trade deadline is approaching quickly, and the Ducks will be sellers once again. The work never stops, and we are all eager to see what he has in store for year two in the big chair for the Anaheim Ducks as General Manager. 
On this episode of LAP, the guys go over the Ducks recent stretch of play, John Gibson's monster week and some small moves made by Pat Verbeek. The guys also cover the wild day that was Tuesday and some of the other trades that have happened since last episode. They also answer some listener questions and have a trade break while they're still recording!Follow Late Arrivals Twitter: @latearrivalspodInstagram: @latearrivalspodFollow the hostsChris: @CJKChelConnor: @91_PlutyJake: @_JRobles71Louis: @Louiex37*We do not own any of the music used in this episode*