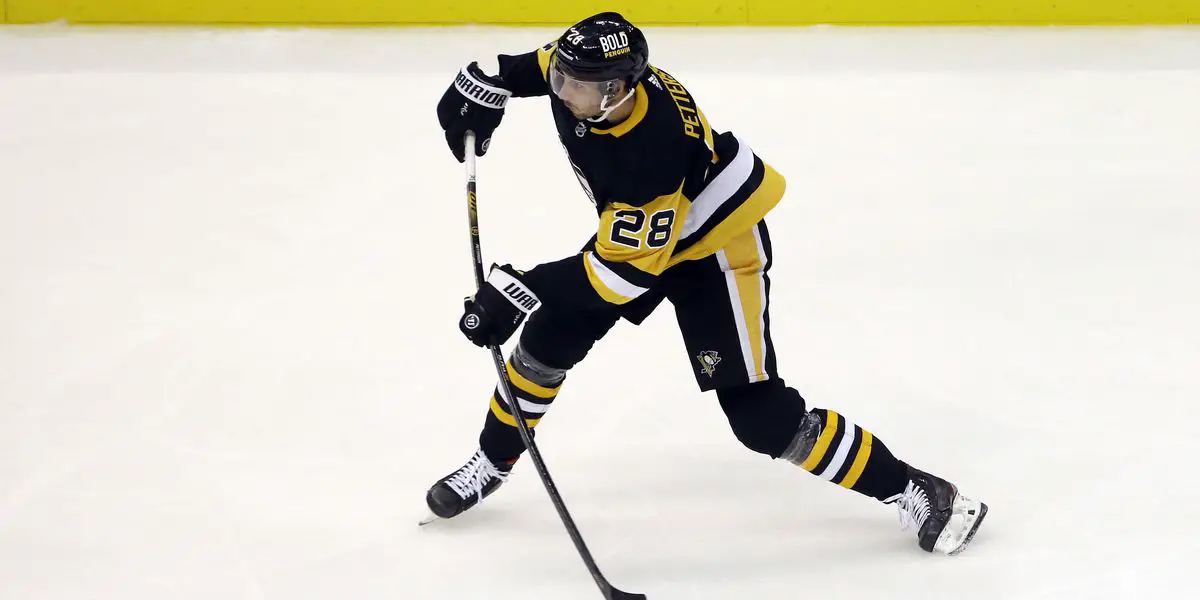 With POJ more than likely NHL ready, the Pens could still move one of their prominent defensemen to try to elevate some competition coming into camp. Following the Petry-Matheson and the Smith-Marino trades, the Penguins still have eight defensemen on the main roster. Since 3 of the eight defensemen are brand new, and Kris Letang was just re-signed to a hefty 6-year contract extension, there are only four players who could realistically be moved before the Penguins' season opener on October 13th.
Marcus Pettersson (Left Shot, 6'3", 177 Ibs)
In my opinion, the most likely Penguins defenseman to get moved now, the Swedish-born defender, has appeared in 173 games with the Pens, scoring eight goals and 69 points. Last season, Pettersson had his best since 2019-20, when he put up two goals and 19 points in 72 games. However, the second half of the season wasn't his best performance, as at one point, he was a healthy scratch as Mark Friedman started taking his spot in the lineup when everyone was healthy. "The Dragon" also has a cap space of $4.025M, which could make the Penguins want to move him to open up some cap space.
Brian Dumoulin (Left Shot, 6'4″, 207 Ibs)
After putting up three goals and 18 points in 76 games this season, Dumoulin is a player I can't see the Penguins wanting to trade. Dumoulin is a favorite on the back end for this team, and I can only see him getting moved if the Penguins find a deal they like. However, Dumoulin has one year left on a 6-year, $4.1M AAV deal. With Dumoulin being 30, the Penguins could look to move Dumoulin while they can get a good return before his next contract, as he will likely ask for a decent amount of term and money. 
Mark Friedman (Right Shot, 5'11", 185 Ibs)
After getting a goal and 5 points in 26 games last season, Friedman became a solid, physical player in the Penguins lineup toward the latter part of the season. Friedman is a player I can't quite see being in trade rumors, but more as part of a small trade to get rid of a player to make some room. Plus, 5 of the eight defenders on the main rosters are right-shot defensemen, and 3 of them (Letang, Rutta, Petry) won't be moved, which leaves Friedman and Chad Ruhwedel as the only two right-handed defensemen that I could see getting moved. 
Chad Ruhwedel (Right Shot, 5'11", 191 Ibs)
Ruhwedel scored four goals and 13 points in his first full-time NHL season in 78 games. Ruhwedel plays a solid defensive game and can be a solid bottom pairing defenseman, but at times made some costly plays that cost the Penguins goals. With the clog of players up the right side, Ruhwedel, if not Friedman, could be sent somewhere else for a draft pick in a minor trade to free up room.
The boys squeak in an episode before Jake heads off to Florida. They touch on the Bruins' recent milestones, especially Bergerons 1000 points. They head over to the metro to see can Pittsburgh and Washington turn things around before heading out west to take Shane Wright and the Seattle Krakheads.Thanks for listening! Please rate and review our show on your favorite listening platform. Check out our partner's website at www.insidetherink.com for all your latest hockey news.