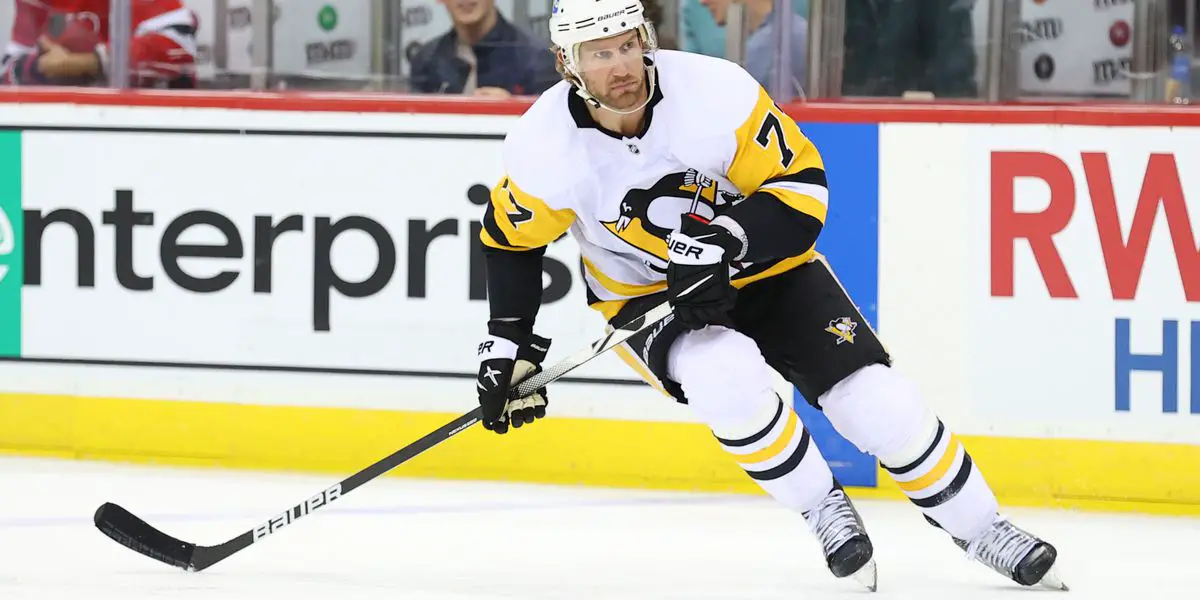 Jeff Carter started the season brightly, scoring 14 points in his first 24 games. However, he's struggled in his last 26 games, and terribly. He's only scored four goals and six points in that span, which is one goal in his last 14 games. 
Besides his notable decline in points, he also seems to have lost his ability to control the puck. He hasn't been able to carry the puck into the offensive zone and spends most of the time in the defensive zone. Carter has been pretty bad this season, along with Blueger, McGinn, and Kapanen. His struggles have been hurting the team badly, and there's not much the team can do. When they signed him, they gave him a full no-movement clause, which means they can't trade or waive him without his consent. 
The likeliest thing is that they're going to keep him in the same spot and simply hope for him to pick up his game. It's not a good strategy, but it will likely be the one thing the Penguins can do. They can't do much else with his no-movement clause. The coaches can't change the way they teach a 38-year-old. Blueger has been worse than Carter, so bringing Blueger to the third line and dropping Carter to the fourth line makes no sense. Unfortunately, there seems to be no good alternative. It's something the Penguins will have to look at in the off-season. 
The Penguins could also move someone like Blueger to acquire a third-line center. Kapanen could also be moved, but it's unlikely. Carter himself is not an option for his NMC. This is the move that the Penguins SHOULD make. Now the questions remain on how they do this and who they acquire. That is up to GM Ron Hextall. 
The Penguins could move Carter to winger, but it doesn't make sense to do. The Pens have better wingers who could take his spot instead, and he doesn't fit into the physical game the fourth line brings and isn't good enough on the third line already. It could be better for the player to be on the wing, but it likely wouldn't be much help. 
The last idea is to get him out of the lineup altogether. He struggles with doing the most simple plays and struggles with speed. I don't see why the Penguins would keep him in the lineup with his play. I can see the Penguins making a trade, acquiring a depth forward, bringing McGinn up on the third line, then using O'Connor, Poehling, and/or Archibald on the fourth line. Then Carter would be sitting in the press box, not causing the Penguins more problems. 
The Pens are currently doing the first option. They are just keeping Carter where he is, hoping he will figure it out on his own. They can't keep this problem at that, though. It makes sense right now, as I don't see the Penguins scratching him. 
I would like to see the Penguins scratch him. As I said, I don't see the Penguins doing it, though. I don't see them doing anything to fix the problem this season, but if it continues, I don't know how he will finish next season with this team. I hope everyone sees that it isn't working for him here and that someone needs to step up and do something different with him. 
I do think the Pens will do something. I could see the Penguins making a line change and maybe trying him out on the wing and/or putting him on the fourth line. He's already averaging about three fewer minutes per game than he was last year. That's big, considering he plays on a team that needs a lot from their bottom six. 
Now it's time for the waiting game to see what happens with everything. Ignoring this and doing nothing is not going to fix this. The Penguins need to do something and get rid of Carter as the third-line center. It does suck for the 400+ goal scorer, but it needs to happen for both the team and the player. The sooner, the more beneficial. 
The boys are back after a long break but have plenty to talk about as the playoffs are in full swing. We go series by series, looking at how teams have fared so far and who will come out on top. Thanks for listening! Please rate and review our show on your favorite listening platform. Check out our partner's website at www.insidetherink.com for all your latest hockey news.