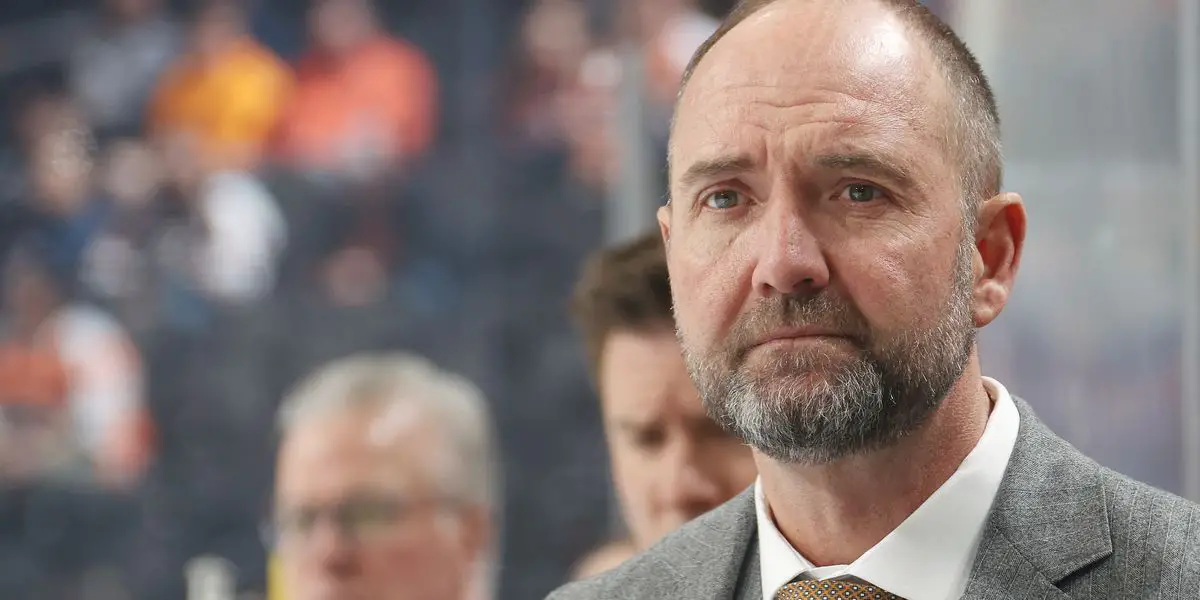 Overview
The coaching carousel keeps winding around and around. While two teams have hired a new head coach, plenty more have been searching for the right type of coach. The Dallas Stars have been on the search, and the investigation has been ongoing after Rich Bowness stepped down. While the rumor has been Barry Trotz or even Marc Savard, the decision has been made on Pete Deboer. There is a new boss in big D.
Who Is Pete Deboer?
Pete Deboer comes with experience. He also comes in with a high pedigree. Deboer has served behind the bench for quite some time. He has coached four teams in the league; the Florida Panthers, New Jersey Devils, San Jose Sharks, and Vegas Golden Knights. Pete Deboer has coached 1015 games and has posted a record of 513-379-123. He brings playoff experience and has a record of 68-55. Deboer has highlights of getting the New Jersey Devils to the Stanley Cup Finals in 2011-12 and the San Jose Sharks in 2015-16. Even with coming up short in both, he has the capability of bringing his team that far and bringing that mentality to the club.
Why He Is The Right Man For This Team
Pete Deboer is the man to be the next coach of the Dallas Stars. While there were other candidates rumored to be aimed for the job, General Manager Jim Nill opted for a more seasoned coach. Deboer is the hottest commodity on the market and landed the job.
This is a Dallas Stars team that could be looking to contend now. They boast veterans Joe Pavelski, Jamie Benn, and Tyler Seguin while also young established players in Jason Robertson, Roope Hintz, Jake Oettinger, and Miro Heiskanen. Overall the team has the means to contend. The Stars made the Stanley Cup Final in 2020 and lost to the Calgary Flames In Game 7 in 2022 in a series they very well could have won.
Deboer is the perfect fit for this team. After being stuck in more of a defensive-minded system under Bowness, Deboer brings an offensive-minded style to the team. The Stars had trouble scoring outside of the top line, and Deboer could help Jamie Benn and Tyler Seguin rediscover their games.
With the Vegas Golden Knights, Deboer had the team finish with a Corsi For Percentage at 52.58% and an expected goals percentage at 52.45%. This ranked in the top ten in the entire league, whereas Dallas ranked in those categories in the bottom half of the league.
The front office has officially made its decision. The former Vegas bench boss will look to not only be the coach of the present and contending but also the coach furthering player development in the future.
Episode 51: Interview w/Jack Ahcan Episode 51 is back in action talking about the New York Paingers ITR bet, Can Buffalo Sabres make the playoffs? Is Vancouver in the wrong on the Boudreau treatment? Is Tocchet the right guy? Is Daryl Sutter the last Dinosaur in the NHL?YouTube: https://www.youtube.com/@insidetherinkTwitter: https://twitter.com/CueTheDuckBoatzFacebook: https://www.facebook.com/Cuetheduckboats/Thanks for listening! Please rate and review our show on your favorite listening platform. Check out our partner's website at www.insidetherink.com for all your latest hockey news. Also, catch all of the games in this year's NHL season by signing up for ESPN+ at Insidetherink.com/ESPN