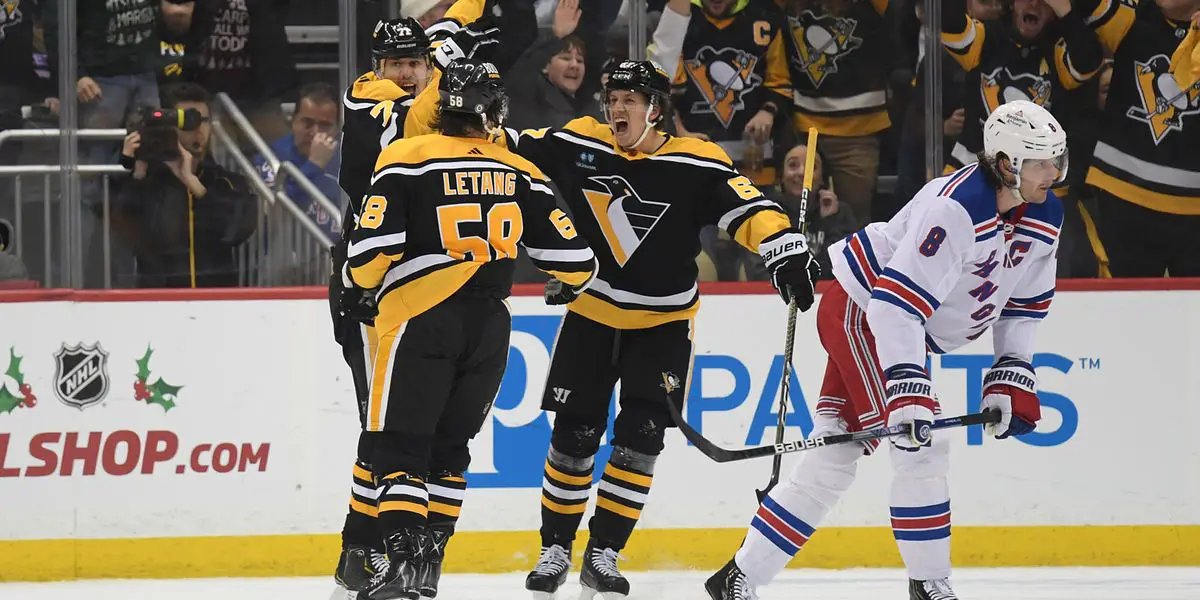 To be fair, neither the Rangers nor their fans should be in despair. (Unintentional Rhyme Alert). I'm guilty of primarily using headlines that are puns or pop culture references, so forgive me.   
Even though the NYR lost to the Pittsburgh Penguins 3-2 last night, they played a very solid game. Unfortunately, this outcome was just a case of an opposing goalie who was really on his game and the Rangers' poor special teams play. However, because I'm a massive fan of rambling, let's break it down further.
THAT'S GOOD!
EVEN STRENGTH PLAY
There is this weird, dividing dynamic within Rangersland and the hockey community in general. There is the crowd that focuses on the basic, fundamental stats. Namely, how many goals did we score, and did we win or lose? Yet, despite a loss, there are also those who are still satisfied as long as the overall play and the underlying numbers are positive. Last night was one of those games.
Yes, there were stretches where Pittsburgh dominated play and possession, especially after they tied the game. For the most part, though, the Rangers controlled the action and looked as cohesive and active at 5×5 as they have all season.  
Now the answer lies somewhere in the middle. It's great to see how this team can perform when it's firing on all cylinders, but you have to finish and put the puck in the net at the end of the day. That said, if the Rangers can consistently play like this at even strength, there will be a lot of wins in the future.
So even though losing to the Penguins always leaves a sour taste in our mouths, this outcome didn't hurt as much. The Rangers had two goals from Chris Kreider, our Hitting The Post Disease rages on (three more!), and Tristan Jarry was pretty stellar.  
I usually blame our terrible shooting choices or execution more than giving the other goalie credit. But, in this case, though, it was one of those games where you tip your, uh, helmet and move on.
CHRIS KREIDER
As beloved as Kreider is, he's also a polarizing player amongst Rangers fans. (Undeservedly so, in many cases.). Granted, before last season, while productive, he would get streaky and then disappear for huge chunks of games or the season.  
So, after a career year, it was clear he might never replicate last season's production, but some thought he would completely revert to that all-or-nothing skater.
While he's not yet the unconscious force he was last season, don't look now, but he's still on pace for approximately 39 goals and 63 points. That is still damn good production, and I don't think his consistency is appreciated enough, to be honest.  
He didn't convert on what would have been a huge tying goal on a breakaway, but still, he had both goals last night. I shudder to think what this team would be like without his presence and all he brings to the ice.
THAT'S BAD!
SPECIAL TEAMS
Oof! Honestly, we shouldn't go too crazy on this because both our power play and penalty kill have been fantastic lately. But they sure weren't last night.  
We didn't score on any of our power plays, including one in the first period when we were in control, and a 2-0 lead could have really tightened the screws.  
More importantly, we gave up two power-play goals, including a backbreaker at the end of the 2nd period off of a terrible Blais penalty (more on that in a second).
Again, thankfully this was just an exception and not the rule, but in a tight game like this, losing the special teams' battle so severely is a death sentence. It's especially glaring on a night when the team finally established their even-strength prowess.
SAMMY BLAIS
Talking about this player could be its own article (and it just might be). But, the Sammy Blais Experience needs to come to an end. In the short term and possibly for good.  
Last night was simply a microcosm of how ineffective he has been, only with an unacceptable, negative impact. Stupid penalties happen all the time, and no player is immune. However, if you aren't contributing anything on the ice positively, there is simply no leeway for something that egregious.  
Gallant agreed as Blais was benched for the 3rd period, and it would be shocking if Gauthier is not back in against the Isles in his spot.
Moreover, it should be a permanent thing. It was evident from the start, but the powers that be need to finally accept they swung and missed on the Buchnevich trade. Plus, as much as I've derided Gauthier's finishing skills, he's actually been better this year in all facets. His speed and driving ability still need to be reckoned with, and he draws a penalty a game. He's even found the net as well here and there.
Sammy Blais simply has no value at this point. Whether it's still his knee physically and/or mentally affecting him, he's a black hole out there. Forty-four games without a goal as a Ranger is REALLY hard to do. I saw a stat last night that only two Rangers forwards in their history have played more games without registering one.  
So if that's the case, and he's not even really providing any physical play, it's time to make him our permanent 13th forward. I wouldn't even be opposed to giving Cuylle or someone at Hartford a shot ahead of him. I'll eat all my words if somehow a light goes off, but for now, the path is clear.
REFS
While I rant and scream like everyone else, blaming the refs for any loss is not something I do. Of course, in this case, it wasn't the reason the Rangers lost either, but oh boy.  
It's one thing to miss the crosscheck of Lindgren into the net early on, which was embarrassing on its own. However, if your excuse is no referee saw it because the play was heading up ice, then why whistle the play dead just because the net came off its moorings? So you're telling me you were in a position to see the net come off but not what dislodged it in the first place? Did it just magically come off?
Thankfully for the refs, they made every Rangers fan forget about that one by whiffing on the Mika trip at the end of the game. That penalty gets called EVERY time if that was Crosby or Malkin.  
Again, even that guarantees nothing for the Rangers, but when missed calls are that blatant, it reeks of incompetency.
POSTS
Are you there, Karma? It's Me, Marc. Let's hope these things do genuinely even out over a season because if so, we are due for a bevy of goals, the likes of which have never been seen. It's not hyperbole to say I've never seen this many posts hit with this much frequency—my word.
CAN I GO NOW?
Lost in Jarry's night, I thought Igor was pretty damn good. Pittsburgh fans love their Igor chant because of those two awful games in the playoffs last year (remind me, how did that series turn out?), but he was very solid and deserved better.
We're saying it every game now, but Braden Schneider might have had a slow start, but he's really been playing well for a while now. That's a low-key significant development.
Even though many of his pucks are post-magnets, Vincent Trocheck has also played well and developed a nice chemistry with Kreider. Two more assists last night, and he's highly active.
We need to see more of what we saw from Mika at the end of the game—firing at will and driving the net. He's still way too passive during the game. He's looking to be a playmaker, which is admirable, but this team already has an abundance of those. We need him to be a stone-cold sniper and finisher. He needs to adopt that mentality again.
The next game is Thursday at home against the Isles before a mini holiday break. The bitterness of this past game will be wiped away if the Rangers can find a way to beat this team with whom we have our troubles. Find a way.
In this weeks episode we have on Drew Way to discuss analytics, defensive problems, the human element and more.Thanks for listening! Please rate and review our show on your favorite listening platform. Check out our partner's website at www.insidetherink.com for all your latest hockey news.