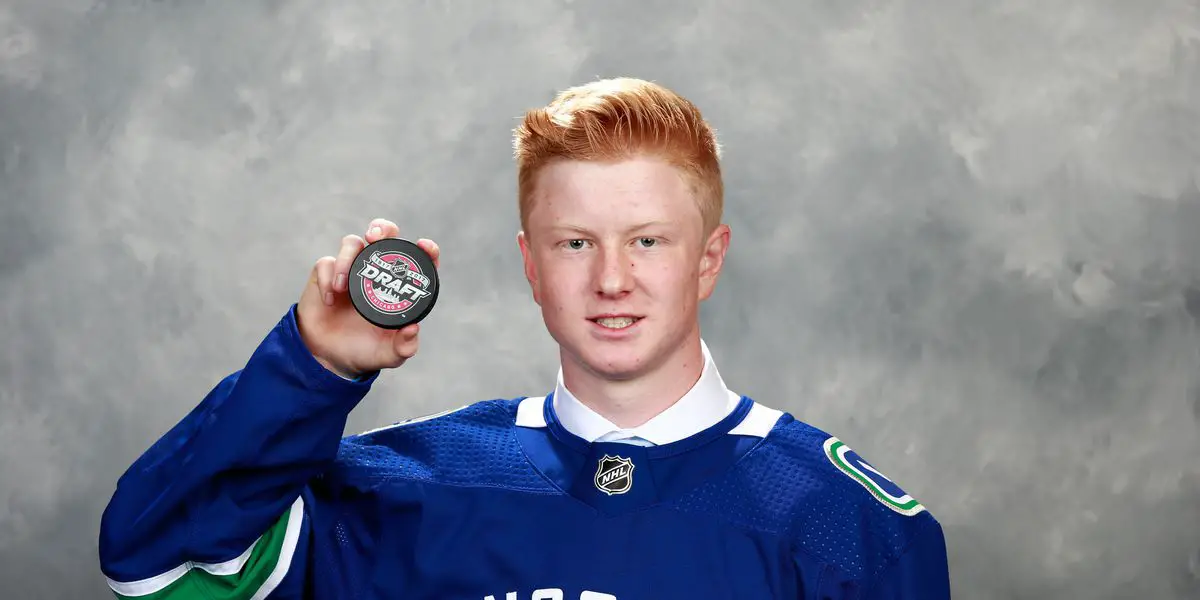 Jack Rathbone was born in West Roxbury, Massachusetts, on May 20th, 1999. The truth is, Jack had hockey in his blood from the time he was born. His father, Jason, played for Boston College for four years, from 1988 to 1992. He wore an A in his final season with Boston College before playing only one season with the Hampton Roads Admirals. Back to Jack, though. In his younger years, Jack spent most of his time playing for the Dexter Southfield School and the Cape Cod Whalers. During the 2016-2017 season, Rathbone would play four games for the Youngstown Phantoms of the USHL. This journey led to his acceptance to Harvard University, where he played the 2018-2019 and the 2019-2020 seasons. Jack would only do two years in the NCAA system before signing his ELC with the Vancouver Canucks.
Jack Rathbone Drafted 95th Overall.
In 2017, in the fourth round, the Vancouver Canucks selected left-shot defenseman Jack Rathbone. The 5'10" 172-pound defenseman was an undersized, mobile defenseman who had shown some solid potential offensive upside in the lower leagues. In his final season with Dexter, Jack led the team in points and assists and had been considered by many a solid pick from Vancouver. From that point forward, Jack would put on about 18 pounds to round out his shape and become the 5'11" 190-pound defenseman he is currently.
Rathbone's NHL Debut to Today
On May 6th, 2021, Jack Rathbone would make his NHL debut in what he described as a "dream come true." Jack has now played a total of 17 NHL games, and while he hasn't continued that same offensive success and power he has shown at other levels, many still believe it is there with time. NHL defensemen have a tendency to take longer to develop, and Jack has one thing going for him, he appears to be tearing up the AHL.
In the AHL, it's an entirely different story. In just 47 games over two seasons, Jack has 49 points. Not only did he have a dominant season on both ends of the ice, but Jack was also named to the AHL All-Rookie Team. As with all hockey players, fans have been up and down on Rathbone, but all-in-all, it's not time for Vancouver to give up on him.
Jack Rathbone Contract Status
Rathbone is an RFA this off-season and, in all likelihood, will find himself working out another two-way deal with the Canucks franchise for another couple of seasons. Looking forward, it is critical that Rathbone carves out his role with the franchise and continues to shine in the AHL. He is only a year or two from needing to make that final leap if he wants to see himself in a full-time role in the big leagues.