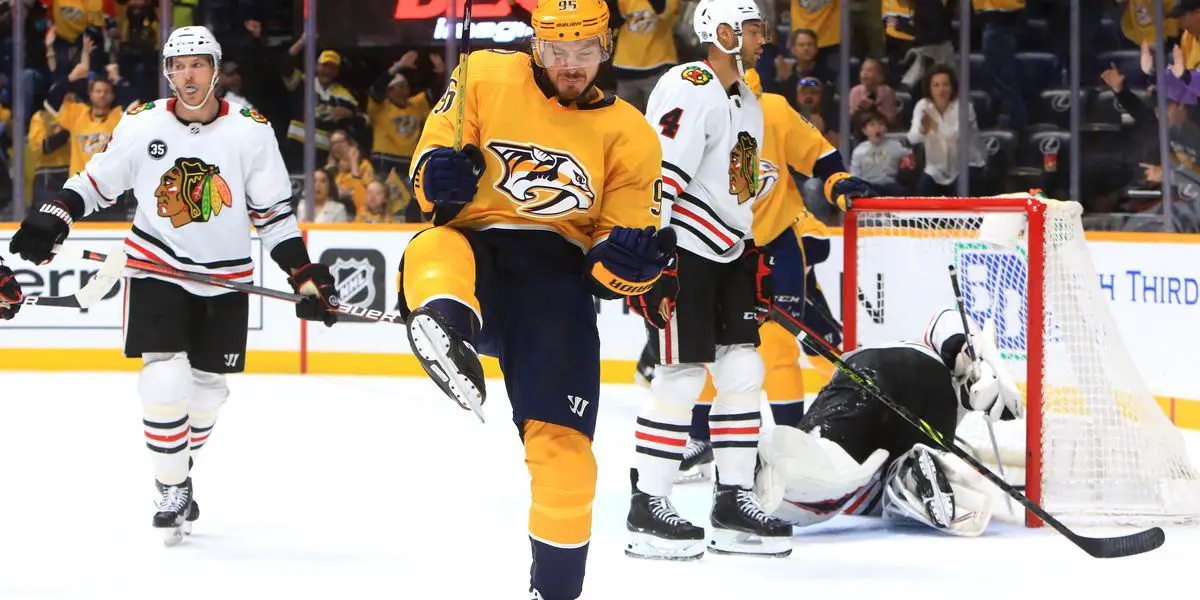 Being a team in the Central Division is no easy task in 2022 as it's chock-full of high-end talent and playoff-bound teams. Where things currently sit, the Colorado Avalanche, Minnesota Wild, St. Louis Blues, and Nashville Predators have all clinched a playoff berth, with the Dallas Stars looking to round out the final wild-card spot. Unfortunately for the Nashville Predators, they look to have the most challenging path to this year's Stanley Cup Finals. Their first-round matchup will either be against the Calgary Flames or division rival Colorado. 
As things stand today, the Predators are set to face the Calgary Flames as they hold the first wild card spot thanks to a ROW tiebreaker over the Dallas Stars but still have two games to go to officially decide who they will play.
This season the Predators have been led by two 40 goal scores in Filip Forsberg and Matt Duchene, Norris Trophy Favorite Roman Josi, and goaltender Juuse Saros. These four players have propelled the Predators to their 95 points so far and look to get the job done in the First Round of the playoffs to give themselves a chance to make it deep.
Duchene Comeback Tour Didn't Disappoint
Matt Duchene has had a remarkable comeback year as he's reached a career-high in goals and points and the second-most assists. Over his first two years in Nashville, Duchene played in 100 games, tallying 19 goals and 36 assists for 55 points as the 31-year-old looked to be heading down the wrong path.
This year he has been an offensive powerhouse playing alongside Filip Forsberg on the top line as the two wingers have been producing all season long. Duchene now has 42 goals and 42 assists for 84 points. His 42 goals are tied for first on the team, while his 84 points rank second behind elite defenseman Roman Josi. This year, Duchene has been getting it done on the power play as he has 16 goals and 29 points when skating on the man advantage, which are both career highs.
Forsberg Looks To Add More Value With Playoff Run
On the opposite wing sits Filip Forsberg, who is also having a career year as he gears up for the playoffs and then free agency. Forsberg will be looking to cash in as the 27-year-old is in his prime, and a strong playoff run can only add to his value. Forsberg has 42 goals and 40 assists for 82 points through 67 games on the season. Like Duchene, Forsberg has been crucial to the Nashville power-play as he's tallied ten goals and 27 points. Without these two, who knows what the state of the Predator's offense would be and what their position in the standings would look like.
Josi Eyes Second Norris Trophy
With one James Norris Memorial Trophy already under his belt (2019-2020), Roman Josi is having an unreal season that hasn't happened in almost 25 years. The 31-year-old has shattered his career highs as he's registered 22 goals and 71 assists for 93 points. Josi's 71 assists rank 5th, and his 93 points rank 12th in the NHL regardless of position. These are respectable stats for a forward but unbelievable for a defenseman, as Josi has been a play-making offensive centerpiece for Nashville all season.
Can Saros Hold Down The Fort?
The Predators have leaned heavily on Juuse Saros throughout the season as he's started 67 of Nashville's 80 games. He has posted a 38-25-3 record with a 2.64 goals-against average, and a .918 save percentage. Saros looked lights out at times but then looked lost like the other night against St. Louis when he gave up four goals in 29 minutes of TOI before getting pulled. If the predators are going to make it out of the first round, they will need Saros to be lights out and steal some games; otherwise, it will be an early playoff exit in Music City.
Episode 51: Interview w/Jack Ahcan Episode 51 is back in action talking about the New York Paingers ITR bet, Can Buffalo Sabres make the playoffs? Is Vancouver in the wrong on the Boudreau treatment? Is Tocchet the right guy? Is Daryl Sutter the last Dinosaur in the NHL?YouTube: https://www.youtube.com/@insidetherinkTwitter: https://twitter.com/CueTheDuckBoatzFacebook: https://www.facebook.com/Cuetheduckboats/Thanks for listening! Please rate and review our show on your favorite listening platform. Check out our partner's website at www.insidetherink.com for all your latest hockey news. Also, catch all of the games in this year's NHL season by signing up for ESPN+ at Insidetherink.com/ESPN