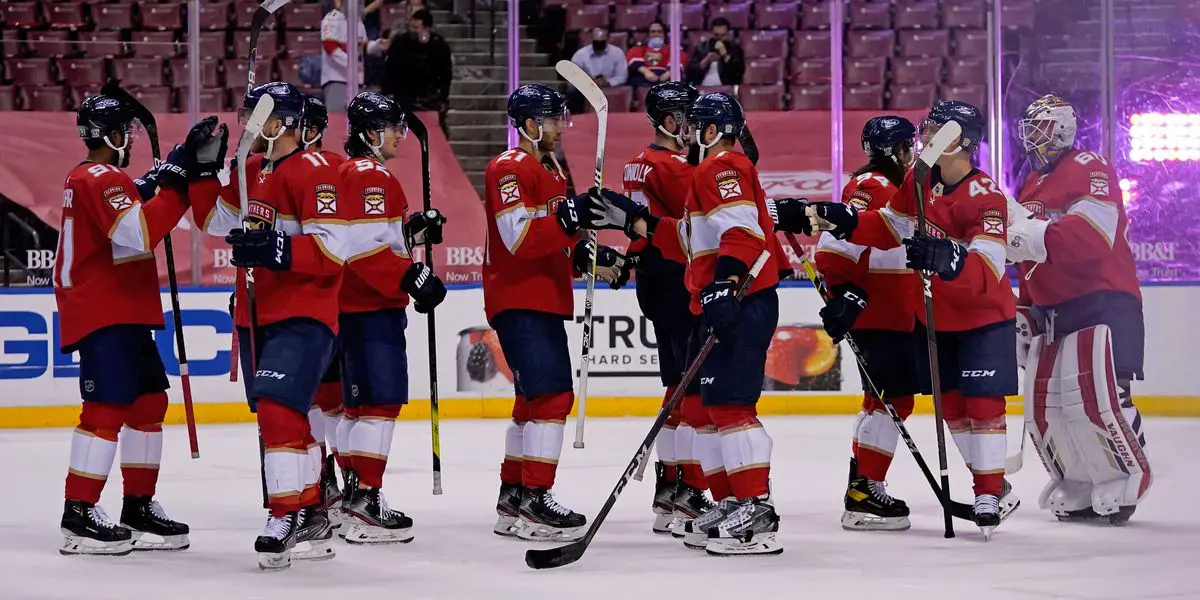 The 2021-22 Florida Panthers are an offensive powerhouse. Forty-three games into their regular season, the team leads the league in goals with 173. Their 4.02 goals per game run second only to the Colorado Avalanche, averaging 4.10. Florida's even-strength goal total (122) is 20 more than the following two best teams, Colorado and Vegas. The team is scoring at such a high rate that their goal differential currently sits at plus-50. The Avalanche are right behind them with a plus-49, but the third-best team, Tampa Bay, is far behind with a plus-26.
The key reason for Florida's abundance of goals is its ability to spread the wealth throughout the roster. The Panthers possess eight players with double-digit goal totals, with two more players two goals away from reaching that milestone. With such depth, the idea that Florida may have over five players reach the 20-goal mark is not looking too far-fetched.
Let's have a look at all the Panthers in the running for 20 or more goals this season and categorize them based on the likelihood of them getting there.
The Obvious
The trio of Anthony Duclair, Aleksander Barkov, and Sam Bennett share the top spot within the Panthers organization with 18 goals apiece. None of the three have played in all 43 games, with Barkov reaching 18 goals in just 30 games played. Barring injury or further setbacks, Duclair, Barkov, and Bennett should all surpass 20 goals quite soon, setting their sights on the 30-goal mark by the season's end.
Of the three players mentioned, Barkov is the only one to surpass 30 goals in his career and the most likely to do it during this campaign. Duclair's career-high sits at 23, but he is currently in the midst of his best season. Bennett's career-high is 18 goals, placing him in the middle of his best season as well.
Though not quite neck-and-neck with the other three, Jonathan Huberdeau sits at 16 goals through 43 games. Likely a 2021-22 Hart Trophy candidate, Huberdeau is in an excellent position to score north of 20 goals as well. What stands out for Huberdeau, compared to the other three, is his 42 assists, making him Florida's best player.
The Probable
The 26-year-old Carter Verhaeghe recorded 18 goals in 43 games last season. With 15 goals through 42 games this season, one can almost guarantee that he surpasses his career-best. Verhaeghe is another Panthers player destined for 20 tallies unless he completely falls off.
Sam Reinhart faces a more challenging path to 20 goals. With just 12 to this point, one could easily envision him plateauing around 18 or 19. However, any Panther can have a multi-goal outing on any given night, and Reinhart is no stranger to 20-plus goals a season. Recording 25 in 54 games last season, Reinhart has posted 20 or more goals in five of his first six complete seasons. Although he currently sits three goals behind Verhaeghe, no one would be shocked if he eventually surpassed him.
Unlikely but Possible
Defenseman Aaron Ekblad and rookie Anton Lundell currently sit with ten goals on the year, less likely to reach 20 markers on the year. For Ekblad, it is more of a positional limitation. Scoring 20 goals as a blueliner is difficult. The fact that he would need to record ten more in 40 games seems impossible unless he goes on an absolute tear.
With Lundell, it's a different story. Scoring ten goals in 39 games, the rookie is on pace to flirt with 20 goals this season. However, if we were to select one player to cool off, Lundell seems like the safest bet, considering there is no previous NHL track record to refer to. Even if he doesn't reach 20 goals this season, he will likely reach that mark more often than not during his long career ahead.
Prediction
Of the eight Panthers players currently with a double-digit goal total, six of them will reach or surpass the 20-goal mark by the end of the year. Duclair, Barkov, Bennett, and Huberdeau might get there by mid-February, while Verhaeghe and Reinhart will get there by the season's end. Expect Barkov and Duclair to hit 30 or more goals of those six.