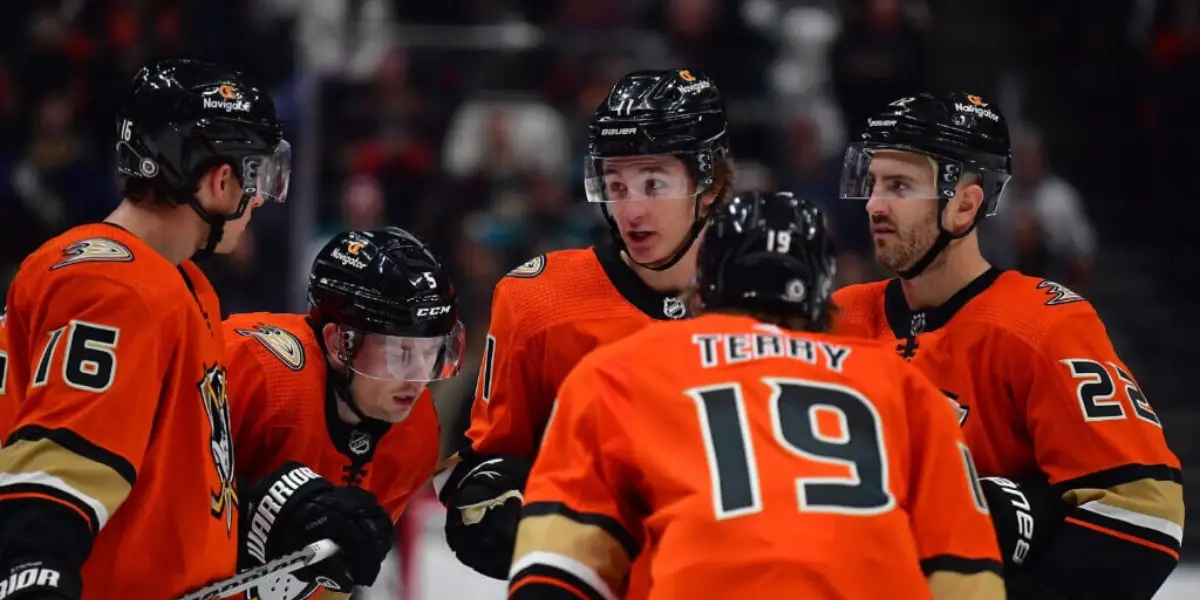 The 2022-23 campaign for the Anaheim Ducks is coming to its merciful conclusion. Looking forward, Ducks' General Manager Pat Verbeek has an incredibly busy offseason ahead of him that will include a coaching search, continuous scouting of amateur players for the upcoming NHL Draft, filling out a roster through trade and free agency, and inking a pair of high-profile forwards to (hopefully) long-term contracts. Troy Terry and Trevor Zegras are pending RFAs (restricted free agents) and have been two of the brightest spots over the past two seasons where bright spots were few and far between, and they were often the sole reasons to tune in and watch Ducks games. Keeping them in Anaheim for as long as possible is paramount, as they should be pillars for the organization's next phase of competitive hockey. It's not an exaggeration to say these will be the most important contract negotiations since Ryan Getzlaf and Corey Perry signed eight-year deals in 2013. 
The Ducks enter the Summer of 2023 with just over $39 million in cap space, assuming the NHL salary cap will increase to $83.5 million. That will leave Pat Verbeek plenty of room to operate as he tries to pull this team out of its rebuild by re-signing these cornerstone RFAs, signing UFAs (unrestricted free agents), and possibly making trades to improve the team for the 2023-24 season and beyond. Verbeek made it clear that he wouldn't negotiate contracts during the season and wanted his players to keep their focus on the ice. Since he made those statements, several players in similar situations as Terry and Zegras have signed long-term deals with their respective clubs. Using that information, I decided to project what I feel their next contracts will/should look like. 
Troy Terry
Troy Terry is a late bloomer whose production skyrocketed in 2021-22 and has maintained in 2022-23. The 5th-round pick in 2015 had a stellar collegiate career at the University of Denver and was an impact player for USA hockey both at the World Junior Championships and the 2018 Olympic Games in PyeongChang before starting his professional career. Once in the Ducks organization, he "yo-yoed" between the NHL and AHL for two seasons (2018-19 and 2019-20). He produced at more than a point-per-game pace in the AHL but couldn't find consistency in the NHL. 
Terry has always been a cerebral player, so it was only a matter of time before he figured out how to produce at the NHL level. He's become one of the most tenacious players with the puck on his stick by constantly getting to and attacking from the most dangerous areas of the ice. It's clear he studies the vulnerabilities of defenders and goaltenders alike. He attacks the triangle between a defender's skates and stick as well as anyone in the league and uses defenders as screens when getting his shot off. He's also an expert surveyor and scanner of the ice and chooses his spots wisely when getting out on the attack in transition. 
In the last two seasons, Troy Terry has become a bonafide star. Since the start of the 2021-22 season, he's scored 59 goals and 67 assists in 144 games on two of the worst NHL teams in recent memory. His efforts have earned him All-Star selections in the last two seasons. He's become a leader on and off the ice for the club, is well-spoken in interviews, and maybe the favorite to become the next captain of the Anaheim Ducks. 
Comparables
Tage Thompson – C – Buffalo Sabres
7 years, $49,999,999 (AAV $7,142,8857)
Thompson is the only true comparable to Terry as a fellow late bloomer who found new levels of production in his mid-twenties. There are two major differences between the two players' situations; 1. Thompson signed his extension before the 2022-23 season after only one season of increased production (this will be Terry's second consecutive). 2. Thompson plays center, a more demanding and demanded position than the wing, which Terry plays. With that in mind and working under the assumption that both Terry and the Ducks want him to remain in Anaheim for as long as possible, here's what I came up with for how his contract could look…
Troy Terry's contract prediction
8 years, $60,000,000 (AAV $7,500,000)
Trevor Zegras
Trevor Zegras is one of the most electrifying players in the NHL today. The 2021-22 Calder Trophy runner-up and NHL 23 co-cover athlete is the biggest reason the Anaheim Ducks were featured in 14 nationally broadcasted games across the ESPN, ESPN+, Hulu, ABC, and TNT platforms. He has almost single-handedly made one of the worst NHL teams in the modern era (the 2022-23 Anaheim Ducks) must-watch hockey. He's been an elite point producer at every level under the NHL, scoring well over a point per game at the World Junior Championship, NCAA, and AHL levels. On a more competitive team, he'd likely be closer to that pace at the NHL level as well. 
Trevor is fearless with the puck on his stick. In less than two and a half years, his career highlight reel would rival that of any player to come before him. His creativity makes him unpredictable and impossible to defend. He's so deceptive that even he doesn't even know what he's going to do with the puck. His ability doesn't just manifest in dangles and Michigans, for his true talent lies in puck distribution. Zegras is constantly scanning the ice using peripheral vision (his eyes are everywhere except where he wants the puck to go), and he is willing and able to thread the smallest of needles because, for him, it's the most efficient option. Though he is crafty and effective on the forecheck, he has some cleaning up to do with his defensive zone acumen if he wants to be a full-time center at the NHL level.  
Zegras is a star on the ice and a superstar off of it. Over the last three seasons, he's scored 48 goals and added 90 assists in 179 games. While that's fantastic production (especially playing on the poor teams he has), a lot of his value stems from his marketability. He's consistently drawing eyes and attention to Anaheim Ducks hockey which wouldn't normally be there, and Honda Center is bristling with #11 (and #46) jerseys with "Zegras" on the back. It is my personal belief that Pat Verbeek should pay him whatever he wants (within reason) to keep him in a Ducks jersey for the next eight years. 
Comparables
Jack Hughes – C – New Jersey Devils
8 years, $64,000,000 (AAV $8,000,000)
Matthew Boldy – LW – Minnesota Wild
7 years, $49,000,000 (AAV $7,000,000)
Dylan Cozens – C – Buffalo Sabres
7 years, $49,700,000 (AAV $7,100,000)
Like Zegras, the three of these players were all 1st round draft picks from the 2019 draft whom their teams have identified as cornerstone players to build around. Unlike Trevor (presumably giving him a leg up in negotiations), they all signed their long-term deals before the expiration of their respective ELCs. Zegras (.77) is closest to Boldy (.80) in terms of production on a per-game basis and closest to Hughes in terms of importance to his team going forward. The future picture of the NHL's salary cap is becoming slightly clearer, and we know a bit about how it will/could increase over the coming few years. With that in mind, I'm going to predict Zegras' contract will end up being worth slightly more than Jack Hughes'…
Trevor Zegras' contract prediction
8 years, $65,000,000 (AAV $8,125,000)
Conclusion
Every Stanley Cup-winning team has foundational players like Troy Terry and Trevor Zegras. If the Anaheim Ducks are destined to win a championship in the next decade, these two players will be crucial pieces. Organizations crave these kinds of players and should want to keep them around for as long as they possibly can, for they've proven their value on and off the ice. The Ducks' 2022-23 season will come to a close after Thursday night's game vs. the Los Angeles Kings. After which, Pat Verbeek's top priority could very well be locking these two players into their next contracts as soon as possible.
On this impromptu episode of LAP, the guys talk about Pat Verbeek finding his guy in Greg Cronin. They cover some of the ideology and culture Cronin brings to the table with his 36 years of experience as a coach. They also continue to give Pat Verbeek the praise he deserves and finish things with listener questions!Follow Late Arrivals Twitter: @latearrivalspodInstagram: @latearrivalspodFollow the hostsChris: @CJKChelConnor: @91_PlutyJake: @_JRobles71Louis: @Louiex37 Intro/ Outro done by Will Rice/ @pastorwillrice