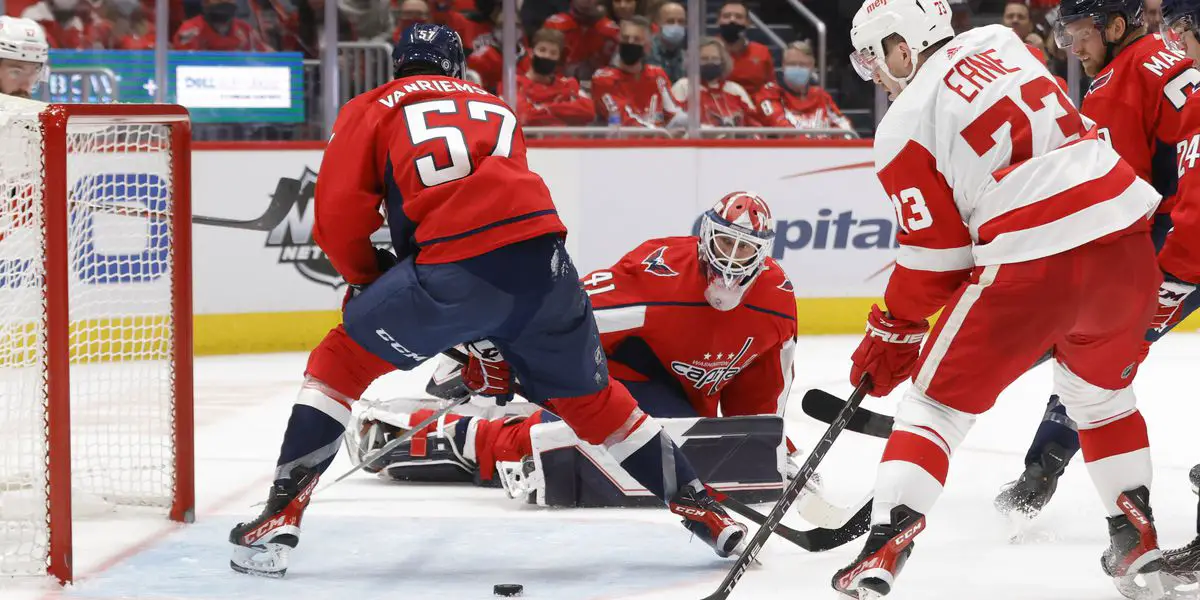 The Red Wings are gearing up for their first game since December 18th versus New Jersey. Barring a lockout or New Year's Day game, the Detroit Red Wings have had a tradition of hosting a New Year's Eve game dating back to the 1997-98 season. 
The Omicron variant has spread exponentially throughout the NHL, and the Red Wings are no exception. There were 11 Red Wings on the Covid-19 Protocol List on Sunday, among those being starting goalie Alex Nedeljkovic and star rookie Lucas Raymond. With the cancellation of games, the team has slowly started to become whole again as only Nick Leddy is left in the protocol.
Slowly but surely, the NHL has taken notice and has adjusted the league protocols. The CDC announced the recommendation of shortening the isolation time of an individual with a positive test from 10 days to 5 days if asymptomatic. With the change in the protocol, Lucas Raymond was able to rejoin the team on Thursday as he tested positive before Christmas.
Match-Up
The Red Wings have played the Washington Capitals twice this season, the first being a comeback victory for Detroit as Dylan Larkin scored the winner.
The Capitals would get the Red Wings back only two weeks later, with a 2-0 win in which Detroit was only able to register 21 shots. The Capitals have been an exciting team this year as they have had the likes of Evgeny Kuznetsov, Nicklas Backstrom, and T.J. Oshie out of the line-up at points this season and are still sitting 3rd in the standings. The Capitals have remained near the top of the Metropolitan division with a lesser line-up as they have gone 3-1-1 their past five games. The Capitals will be closer to full health as Nicklas Backstrom, Tom Wilson, Evgeny Kuznetsov, and T.J. Oshie are all expected to play.
The Red Wings have been up and down as well dealing with their Covid-19 issues, as they have gone 2-3 their past 5. The first two of those games were without Tyler Bertuzzi, who was on the protocol. Since coming out of protocol, Bertuzzi has three goals in 3 games, reconnecting with linemates Dylan Larkin and Lucas Raymond. That line factored into all 5 Red Wing goals in the 5-2 win over New Jersey, including Larkin's first career hattrick. Thomas Greiss was also able to have a bounce-back game, stopping 31 of 33 shots in his last start.
Anthony Mantha vs Jakub Vrana
After one of the biggest trades of the 2021 deadline was when the Red Wings traded Anthony Mantha to the Capitals for Jakub Vrana, a 2021 first-round pick and a 2022 second-round pick, both players had good starts with their new teams. Still, Jakub Vrana turned more heads as he finished with eight goals and 11 points in 11 games, including a four-goal performance versus Dallas. This season was projected to be a breakout season for both players. Anthony Mantha was going to be playing with Kuznetsov, Ovechkin, and Backstrom for a full season, and Vrana was going to receive top-line minutes in Detroit finally. Just 10 minutes into his first skate of training camp, Vrana injured his shoulder, causing him to need surgery. Mantha was able to play in 10 games before injuring his shoulder, causing him to need surgery. This would have been the second time that Mantha could have made his return to Detroit this season. It is interesting how two players that were traded for each other in similar positions both require surgeries with long recoveries during what was supposed to be each of their breakout seasons.
Keys to the Game
Special Teams
This season, the Red Wings have struggled on both the powerplay and penalty kill, 15.7% and 76.5%, respectively. Washington is always dangerous offensively, but they've been able to shut down opponents this season as they are a top-10 defensive team in the league. The Red Wings need to capitalize on their chances as the Capitals don't give up many, starting with the powerplay. The Red Wings have taken strides with improving their penalty kill of late, and they face a struggling Washington powerplay that will have a lot of top guys back.
2. Shut Down Ovechkin
The Hart Trophy caliber season that Alex Ovechkin has put up so far is impressive. The 36-year-old captain has 48 points in 32 games, including 22 goals which is more than any Red Wing this season. Ovechkin has always been dangerous over his career against Detroit, scoring 20 goals in 29 games. Moritz Seider will have an enormous task as the number 1 defenseman shutting down Ovechkin. Having Nicklas Backstrom back on the powerplay will also open a lot more chances for the Capitals' leading scorer.
3. Take Advantage of Home Ice
Starting with New Year's Eve, the Red Wings' next three games are at Little Caesars Arena, and the Red Wings have an 11-3-2 home record which is top-5 in the NHL. Red Wings' head coach Jeff Blashill has mentioned the energy of the Detroit fans has been a huge key to their home success. Look for Blashill to match up the Larkin line against Washington's second and third pairings as three out of the four defensemen haven't been regulars all season.
Projected Line-Ups
Red Wings' Projected Forward Lines
Bertuzzi-Larkin-Raymond
Fabbri-Suter-Namestinkov
Erne-Rasmussen-Zadina
Smith-Rowney-Gagner
Veleno
Red Wings' Projected Defensive Pairings
DeKeyser-Seider
Oesterle-Hronek
Staal-Lindstrom
Goalies
Nedeljkovic
Greiss
Capitals' Projected Forward Lines
Ovechkin-Kuznetsov-Wilson
Sheary-Backstrom-Protas
McMichael-Eller-Oshie
Hagelin-Dowd-Hathaway
Capitals' Projected Defensive Pairings
Orlov-Carlson
Kempny-van Riemsdyk
Alexeyev-Irwin
Goalies
Samsonov
Vanecek