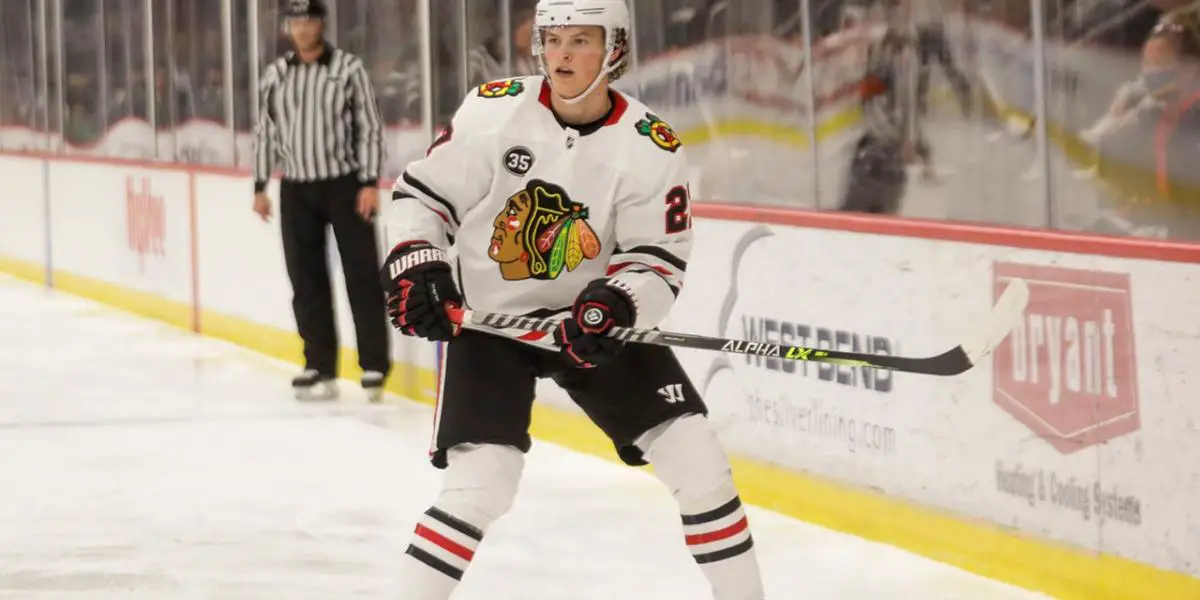 With the off-season coming to a blazing fast end, it's time to take a look forward at what the 2022-2023 National Hockey League season will bring to the Chicago Blackhawks. With many new faces and heavy turnover on the roster, it shouldn't be surprising that the lineup will look massively different from last season. So let's dive into it.
Players that the Chicago Blackhawks lost:
Alex DeBrincat
Dylan Strome
Calvin De Haan
Henrik Borgstrom
Brett Connolly
Eric Gustafsson
Colin Delia
Wyatt Kalynuk
Dominic Kubalik
Kevin Lankinen
Kirby Dach
New Players joining the Chicago Blackhawks:
Petr Mrazek
Jack Johnson
Andreas Athanasiou
Max Domi
Alex Stalock
Colin Blackwell
With so much turnover, it has opened a lot of spots on the Blackhawk's roster, which should lead to some great camp battles for the final few roster spots on the roster. But the biggest question is where Lukas Reichel will start the season. The Blackhawks would like Reichel in the AHL to start the season. However, with that being said, Reichel could quickly force the Blackhawk's hand during training camp. Reichel dominated the AHL as a teenager in his first season since coming over for Germany. Reichel laced his skates up for 56 games for the Rockford Icehogs and was a significant reason the Icehogs were able to make the playoffs. Reichel was able to drive possession and put up points at will. Scoring 21 goals and 36 assists for 57 points. Just over a point per game. And again, id like to point out he was a TEENAGER! Reichel, who is 20 years old as of May 17th, did get a taste of the NHL last season, and it did not go as well. In 11 games, Reichel would put up just one assist and get outmuscled at times. The Chicago Sun-Times did a piece with Reichel. His Strength and conditioning coach Paul Goodman had to say, "I don't think it's any secret if you watched some of his clips…that he could be stronger, giving him a strong lower-half base, but also strong upper body-wise, so he can fend or hold guys off and be diligent when protecting the puck down low."
Lukas Reichel would tell Chicago Sun-Times, "I'm still young, so I can improve everything, but the focus is more to get stronger but not lose my quickness on the ice. I don't want to be too heavy, but I've definitely got to get stronger." The fact Lukas is aware of his weaknesses at such a young age is fantastic for his potential to continue to grow. He is already up to around 185 pounds from 170, where he started.
Richardson and Davidson will have the final say on whether or not Reichel starts in the NHL or the AHL. With that in mind, below will be two projected lineups, one with Reichel and one without Reichel.
Forwards (With Reichel)
Athanasiou – Reichel – Kane
Kurashev – Toews – Domi
Raddysh – T. Johnson – Entwistle
Katchouk – Lafferty – Blackwell
Forwards (Without Reichel)
Athanasiou – Toews – Kane
Kurashev – T. Johnson – Domi
Raddysh – R. Johnson – Entwistle
Katchouk – Lafferty – Blackwell
Defensive pairings
McCabe – S. Jones
Mitchel – Murphy
J. Johnson – C. Jones
Prospects to keep an eye on that could battle their way onto the roster:
Alex Vlasic
Jujhar Khaira
Josiah Slavin
Jakub Galvas
Alec Regula
Isaak Phillips
Season 2 Episode 10: Is Patrick Kane The Greatest Blackhawks Player Of All Time
–
Cue The Dagger
In this episode, we discuss if Patrick Kane is the greatest Blackhawks player of all-time, Lukas Reichel's one NHL game, and his unbelievable shootout goal. We also break down Seattle's chances of making the playoffs, is hitting and fighting making a comeback? and much more NHL news and topics  #Blackhawks #ALLCAPS #NHL #SeaKraken #LetsGoBuffalo