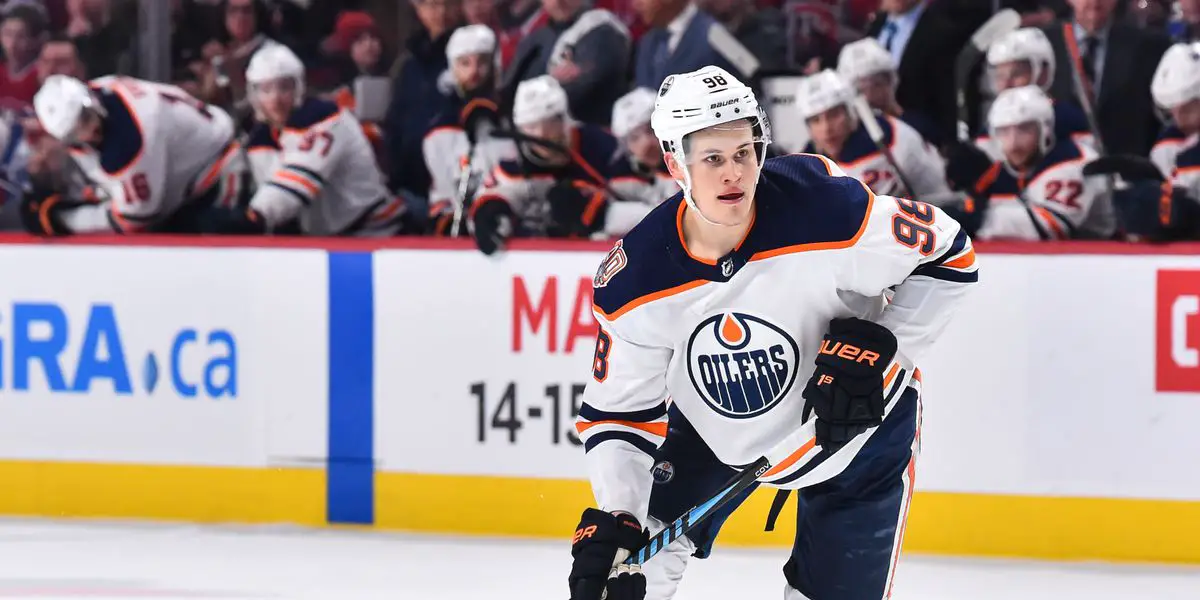 The Edmonton Oilers took care of some important business during the first week of free agency, locking up a new starting goaltender in Jack Campbell and bringing back important pieces like Evander Kane and Brett Kulak.
The Oilers have made most of their big moves, but they still have a few RFAs left to re-sign in Ryan McLeod, Kailer Yamamoto, and Jesse Puljujarvi. Over the coming days and weeks, it will be a top priority to get at least two of these players signed, but it has been widely reported that Jesse Puljujarvi will end up being a cap casualty and likely dealt for a draft pick.
The Oilers will have a little north of $6m of remaining cap space when they add in the extra LTIR money from Mike Smith and Oscar Klefbom's deals, and they are still in the market for a bottom-six forward, so you can start to see where the cap gets tight.
While Ryan McLeod has been an extremely valuable defensive forward for the Oilers, his offensive production has been low enough that I expect him to sign for fairly cheap, so that leaves Yamamoto and Puljujarvi as the big question marks.
Jesse Puljujarvi has had a tumultuous relationship with the Oilers organization over the course of his tenure. While the relationship mainly was repaired after a shift in management, the media narrative as of late has been that there is still a bit of a disconnect between Puljujarvi and the Oilers in terms of where he fits on this team.
Who Should the Oilers Choose?
The organization appears to favor Kailer Yamamoto over Jesse Puljujarvi, which will probably be the ultimate reason they feel comfortable moving on from him. Are the Oilers right to choose Yamamoto over Puljujarvi, though? And is this really a choice that they should have to make? Let's take a closer look.
When comparing the offensive numbers between Puljujarvi and Yamamoto, they have been quite similar over the past two seasons. Jesse has produced 61 points in his last 110 games, while Yamamoto has produced 62 points in 133 games during that same timeframe.
Yamamoto struggled out of the gate in 2021-22 but picked up the pace with 22 points in the last 29 games of the regular season. Jesse Puljujarvi, in contrast, came out flying with 23 points in the first 30 games of the regular season, but after going through a bout of COVID and suffering from a lower-body injury that held him out four weeks, Puljujarvi was unable to rediscover his offensive groove and had a tough final stretch and playoff run from a production standpoint.
Recency bias has led many to believe that Yamamoto is a far more reliable offensive contributor. Still, as you can see, they have been on a pretty equal level in that regard. One thing that Yamamoto has in his toolbox is his ability to be an effective penalty killer, something that Puljujarvi lacks.
That isn't to say Puljujarvi doesn't contribute in a positive way on the defensive side of the puck, though, in fact, when you look at the data, it seems to suggest that Puljujarvi is one of the better defensive players on the team.
The Numbers Don't Lie
Analytics, in general, tend to favor Puljujarvi over Yamamoto at five on 5, as the Oilers control a pretty dominant amount of the possession time with Puljujarvi on the ice, and both the expected and real goal differentials for Puljujarvi are excellent.
Many old-school hockey fans want to dismiss advanced stats. Still, if you're going to ignore the data that clearly proves that the Oilers out chance and outscore the opponents with Puljujarvi on the ice, even when he isn't playing with McDavid, I think you are doing yourself a disservice by not considering all of the pieces of the puzzle.
Puljujarvi has his faults; he certainly needs to improve his finishing and needs to be better around the net, but for the Oilers to dump him for a draft pick, I think, is a mistake.
Trading Yamamoto for a draft pick would be a mistake, too, for that matter. Both players have shown flashes of being legit top-six contributors but ultimately need to find consistency. They both have a ton of upside, and trading them now before they reach their peak is poor asset management.
In a salary cap world, there have to be casualties, but I think there is a more reasonable way to navigate this situation that the Oilers are probably going to miss out on.
Who are the other options currently on the Roster?
With the return of Evander Kane, the Oilers will now have Kane, Nugent-Hopkins, potentially Dylan Holloway, and Warren Foegele on the left wing, with Zach Hyman and Ryan McLeod being capable options there as well if need be. Given the current cap crunch, I don't believe Warren Foegele is a necessary asset for this team.
The Oilers have a ton of depth on the left wing, so he will be making $2.75m per season to play largely a fourth-line role. The Oilers could find a cheap and effective replacement for the fourth line while saving the cap required to bring back both Puljujarvi and Yamamoto.
Even if Puljujarvi is asking for a steeper price tag than the Oilers want, I would rather slightly overpay for a young player with the potential to grow into that contract's value than a career bottom-six player that has never eclipsed 30 points.
Foegele is a decent bottom-six player, but he is also much more replicable than the two RFAs, and unlike them, it is extremely unlikely that he will have a sudden breakout that will make the Oilers regret dealing him.
Is there a right decision to be made?
Despite this solution being available to the Oilers, it doesn't appear that they will go this route, instead electing to deal with Puljujarvi and hope that the addition of Dylan Holloway and a potentially cheaper free agent addition like Sonny Milano or Evan Rodrigues will be enough to pick up the slack. While I do like those players, I can't help but worry that the Oilers could be dealing a player poised for a huge breakout season.
One thing is for certain, the Oilers are not done, and it will be an interesting offseason still ahead for a team that is searching to take that next step toward a Stanley Cup.
The boys are back after a long break but have plenty to talk about as the playoffs are in full swing. We go series by series, looking at how teams have fared so far and who will come out on top. Thanks for listening! Please rate and review our show on your favorite listening platform. Check out our partner's website at www.insidetherink.com for all your latest hockey news.