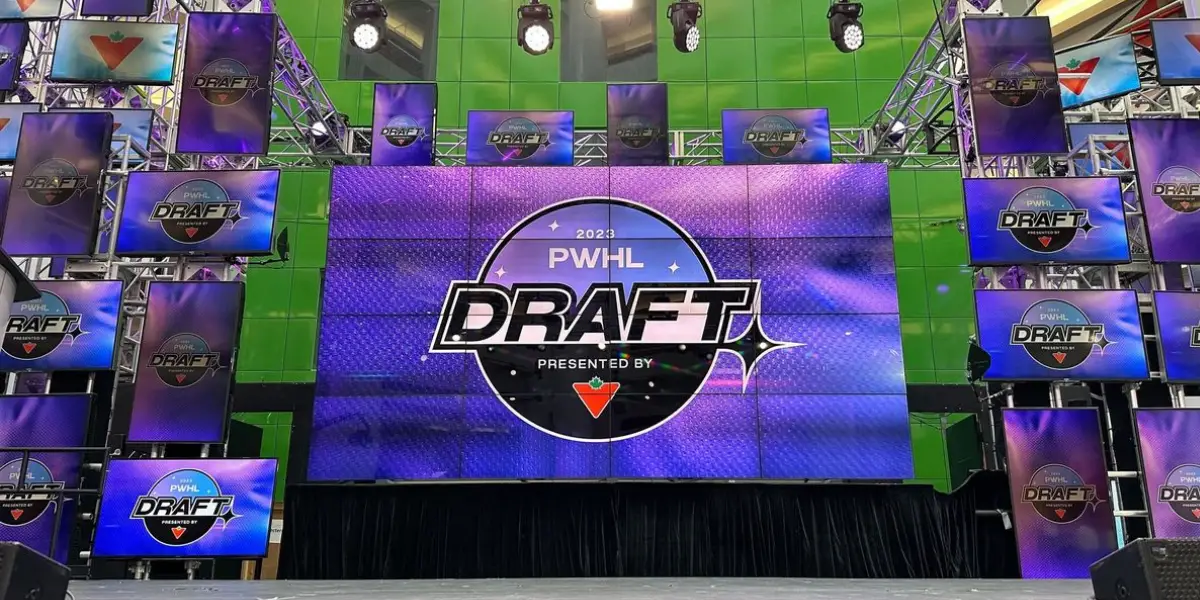 An exciting day in women's sports, The Professional Women's Hockey League (PWHL) hosted its inaugural draft today at the Canadian Broadcasting Corporation's headquarters in Toronto, Ontario. The draft consists of the six teams affiliated with the league: Toronto, Ottawa, Montreal, New York, Boston, and Minnesota. The draft order, determined by the draft lottery on September 1, is as follows: Minnesota, Toronto, Boston, New York, Ottawa, and Montreal.
Minnesota – Taylor Heise
Minnesota, who won the draft lottery on September 1, selected highly anticipated forward Taylor Heise from the University of Minnesota with the first overall pick. Heise, the 23-year-old Minnesota native, played five years with the Golden Gophers, winning the Patty Kazmaier Award (Top Colligate Player) in the 2021-22 season and NCAA Offensive Player of the Year in both 2021-22 and 2022-23. As an offensive powerhouse, Heise accumulated 225 points in 172 games in her NCAA career, and—playing alongside Kendall Coyne-Schofield for Minnesota—she will undoubtedly be able to be a top points-producing forward for her club.
Toronto – Jocelyne Larocque
Toronto, with their second overall pick, selected defender Jocelyne Larocque. Larocque is a gritty, dedicated defender whose style of play fits very well with the identity that Toronto is trying to create for their club. After graduating from the University of Minnesota-Duluth in 2011, Larocque began her professional career with the Manitoba Maple Leafs of the Western Women's Hockey League (WWHL) and since then has played for the Canadian Women's Hockey League (CWHL), the Professional Women's Hockey Player's Association (PWHPA), and more. The Manitoba native is one of Canada's most lauded female players, winning two Olympic Gold medals and three World Championship gold medals for her country. The 35-year-old veteran will have incredible knowledge and experience to contribute to Toronto's blue line and bring a steady defensive presence to a highly skilled offensive roster.
Boston – Alina Müller
Next, Boston took the Lengnau, Switzerland Native, Alina Müller from Northeastern University, with the third overall pick. The 25-year-old forward played five years for Northeastern, scoring 60 points (27 goals and 33 assists) in 33 games for the Huskies in the 2022-23 season. She is a five-time Patty Kazmaier Top-10 Finalist and has posted 254 (98 goals and 156 assists) in 159 games in her NCAA career. Müller was the only non-North American player selected in the draft's first three rounds and is only one of four taken in the first five rounds. She will add tremendous value to the forward group in Boston with her speed, poise, and offensive leadership—likely playing alongside superstar Hilary Knight.
New York – Ella Shelton
With their fourth overall selection, New York chose defender Ella Shelton. Shelton played four years at Clarkson University, wearing the captain's "C" in her senior year. The 25-year-old is a remarkable two-way defenseman who is unafraid to get in lanes, block pucks, and make strong defensive plays. Shelton also has a championship pedigree, having won two NCAA Championships with Clarkson in her freshman and sophomore years and winning both an Olympic Gold and two World Championship Gold medals with Team Canada. She understands what it takes to win and is willing to put in the work to make it happen. Shelton will likely be the defensive backbone of this New York team and will bring depth to the blue line that will be invaluable.
Ottawa – Savannah Harmon
With their first-round pick, Ottawa selected defender Savannah Harmon fifth overall. Harmon, who also played for Clarkson during her college years, is a powerful top defender for Ottawa. As a Patty Kazmaier Award finalist in 2017-18 and captain of the Golden Knights, she led the Clarkson to their second NCAA championship in as many years. She's played professionally with the PWHPA for three years, allowing her to evolve even more as a player and a leader both on and off the ice. She's also shined bright on the international stage, having won a Women's World Championship gold, an Olympic silver, and two World Championship silver medals. Harmon is a born leader, and as Ottawa's number-one defenseman, she will thrive, leading her fellow defenders in work ethic, consistency, and commitment.
Montreal – Erin Ambrose
Finally, Montreal selected defender Erin Ambrose as the final selection of the first round of the inaugural PWHL draft. Ambrose, another Clarkson University defender, won an NCAA championship with the Golden Knights in 2013-14 and was nominated for the Patty Kazmaier Award that same year. The 29-year-old has won Women's World Championship gold (2x), silver and bronze medals, and an Olympic gold medal with Team Canada. Ambrose is a highly skilled two-way defender who will be extremely effective for Montreal. Playing alongside forwards Marie-Philip Poulin and Laura Stacey, Ambrose will once again be able to find her roots in her playmaking.
This first round is full of incredible talent; each player has much to contribute to their respective clubs. It will be interesting to see how the season unfolds, how different rosters shake out, and what the teams look like by the beginning of the season. However, no matter what, with the best women's players in the world playing alongside and against each other, it's sure to be a thrilling ride. It's an exciting new era for women in sports, and the PWHL is just the beginning.