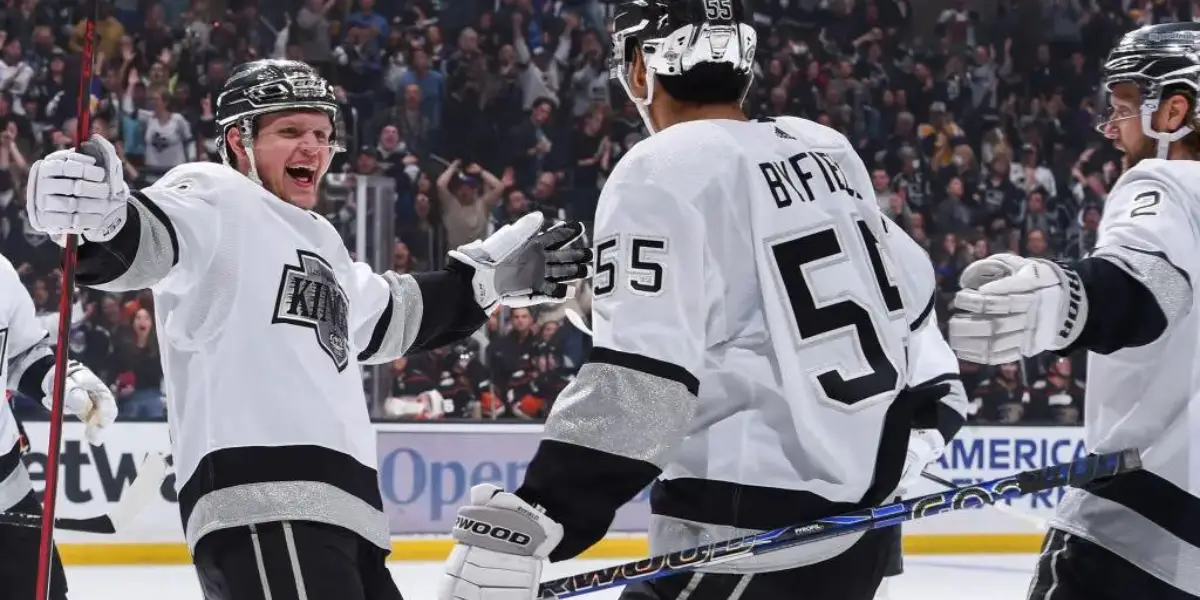 Two players to note: Adrian Kempe and Gabriel Vilardi.
These are the only two prospects in the LA Kings pipeline that broke out in the last decade. They played to their draft pedigree, and arguably with Kempe, above their draft position. The history of first-round draft picks within the organization getting injured or not playing to their level of pedigree is well documented. As I previously wrote, the organization's remaining first-round picks are Alex Turcotte, Tobias Bjornfot, Quinton Byfield, and Brandt Clarke.
Arthur Kaliyev, taken 33rd overall, was a sleeper pick in his draft year (ranked as high as 13th overall) and should be added to this list. Out of the list here, two players emerge with the potential to act as catalysts for the team's success this year and break out the potential for the rest of their NHL careers.
Quinton Byfield
"All signs point to Quinton Byfield developing into the player that the Kings organization thought he would. There's your easy, succinct answer, yes. Now, in my opinion, he's behind where we thought he would be. He was a unique draft pick, he's a unique prospect. For all the analytics people, go back and find an analytics match for a guy who has Quinton's attributes, his size, his scoring in those leagues, there just aren't any."

Mark Yannetti, Summer 23′
Training Camp in Australia has Quinton Byfield playing exactly where he was in the second half of the 2022-23 season, next to a future Hall of Famer and an elite shooter. Byfield is a tantalizing blend of speed, size, and skill. Players with his skillset take time to prosper. See Tage Thompson. As a second-overall pick in the 2020 draft, Byfield has come under scrutiny for not performing up to the standards of a top-three selection. Being picked above Tim Stützle adds another element of scrutiny; his production since being thrust into a top-line role for Ottawa has seen his point total soar to an elite level.
While Ottawa was coming off a terrible season, much like the Kings in 2019/2020, Stützle was put into a top-line role as soon as he stepped into the NHL. Unlike Byfield, he has yet to register an NHL playoff point.
Byfield finally saw top-line action last year, and outside of his poor shooting percentage, his overall metrics were excellent. He enters the opportunity in 2023-24 to grow on his game from last year, with an excellent opportunity for a true breakout season. What we have learned from last year from Byfield is that playing next to two players of elite caliber, he focused on his forecheck work, and he developed as a support role, pass-first player, reflected by his three-goal total.
His goal total also reflects an abysmal shooting percentage last season (4.1%). He only took 74 shots in 53 games last year, close to 1.4 shots a game. Byfield needs to take more shots on goal this year to see his production rise. If he can get his shooting percentage to follow the median grade NHL shooting percentage level, his point totals should increase dramatically. The capacity for greatness of the Kings' top line, with Byfield's size and tenacity with the puck, added with Kopitar's 2way steadfastness and Kempe's shot, could end up being one of the best top lines in the league.
Arthur Kaliyev
Arthur Kaliyev has spent most of his NHL time playing in the bottom six and putting up respectable points. He has been elevated at times to the top six but has not stayed very long. His defensive zone presence has lacked enough that McLellan has not given him the leeway to remain in the top six for good. He's primarily been a powerplay specialist. Twelve of his 28 points came off the powerplay last season, which he found the back of the net on the powerplay eight times out of his 13 total goals total.
Kaliyev, unlike Byfield, has been in the league for a more extended period. He beat his point totals from his prior year, playing in 24 fewer games and averaging less ice time than the previous year. He has been a fixture on the second powerplay unit, primarily due to his incredible shot.
He's in a situation that he hasn't been in before. The Kings sent off an entire line, a trio of players in the Pierre Luc Dubois trade. He now has the opportunity to play more regularly in the top nine, with the Kings' top nine possibly splitting time more evenly this upcoming season with the acquisition of Dubois. Early training camp rotations have Kaliyev on a line with Dubois and Fiala. Thus creating an incredible opportunity for Kaliyev for this upcoming season.
"I think Arthur Kaliyev can be an impactful NHL player and not only can be, but we need him to be. It's our job as a coaching staff to get him there, the development team, everybody else to get him there. We'll do everything in our power to get him there, we need him there. The other side of the coin is his participation and I think he is very open to that."

Todd McLellan, exit interview.
Having the three-headed beast down the middle of Kopitar, Dubois, and Danault will make a nightmare of matchups, opening up an opportunity for guys like Dubois and Fiala to go to work. Adding an element of pure shooting to that duo could pay its dividends. Fiala, however, isn't highly coveted for his defense, so the combination of Fiala and Kaliyev on the same line could act as a double-edged sword.
Moving Forward
Kaliyev and Byfield act as the surviving group of high-end prospects the Kings will lean on. You can throw Brandt Clarke into that mix, but Byfield and Kaliyev have survived the waves of talent-ready moves Rob Blake has dished out the last two seasons. Both will be given ample opportunity to build on their games and act as x-factors on separate lines, devastatingly affecting other teams if all goes according to plan.