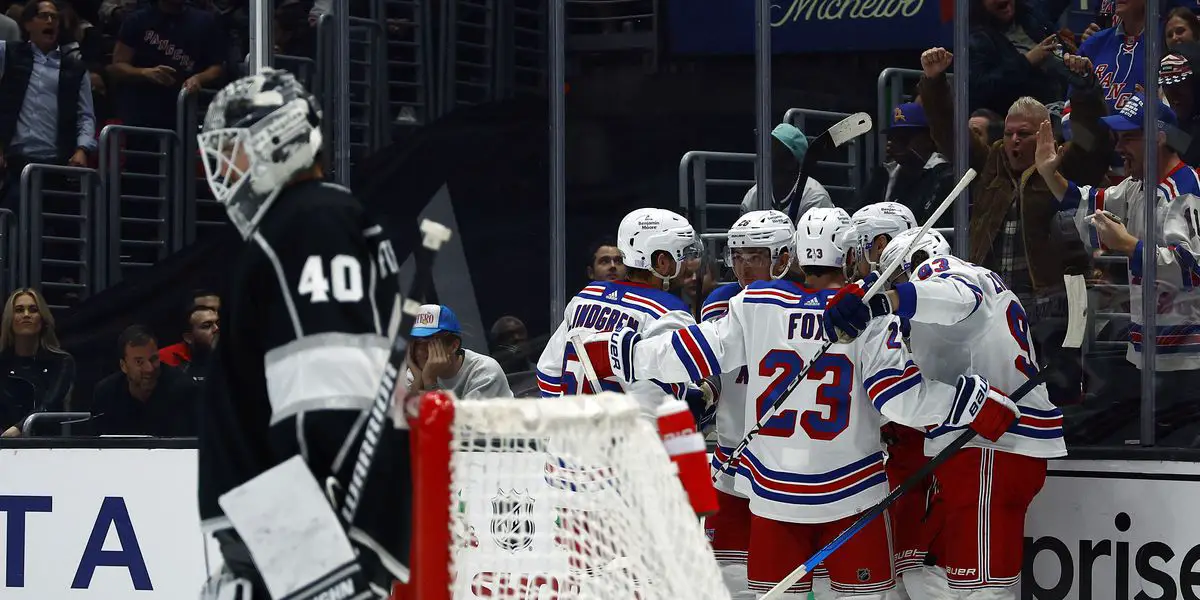 I was going to title this WHILE YOU WERE SLEEPING, but I don't think a Sandra Bullock rom-com would accurately describe what occurred in last night's comeback 5-3 victory over the LA KINGS. 
No one would blame you as a fan if you decided to turn off the TV and crash for the night. The NY Rangers probably played one of their worst, if not worst, periods of the season last night in the opening 20 minutes. That is saying a lot because we've had some clunkers. 
It wasn't just that the Kings scored 35 seconds in or that later, our PK let a player sit unbothered right at the doorstep for a comfortable 2-0 lead. It was that we looked slow and disinterested. Outskated and out-everything'd by a Kings team that gave me flashbacks to 2014. Only a very solid-throughout Igor kept things from falling into an abyss. 
Apathy and frustration were seeping their way into my psyche and that of even the most optimistic Rangers fan. It's one thing to lose, but the way it was happening was unacceptable. 
Now I don't know what happened in that first intermission. Whether it was pride, Gallant ripping into the team, or some really strong coffee, something lit a fire within.  
The Rangers came out flying from the jump in the 2nd period, swarming and putting pucks on net with sustained offensive pressure. It was a complete 180, albeit with the caveat that we still were unable to solve Peterson and finish. (A season-long issue so far). 
Thankfully, Braden Schneider ripped a long shot from the blue line that had eyes and snuck past Cal into the net. It woke me up and seemed to buoy the team too. Suddenly, it was 2-1, and you could sense a seismic shift in the tone of the game. 
We didn't relent, either. Even as the Kings settled in a bit, we were the complete antithesis of the slogging team we saw in the 1st period. So much so that we were rewarded with a lucky bounce that we have been on the other end of so many times this season. 
Trocheck (active all game) drove the net hard, and his "shot" went off Doughty's stick and fluttered wonderfully over Peterson's head into the net. 2-2, and the team was feeling it.  
At that point, while I was thrilled we knotted the game, I was wary of the ebbs and flows of a game's identity from period to period. Just as we came back from the dead in the 2nd, there was no guarantee we wouldn't revert to zombies in the 3rd.  
It's why I felt it was imperative we get another while we were humming, and thankfully a delayed penalty provided that chance. The Rangers aren't exactly killers at 6×5, but they found that instinct late in the 2nd. Constant cycling and possession led to Kaapo Kakko being in the right spot in front of the net to sweep in the puck and give us a much-deserved 3-2 lead. Any production for Kakko is needed for his confidence, and it was great to see him rewarded for his effort. Unfortunately, his bad puck luck wasn't yet eradicated. 
We looked pretty good in the 3rd, but it ultimately led to a sequence that could have defined the game if we didn't show resilience. 
We were swarming, and Kakko took possession of the puck deep in the zone. Circling like a shark (not the David Quinn kind) around the net, waiting for a moment. We've seen him be adept at this aspect but, unfortunately, not sealing the deal. (Yes, I just inadvertently used sharks and seals in the same paragraph. I'm the worst). 
Peterson dove for an unreal save after Kakko waited a tad too long to fire. It resulted in the puck going the other way and the Kings tying the score at 3.  
This deflating turnaround could easily break a team on the road. A trait that the Rangers last year didn't succumb to. Thankfully we answered quickly. Mika made a long pass off the boards to a streaking Kreider, who outraced his man to the puck and fired a goal from a sharp angle. A huge game-winning goal less than a minute later. It put the bounce back in our skates and ultimately took the air back out of whatever the heck the Kings are calling their arena now. 
After that, we had our chances but mostly played a brilliant game. We intercepted passes or disrupted their rhythm every time LA tried to enter the zone or set up. It just seemed they weren't even going to get a chance to score well before Vesey made an excellent play to set up Kreider for the easy empty-net tap-in for the 5-3 triumph. That includes one of the finest defensive efforts you'll ever see in the last two minutes with the Kings net empty.  
Whew! As I said. Everything and everywhere all at once. Look, as a Rangers fan, we're used to riding the roller coaster that is this team. However, it still baffles me a bit about the stark swings of the pendulum they can provide from period to period. It almost appears that they forget how to play hockey. Sometimes completely, but most of the time, a departure from the style they know can make them successful.  
Last night's game was just another microcosm of that. I'm hoping for a more consistent effort going forward, starting tonight in Anaheim. 
These games make for better drama, but save that for Hope Floats and Gravity. (Editor's note: We've asked our new writer to tone down the Sandra Bullock references. Please bear with us). 
I want this team to come out from the start with sound fundamentals and structured play. Only then will we start to see games where we can go to sleep early, not from disgust, but because we're in control and victory is imminent. I believe we have that team. We're just still waiting for it to emerge.  
In this week's episode we have on Jeff Beukeboom, we go through his time in Edmonton, Rangers 1994 and more Apologies for the buggy audio, tried to fix it best I could.Thanks for listening! Please rate and review our show on your favorite listening platform. Check out our partner's website at www.insidetherink.com for all your latest hockey news.