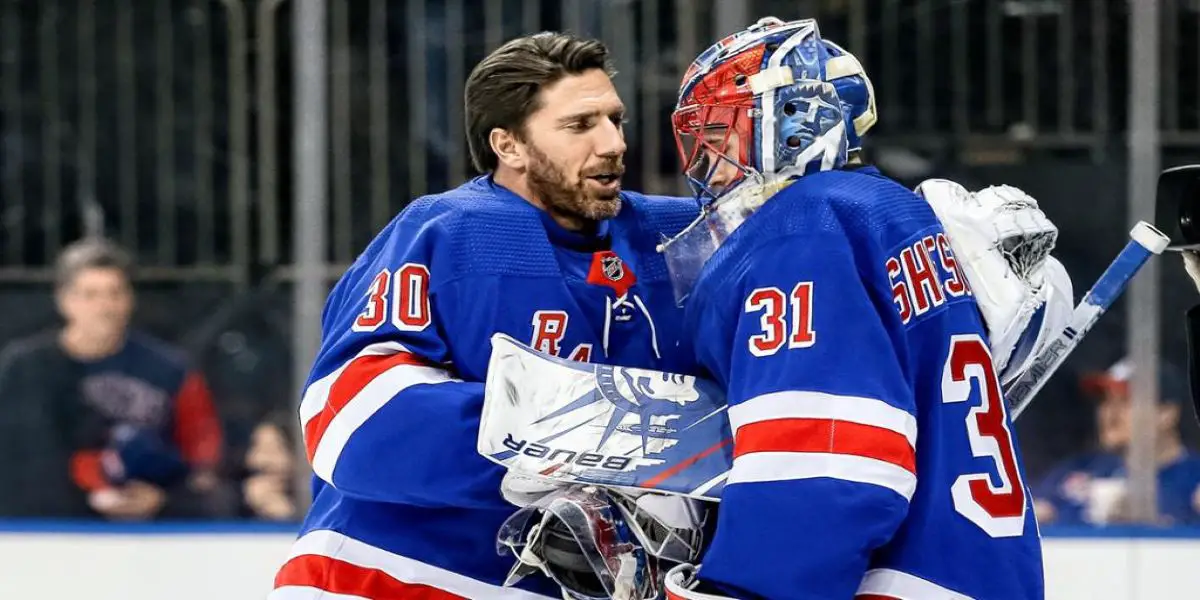 I feel dirty even suggesting it, but hear me out. Hank's banner was just raised a few months ago, but his successor is already poised to do things he never accomplished. In just his first full season as the starting goalie on Broadway, Igor Shesterkin has put together one of the best seasons of any goaltender in the past 50 years. His numbers during the regular season were in the same ballpark as Dominik Hasek, Tim Thomas, Jacques Plante, and Carey Price.
Trophies and statistics aren't everything when retrospectively evaluating a player's career, but Igor could surpass and match Henrik in a few significant categories shortly. Igor will have matched "The King's" Vezina Trophy count by the end of the month. He could also take home some hardware that Henrik never really came close to, the Hart Trophy, and the other shiny silver thing that shall not be named. While many of Lundqvist's seasons were MVP caliber, he only came as close as 3rd in voting for the Hart in 2012. Perhaps that doesn't matter since the voters of that award tend to go offensive, but it would still be significant if Igor won it.
Both Lundqvist and Shesterkin began their reigns between the pipes at Madison Square Garden in similar fashions. They were relied upon very early in their careers to carry an entire team through long stretches and inconsistent defensive lapses. But the lack of superior offensive talent on the team for the duration of Henrik's career is partially what prompted the infamous letter in 2018. The Rangers realized that they didn't capitalize on the prime of one of the best goaltenders in the era and that something needed to change for them to get over the hump with the next group. Igor has Henrik to thank for the collective offensive talent in front of him. I would have loved to see this top 6 in front of Henrik during his prime.
Igor's club faces the biggest challenge in their young careers, the Tampa Bay Lightning. They're not only the two-time defending Stanley Cup Champions, but they've won 10 consecutive playoff series. If that's not enough of a challenge, they're also facing the best goalie in the world in Andrei Vasilevskiy, who's only given up one goal in the previous seven series-clinching games. It's an uphill climb, but if the Rangers win just five more games, Shesterkin will have gone as far as Lundqvist did in a single postseason, matching his 2014 Cup Final loss. That alone doesn't make him better than Lundqvist, but the season as a whole he put together would arguably be better than any Lundqvist put together during his Hall of Fame career.
Talking poorly of Henrik Lundqvist is fighting words in Rangers town, and that's not what I'm trying to do. I'm simply pointing out how great Igor has been in such a short turnaround. When a young player replaces a franchise legend, you just hope they're good, not excellent. Igor has been great and is approaching that next stratosphere that very few human beings ever reach.
Part of Hank's greatness was his consistency year in and year out over 15 seasons. He was an absolute workhorse playing at least 70 games in four consecutive seasons and reaching 60 games in 5 others. Igor has much more work to do to supplant Lundqvist as the Ranger's best goalie of All-Time, but he's off to a great start.
In this week's episode we discuss the new rumors regarding the Rangers coaching situation. Then go on to the fun stuff discussing the impact Tkachuck's play will make on the game, Rangers players and more. Thanks for listening! Please rate and review our show on your favorite listening platform. Check out our partner's website at www.insidetherink.com for all your latest hockey news.