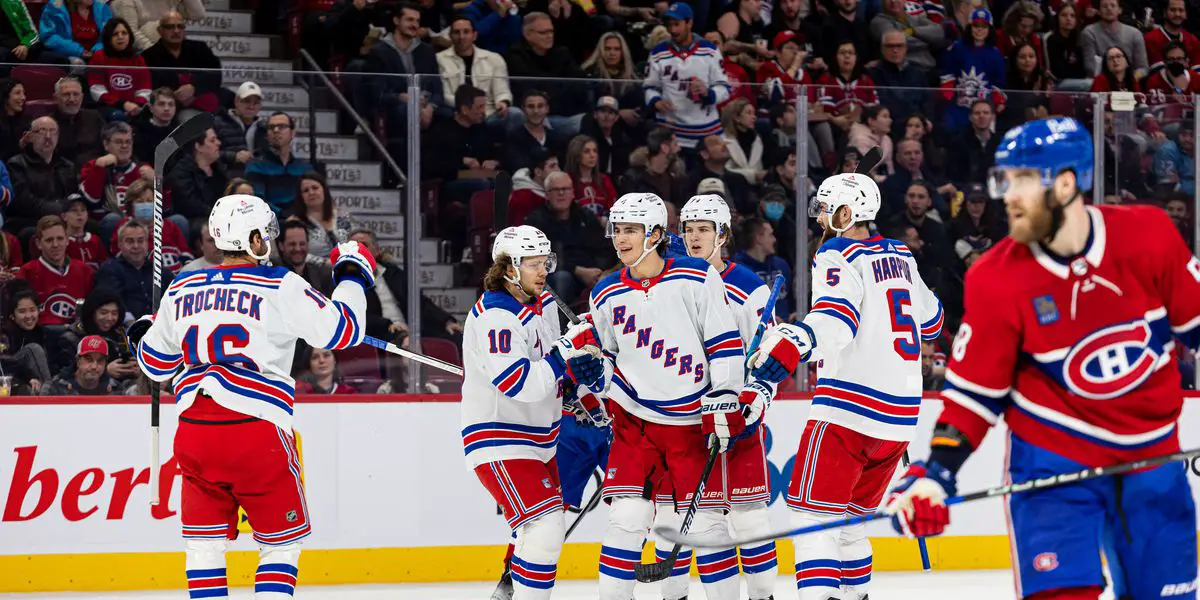 The calendar turning has been a blessing for the NY Rangers as they win their 3rd straight game of the new year with a workman-like 4-1 victory over the slumping Montreal Canadiens. Unfortunately, the game wasn't the most entertaining of sorts but let's break it down as best we can.
THAT'S GOOD!
CK AND THE PK
Since this new coaching staff came on board last year, not only has the penalty kill become an effective shutdown unit, but it has also become a dangerous offensive threat in its own right.
Perhaps a direct correlation to that was the wise decision to put Chris Kreider on as a penalty killer. A killer is right! Last night, he secured his 2nd shorthanded goal of the season, which broke the Rangers out of their offensive doldrums of the first half of the game for a 1-0 lead. It was Kreider's sixth shorthanded goal of the last season and a half (three last year in the regular season and one in the postseason).
His speed and high hockey IQ are tremendous assets in this capacity. In addition, many have thought a wonderful byproduct (and I believe it to be true) is that it keeps Kreider mentally engaged throughout the game, which could be a factor in his burst in offensive production these last two seasons.
Either way, it's become a not-so-secret weapon in the Rangers' arsenal, and it proved very integral last night.
FILIP CHYTIL
No one really had a breakout game last night, as a good portion of the contest was pretty generic. However, one significant aspect was that Chytil kept his scoring touch going.
Just one game after being somewhat demoted for lackadaisical play (although Gallant mentioned Chytil had been sick, which could have factored in), Chytil was right back at it with two goals. That makes three goals in two games for Filip. While two are of the empty net variety, it's still a nice change of pace for a player who has spent most of his career battling the demon of being able to finish. Now finally, his stat sheet reflects his level of skill. It's wonderful to see and a welcome development for this team.
THAT'S BAD!
LET'S NITPICK
We won't go too crazy here. This game was nothing to write home about and should be forgotten as soon as you finish reading this; however, there was nothing too egregious.
Yes, the Rangers slept walk through the first period, but partially it was just because of the shutdown nature of the play. They held Montreal without a shot until there were 4 minutes left in the period.
My only qualm would be that the Rangers still tend to play down to the level of the competition and only win these games because, eventually, their talent overcomes that. I still want to see a little more killer instinct, but I won't hold my breath. As Rangers fans all know, even the most successful versions of our team always like to keep us on our toes as much as possible.
CAN I GO NOW?
Jaro Halak could have taken a nap for most of the first, as he didn't have to make a save until the end of the period. Still, even though he only faced eighteen shots, a few of them were of the high-danger variety, so he was very steady when he needed to be.
Ryan Lindgren took a crosschecking/boarding penalty at the end of the game. He looked to be in distress on the bench. I know, I know, "what else is new?" The guy is a machine but still hoping there are no surprise updates on his condition because he has quietly been one of our best defensemen this year.
Congrats to Igor Shesterkin on being nominated to the All-Star Game. This year has a funky voting process, and I probably would have nominated Adam Fox, but so be it. Well deserved.
Braden Schneider continues to impress.
I don't know if this happens with other teams, but once they kept mentioning how long it had been since Armia had scored a goal, it was apparent he was going to get one. The Rangers love curing whatever ails other players for some reason.
The drama ramps up significantly as the Rangers face the struggling NJ Devils on the road in a Saturday matinee. The Devils' style still has the ability to give the Rangers fits, so this should be another solid test for our club.
In this week's episode we discuss the new rumors regarding the Rangers coaching situation. Then go on to the fun stuff discussing the impact Tkachuck's play will make on the game, Rangers players and more. Thanks for listening! Please rate and review our show on your favorite listening platform. Check out our partner's website at www.insidetherink.com for all your latest hockey news.