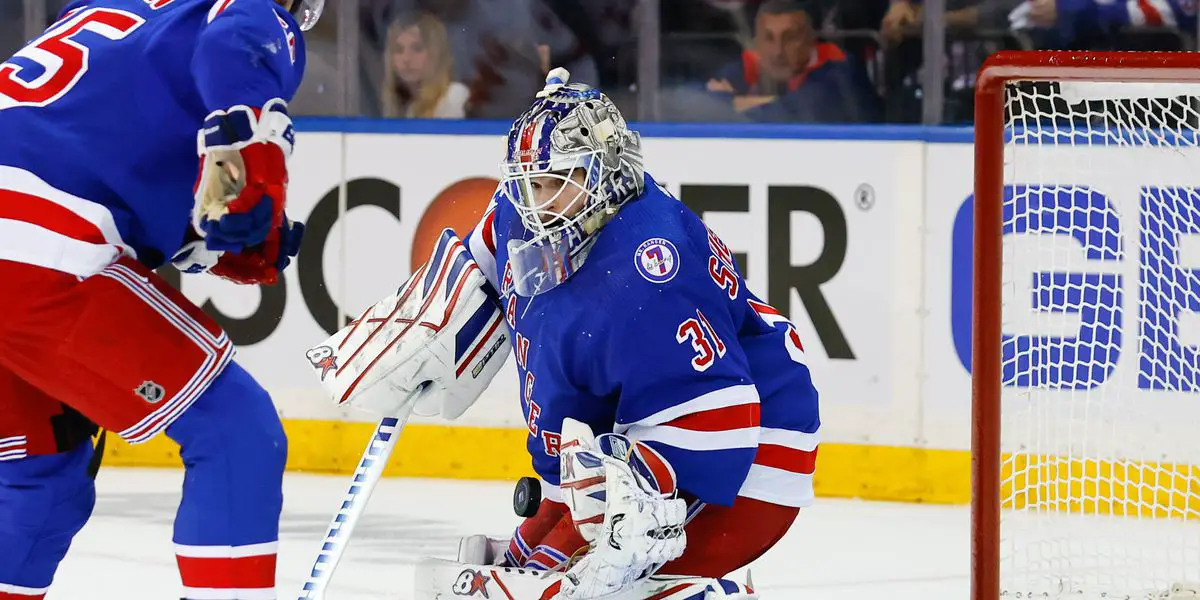 In last year's Stanley Cup playoffs, it took New York Rangers goaltender Igor Shesterkin about five games to find his form.
After making over 70 saves in Game 1 against the Pittsburgh Penguins in the first round last year, Shesterkin, 27, struggled in Games 2, 3, and 4 and put the Rangers behind the eight ball. He also did not play his best in Game 5, but the team's offense came up big and ended up making it a 3-2 series.
After Game 5, Shesterkin was absolutely terrific in getting the Blueshirts to within two wins of reaching the Stanley Cup Final for the first time since 2014. He finished the postseason 10-9 with a 2.59 goals-against average and a .929 save percentage.
It appears that Shesterkin took his playoff form from last year into this year's postseason. I know it is only one game, but Shesterkin was stellar in stopping 27 of 28 shots in his team's 5-1 victory over the New Jersey Devils in Game 1 on Tuesday night, April 18th.
While the Blueshirts did a great job of limiting rebound opportunities, there are a few reasons why Shesterkin's performance in Game 1 was impressive. For starters, he kept his game simple.
Shesterkin played within himself. He focused on stopping the first shot, putting himself in a good position on those first shots, and doing his best to put rebounds into the corners.
As always, he also did a great job of handling the puck. When he can start plays out of the zone with a stretched pass or make a safe play off the boards, it takes the pressure off of the defensemen and enables them to get up and into the play.
Shesterkin also did a great job of challenging shooters. On two separate occasions, he came out to the top of his crease to take away the net and make a save either with his glove or by swallowing the puck into his paraphernalia.
When Shesterkin is challenging shooters, that means he is playing with confidence. Yes, I understand that he is really flashy with the glove saves that he makes, but if you are his teammate or a fan of the Rangers, it is nice to see your All-Star and Vezina Trophy-winning goaltender playing with some swagger.
Lastly, Shesterkin did a good job of settling things down when things got crazy in his team's zone. The Devils put a ton of pressure on the Rangers in their own zone, and when things looked like they were going to get out of control, Shesterkin was able to make a save and get a stoppage in play.
In the playoffs, goaltenders need to know when to slow the game down for their team, especially if said team is on the road. Devils fans were loud in Game 1, so for Shesterkin to be able to quiet them down with a big save or by covering up the puck really helped out his team.
I know it is still very early on in this series, but if Shesterkin can continue to play this way and get his team to help him out offensively, it could end up being a short series.
In this weeks episode we have on Nick Morgan from Locked on Predators pod to discuss coaches Hynes and Laviolette.Thanks for listening! Please rate and review our show on your favorite listening platform. Check out our partner's website at www.insidetherink.com for all your latest hockey news.