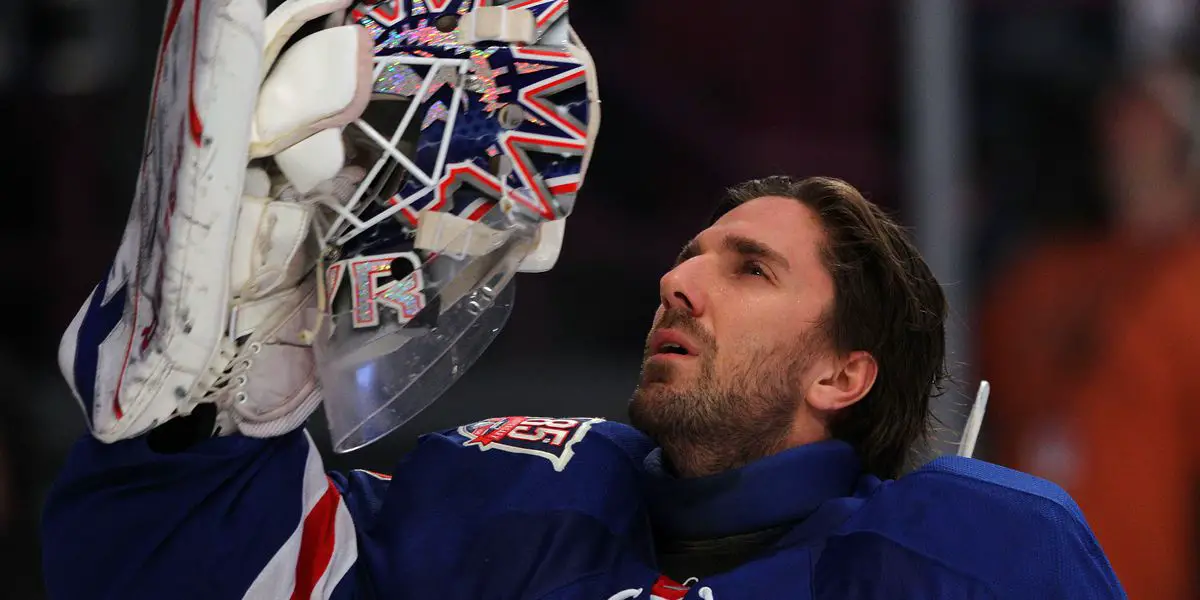 Igor Shesterkin has fortified the crease early in his career in an eerily similar fashion to how Henrik Lundqvist took the league by storm after coming over from Sweden in the mid-2000s. Even the way they always square up to the shooter and move in the crease is strikingly similar, which can be attributed to their legendary goalie coach Benoit Allaire. During the first three seasons of his illustrious career, Lundqvist was a Vezina Trophy finalist, and Igor will win it during his first full, non-COVID season.

However, the parallels are not limited to their success. Lundqvist, known throughout his Hall of Fame career as a prime-time goalie who never shied away from the big moments, struggled in his first playoff series. In the first round of the 2006 playoffs, the New Jersey Devils steamrolled the upstart Rangers' first playoff appearance since the 1997 Conference Finals. Hank gave up six goals in his first-ever postseason start while Rangers surrendered five powerplay goals on thirteen (still want to complain about the referees this year?) of the Devil's attempts in that game one. In those three games, he started, the Rangers scored just three total goals. Henrik finished the series with a Save Percentage of .835 and a Goals Against Average of 4.40. Everyone forgot about those early postseason struggles because The King rebounded and became one of the best clutch goalies of his era with a career Save Percentage of .961 in game sevens. He would finish his career with a playoff GAA of 2.30 and a Save Percentage of .921.

Fast forward 16 years, Marvel movies are a thing; Tiger Woods has had two comebacks from a bottomless abyss, Eli Manning won two Super Bowls, and Tom Brady has won seven. He is still playing at age 45, and Igor Shesterkins's team has similarly let him down in his first postseason appearance. During his first four starts against the Penguins, the Rangers defensively ranked dead last out of the 16 playoff teams in Expected Goals Allowed, Scoring Chances Allowed, Slot Shots Allowed, Slot Passes Allowed, and Rush Chances Allowed.

Despite this horrid Swiss cheese defensive strategy, Shesterkin posted a .951 save percentage through the first two games of the series against the Pittsburgh Penguins. All seemed right until the first period of game 3 in Pittsburgh. During that first 20 minutes, the Penguins bum-rushed the Rangers to a score of 4-1. Shesterkin gave up four goals on 15 shots and was replaced by Alexandar Georgiev for the remaining 40 minutes of play. Two powerplay goals, a bizarre deflection from behind the net, and a terrible turnover inside the blueline would lead to Igor getting pulled in game 3. Game 4 was similarly shaky for the Vezina and Hart Trophy finalist. Shesterkin would probably be the first to admit he didn't play well in his three periods of accumulated play between games 3 and 4, but all ten goals he surrendered shouldn't be rested on his shoulders. The defense was non-existent for large portions of his 60 minutes on ice. The number of inexcusable penalties, turnovers, and defensive zone lapses is unacceptable this time of year if you have any hopes of advancing, regardless of who is in the net.

Like the Lundqvist era, the Rangers still rely heavily on their netminder to win the series. With the return of Ryan Lindgren in game 5, the Ranger's defense was fortified a little. The high-quality scoring chances were still there, but the volume was decreased. While this hasn't been a picture-perfect playoff for Igor, he still has the Rangers in a position to advance should they win the next two games. If the Rangers could suppress some of the high-scoring chances they've given away like candy on Halloween this series, Igor will give them a chance and possibly make everyone forget about his struggles in games 3 and 4.
In this weeks episode we have on Nick Morgan from Locked on Predators pod to discuss coaches Hynes and Laviolette.Thanks for listening! Please rate and review our show on your favorite listening platform. Check out our partner's website at www.insidetherink.com for all your latest hockey news.