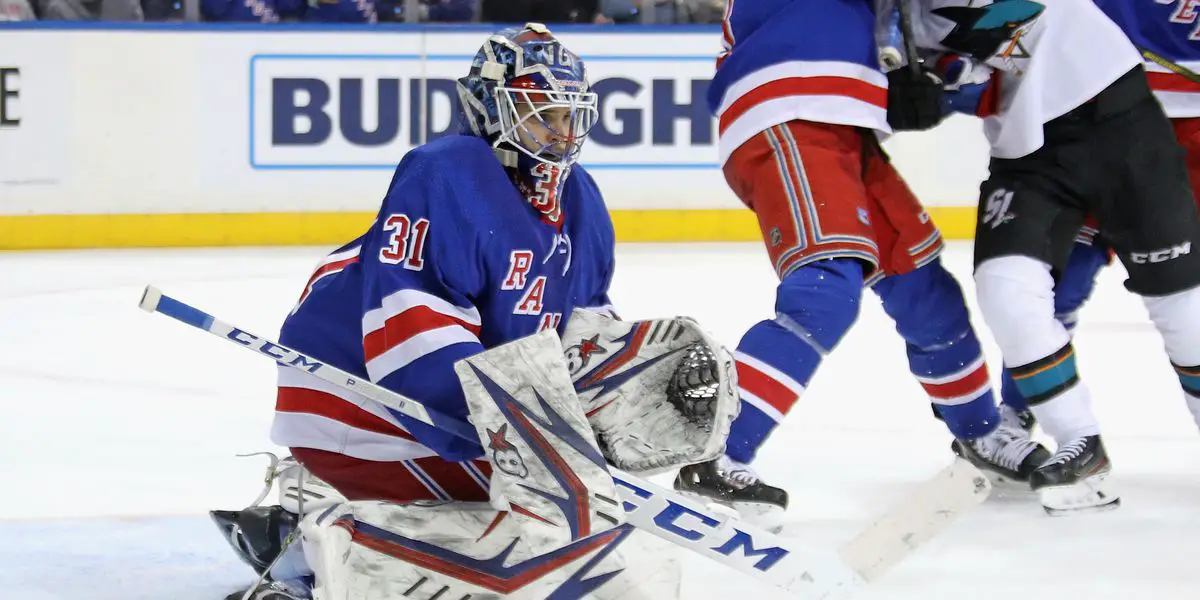 The New York Rangers have come out of their rebuild and built a playoff contender. They went out and drafted the right players, developed them the right way, and spent the necessary money on top free agents to get them to where they are today. It was a complete overhaul, and it was done flawlessly.
One highlight of this rebuild was the emergence and claim to the throne of Igor Shesterkin. After Henrik Lundqvist moved on from his historic career and tenure with the Rangers, it was on Shesterkin to fill the hole. Alexandar Georgiev was there to bridge the two elite goaltenders, and his role was also important.
But, once Shesterkin took to the Garden ice, all Rangers fans knew they got themselves another generational type goaltender. This season was the cherry on top, as he was nominated for two big awards. The Vezina Trophy is for the best goaltender, and the Hart Trophy is for the MVP of the NHL.
Here are three reasons why he will secure the Vezina Trophy.
Dominance In Goal
The 2021-22 season was magical for Shesterkin. He was electrifying in the net, and there was no better goaltender. He joins the Vezina nominees of Juuse Saros of Nashville and Jacob Markstrom of Calgary.
Shesterkin held a 36-13-4 record and led the NHL in both Save Percentage and Goals Against Average with .935 and 2.07, respectively. Compared to the other nominees, Saros and Markstrom only had the edge on Shesterkin in starts. Each had more wins than Shesterkin, and Markstrom had nine shutouts to Shesterkin's six. But, despite having more in those few categories, the dominance of Shesterkin in goal is unmatched.
Impact On Team
If not for Shesterkin, the Rangers would not be anywhere near the type of team they are now. Not to doubt Georgiev's ability, but I firmly do not believe that he would have been able to match the performance that Shesterkin gave this season.
This season, the Rangers MVP is undoubtedly Shesterkin, even with a 52-goal scorer in Chris Kreider and a 96-point performance from Artemi Panarin. With #31 in net, the Rangers did not have to worry about playing a conservative game and could really focus on the offensive end of the ice. With 204 goals allowed as a team, the Rangers only trailed the Carolina Hurricanes by 200 in goals allowed this season. Much of that is thanks to their number one goaltender.
Over the past three seasons, the Rangers have been actively trying to find their new identity. After having Lundqvist as their centerpiece for 15 seasons, searching for their goaltender to claim the throne was scary. But, the hype surrounding Shesterkin in the KHL started to build, and once he finally made it here to New York, the impact was made. The Rangers have found their new "King," and he has filled the role in such a short amount of time. The entire Rangers fanbase's faith and hope rest on his shoulders, and he carried it to a second-round playoff appearance this season.
Playoff Performance
The post-season isn't usually considered for the end-of-year trophy awards, but I want to include it here because it shows how much Shesterkin means to this team. He has been the heart and soul of this organization through the first 82 games of the season and again for the last 10 of this post-season.
The Rangers are currently in round 2 of the Stanley Cup playoffs. Shesterkin has faced the Pittsburgh Penguins and Carolina Hurricanes, and this is, for all intents and purposes, his first playoff experience. He had one start against Carolina in the Bubble Playoffs of 2020 and lost.
This post-season, he had to face the music on the road. In the first round against Pittsburgh, he was lit up in front of a pretty hostile crowd. He was rattled, allowing ten goals in just 60 minutes of play through games 3 and 4. But, after winning game five at home, he settled down and put on a masterful performance in game 6 in Pittsburgh. He absorbed the "I-GOR" heckling chants and played his own game. This was crucial as the Rangers won in game 7,
Overall, he has a 6-4 record in these playoffs. He has allowed 2.77 goals per game and has a save percentage of .925.
In this weeks episode we have on Nick Morgan from Locked on Predators pod to discuss coaches Hynes and Laviolette.Thanks for listening! Please rate and review our show on your favorite listening platform. Check out our partner's website at www.insidetherink.com for all your latest hockey news.