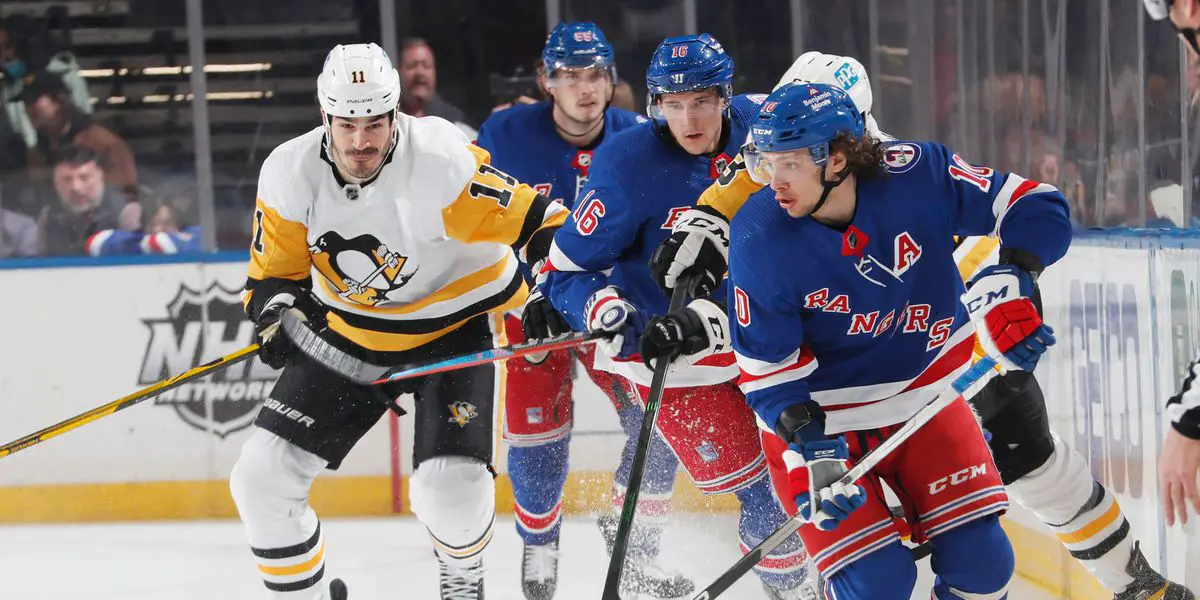 The uphill battle continues for the New York Rangers as they look to even the series at three games apiece tonight in Pittsburgh.
The Past is The Past
Leave it behind them. The Rangers were rocked in both games three and four of this series, which included the pulling of Vezina and Hart Trophy finalist Igor Shesterkin. If the Rangers want to force a game seven back at Madison Square Garden, it all rests on the shoulders of #31. In these playoffs as a whole, Shesterkin has a 2-2 record, with a 3.99 Goals Against Average and .905 save percentage. These are uncharacteristically awful numbers for him, and the reason being is the two games in Pittsburgh.
Shesterkin allowed ten goals on 45 shots in games three and four, and he was rattled from the start. The chants of PPG Paints Arena were loud and obnoxious but did the trick as he couldn't find any sort of rhythm. And, if I were a betting man, I would bet that tonight will feature the loudest "I-GOR" chant of them all. He will have to dig deep and treat this as his "revenge" game and win it, so the Rangers have a chance to close the series out in game seven in front of a home crowd.
It Could Happen
The Rangers certainly have a chance to force a game seven. The cards have seemingly fallen into place, and there is a sense that the Rangers may have stolen back the momentum. In addition, the Penguins are going to be without their franchise center, Sidney Crosby, tonight. Can the Penguins compete without their Captain and number one center?
It could happen, and it could also be the Rangers' chance to turn the tables. Imagine, after being a push-over in the two away contests earlier in the series, that the Rangers come out in full force and look like they did throughout the regular season.
Keys To The Game
There are several keys to tonight's contest. It all starts with Shesterkin settling in and blocking out the noise. And then it comes down to the top-six forwards coming alive. The Kid Line has to be everything they have been and more.
Artemi Panarin is my player to watch in this one. Despite leading the Rangers with six points this offseason, he has looked shaken and rattled at times and not as sharp as he was in the regular season. It could be due to the fact that he is playing in his first playoff round since being with Columbus in 2018-19. Or, it could just be a varying circumstance of Pittsburgh playing against the top-six forwards perfectly. In an elimination game, with all eyes on him and his linemates, I expect Panarin to break out of this shell and really produce.
Finally, it is going to be a challenging game for defenseman Jacob Trouba. He is now slated as the villain in Pittsburgh for his incidental hit on Crosby in the middle frame of game five. That "hit" was the reason for Crosby's absence from tonight's matchup. Any time #8 hits the ice or has control of the puck, he will be targeted by the Pittsburgh crowd as well as some of the opposition's enforcers. Additionally, he was one of the main contributors to winning game five and keeping the series alive with his slick backhand goal during the second-period onslaught.
In this weeks episode we have on Nick Morgan from Locked on Predators pod to discuss coaches Hynes and Laviolette.Thanks for listening! Please rate and review our show on your favorite listening platform. Check out our partner's website at www.insidetherink.com for all your latest hockey news.