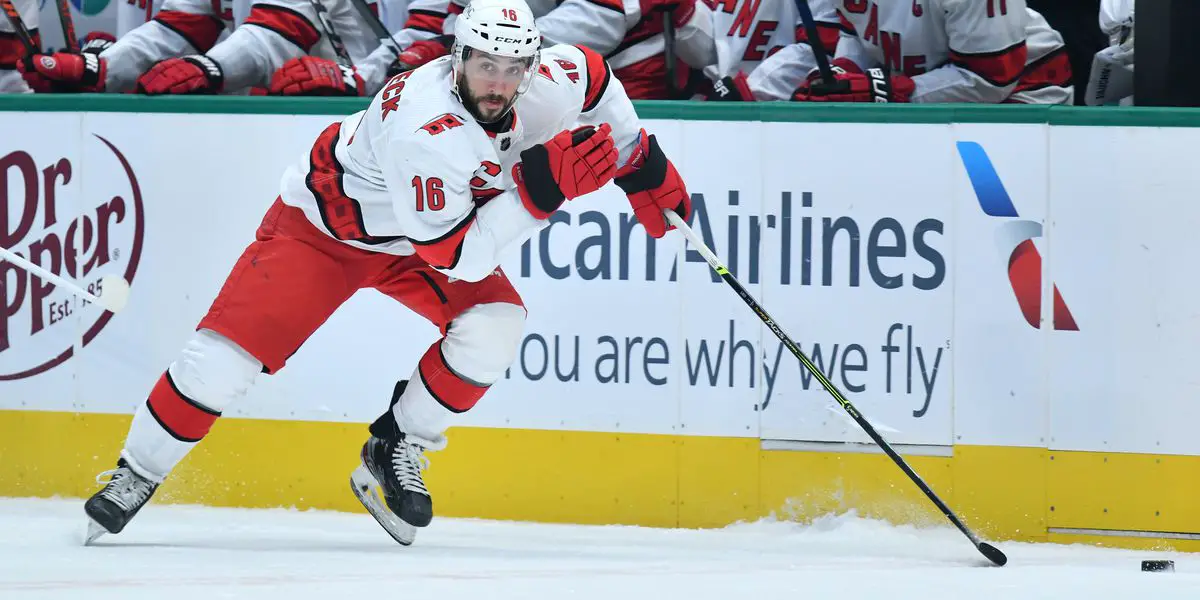 Two definites are surrounding the Detroit Red Wings this offseason. One, Steve Yzerman has set up the Red Wings nicely with the ability to take advantage of the projected fourth-most cap space in the NHL, whether that be taking on bad contracts from cap-strapped teams for draft capital or making a splash in free agency. Two, the Red Wings need to improve in just about every aspect of the game going into next season.
While the Red Wings have the space to sign a big-name free agent such as Filip Forsberg or Johnny Gaudreau, that kind of commitment doesn't exactly lineup up with the teams' likely Stanley Cup window. Last offseason, a team in a similar position to where the Red Wings are currently was the Los Angeles Kings, who made a splash in the offseason without spending big money or giving up high-value draft capital. The Kings addressed a need at top-six depth, signing Philip Danault to a six-year, $5.5 million AAV and trading a second and third-round pick for Viktor Arvidsson. The moves would pay off as the Kings took the Edmonton Oilers to seven games in the first round of the playoffs, a spot not many people would have imagined going into the season.
The Red Wings have the opportunity to add a quality player or two this offseason through free agency while also maintaining flexibility cap-wise. Here are ten potential forwards that the Red Wings could target once NHL Free Agency begins on July 13th.
Left-Wing
Ondrej Palat
31-year-old Ondrej Palat was drafted by the Tampa Bay Lightning as an overager in the seventh round of the 2011 NHL Draft, three picks from being the last player selected. A long shot to even make the NHL, Palat has been a consistent top-six winger for the entirety of his career. In 77 games played this season, Palat had 18 goals and 31 assists and an additional ten points in 14 playoff games, including the game-winner in game three of the Eastern Conference Finals.
Palat is reliable in all three zones of the ice and has been a key member of the Lightning's penalty kill over the years. With plenty of experience in the league and two Stanley Cups under his belt, there's a lot of value in having a player like Palat in a young locker room like Detroit. Steve Yzerman has a history of bringing in players he once managed in Tampa Bay, as Vladislav Namestnikov, Mitchell Stephens, and Adam Erne were all brought into Detroit since he took over for Ken Holland in 2019. Depending on how free agency shakes out, I am curious to see if Palat joins that list.
Valeri Nichushkin
After looking like another top-ten bust for most of his tenure in Dallas, Nichushkin has been able to carve out a nice role in Colorado over the past three seasons. Playing in a bottom-six role in the 2019-20 and 2020-21 seasons, the 27-year-old winger scored 48 points (23 goals and 25 assists) in 120 games, which is good production for a third-line, defensive winger. This past season, Nichushkin finally showed why he was drafted in the top ten of the 2013 NHL Entry Draft.
In 62 games played, Nichushkin scored 25 goals and 27 assists, developing into a top-six scorer who also received Selke Trophy votes. Into the playoffs, Nichushkin has been one of Colorado's most important forwards, scoring two timely goals in game three of the Western Conference Finals versus the Edmonton Oilers.
Nichushkin turned 27 in March and would line up age-wise with a few pieces of Detroit's core (Dylan Larkin and Tyler Bertuzzi). A player of Nichushkin's size (6'4 210), defensive prowess, and speed doesn't exist in Detroit's lineup currently. Nichushkin has only had one season with this kind of production, which will make his contract all that more interesting.
Vladislav Namestnikov
A name all Red Wings fans will be familiar with. Namestnikov played 113 games over the past two seasons with the Detroit Red Wings, and in both of those, we saw two different versions of the now 29-year-old forward. In the 2020-21 season, Namestnikov struggled to find consistency in his game, whether that be offensively or defensively, as he was asked to play a large portion of that season in the top-six and even at center due to injury.
This season, however, Namestnikov seemed to fit right into the Red Wings' style of play in whatever role he was asked to play in. In the first half of the season, Namestnikov was on pace to have his best offensive output in three seasons, scoring nine goals and adding eight assists in 32 games, despite playing in the bottom-six with minimal powerplay opportunity. But as the team trended downward, so did Namestnikov's production. Before he was traded to Dallas at the deadline, Namestnikov had 13 goals and 12 assists in 60 games, only eight more points in 28 games.
Namestnikov isn't a top-six NHL player at this point in his career, but he is a reliable third-line winger who plays with an edge and is effective on the penalty kill. Namestnikov would be an easy fit back in Detroit as he embraced being a Red Wing and was a fan favorite who would come likely at a low-term and low-dollar contract.
Ilya Mikheyev
The Toronto Maple Leafs signed the 27-year-old undrafted winger back in 2019 after helping his KHL club, Avangard Omsk, to the Gagarin Cup Finals. Mikheyev was able to find success in the NHL right away, scoring eight goals and adding fifteen assists in 39 games. After getting his wrist sliced by a skate, his season would be cut short.
This past season, Mikheyev found success in the Maple Leafs' top-six, finishing with 21 goals and 32 points in only 53 games, the highest total of his career. As one of the fastest players in the NHL, Mikheyev is a strong forechecker, causing turnovers leading to more offense for his team. Due to the Maple Leafs' salary cap implications, Mikheyev will likely go unsigned and look for a more significant role with his next team. In their lineup, Detroit could use another penalty-killing, top-six winger with size (6'2 192).
Center
Vincent Trocheck
The soon-to-be 29-year-old center was drafted 64th overall in the 2011 NHL Entry Draft by the Florida Panthers after playing his second season in the OHL for the Saginaw Spirit. After a few lackluster seasons in Florida, Trocheck was traded to the Hurricanes in 2020 and has revived his game. After scoring at a near point-per-game pace during the 2020-21 shortened season, Trocheck followed up with 21 goals and 30 assists this past season in 81 games. While many of the Hurricanes' key players were disappointing in the playoffs as they failed to make it past the second round for a third straight year, Trocheck scored six goals and added four assists, which was third on the team.
With the Hurricanes signing Jesperi Kotkaniemi to an eight-year extension, he will likely get an increased role next season, leaving Trocheck likely as the odd man out. This offseason, the Red Wings have plenty of cap space, and if Trocheck isn't looking for a six or seven-year contract, there could be a natural fit in Detroit. It would also be a homecoming for Trocheck, given he played youth hockey in Detroit and played major junior in Saginaw and Plymouth.
Ryan Strome
Strome is a perfect example of why it is important to have patience with a top-five draft pick. Originally drafted fifth overall in the 2011 NHL Entry Draft by the New York Islanders, Strome initially looked to be on the right path to being a consistent top-six center in the NHL after putting up 50 points in his first full season during 2014-15. But the following two seasons, Strome would struggle, notching 30 or fewer points in each campaign.
The Islanders would trade Strome to a young, up-and-coming Edmonton Oilers team where he would continue to produce at a disappointing rate. Only 18 games into the 2018-19 season, Strome would be traded to the New York Rangers in exchange for another slumping forward in Ryan Spooner. The move would prove to be beneficial for both the Rangers and Strome, who has now developed into a consistent second-line center in the NHL.
Over the past three seasons, Strome has scored over 50 points or has been on pace to do so, which is scoring depth the Red Wings haven't had behind Dylan Larkin over most of his career. Strome is a heady playmaker who is able to play with highly-skilled players such as Artemi Panarin and make them better. A player that comes to mind that Strome could have chemistry with is Jakub Vrana, who is poised for a breakout season. The 28-year-old will likely be looking for a pay raise from his $4.5 million dollar AAV his last contract paid him, and the Red Wings have the space and the need to make a deal work.
Andrew Copp
Linemate of the previously mentioned Strome, Copp was acquired by the Rangers at the NHL trade deadline this season and has been able to find another step in his game down the stretch. The Ann Arbor native played college hockey for his hometown Michigan Wolverines, where he was teammates with Dylan Larkin before turning pro and playing in Winnipeg.
Copp was a bottom-six shutdown specialist who could play all three forward positions for most of his career while also chipping in the occasional goal. In the 2020-21 shortened season, Copp had a breakout, finishing with 15 goals and 24 assists in 55 games, which was a career-high as he finally was getting consistent powerplay time for the first time in his career.
Copp would continue his personal success this season, notching 35 points in 56 games before joining the Rangers, where he would explode offensively. Copp scored eight goals and added ten assists to finish the regular season, playing within a high-octane offensive system in New York. Copp's value has only skyrocketed throughout the postseason. He has been a key reason for the Rangers being in the Eastern Conference Finals and will have a number of potential suitors once July 13th rolls around.
Right Wing
Reilly Smith
Brother of former Red Wing Brendan Smith, Reilly has bounced around in his career but has been a reliable second-line winger in every stop aside from Dallas. Since being traded to the Vegas Golden Knights, Smith has been a key contributor on a Stanly Cup contending roster. The 31-year-old had his season cut short due to injury, playing in only 56 games, scoring 16 goals and 38 points, a 55 point-pace across a full season.
Vegas is facing another offseason of a lack of salary cap flexibility. With Smith coming off a five-year contract that paid him $5 million a season, Smith will likely test the free-agent market. The Red Wings have the cap space and the need for more scoring depth down the lineup, and Smith fits that bill.
Andre Burakovsky
Burakovsky was traded to the Colorado Avalanche one year after winning a Stanley Cup with the Washington Capitals, as he wanted to play a top-six role. A bet on a young player looking for an opportunity paid off for the Colorado Avalanche as Burakovsky has scored 20 or more goals in two out of his three seasons (19 goals in the 2020-21 shortened season).
This past season, Burakovsky had the best season of his career, eclipsing the 60-point mark. While being a key player in the regular season, Burakovsky has been quiet so far in the playoffs, as he has only scored once in ten games and was even a healthy scratch. Burakovsky is streaky but a highly-skilled player who can provide quality secondary scoring to a team that needs goals, such as Detroit. The Avalanche will likely have to let Burakovsky walk to free agency with salary cap implications. With only being 27 years old, he would fit the same age range as a number of players on Detroit's roster.
Rickard Rakell
Drafted 30th overall by the Anaheim Ducks in the 2011 NHL entry draft, Rakell was once viewed as a potential top-line winger in Anaheim after back-to-back 30-plus goal seasons in 2016-17 and 2017-18. The 29-year-old played 51 games with the Ducks this season, scoring 16 goals and adding 12 assists before being traded to the Pittsburgh Penguins at the NHL trade deadline, where he would find another gear in his game. In 19 games with the Penguins, Rakell scored four goals and added nine helpers, playing alongside Evgeni Malkin.
Rakell has been a 40-plus point-pace scorer for most of his career and can complement highly skilled players. The Red Wings only have two right-handed shooting forwards under contract next season, and with an influx of young Swedish talent, adding a veteran Swede who has and can play higher in the lineup may be beneficial for the Red Wings.
The Red Wings are set up perfectly to take advantage of a potentially deep free-agent forward pool and acquire a player who will immediately help their lineup without mortgaging the future. With $36 million in cap space, there will likely be more than the one move made this offseason.
After much speculation, the Red Wings signed Patrick Kane to a one-year contract. We breakdown all the details surrounding the signing, Kan's potential impact and fit, and what this does for the Red Wings moving forward. Later, we look back at the last three games following Sweden and the Red Wings currently sit third in the Atlantic Division through 20 games, with a record of 11-6-3. We highlight the performances of Alex Lyon, Shayne Gostisbehere, Lucas Raymond, and more!