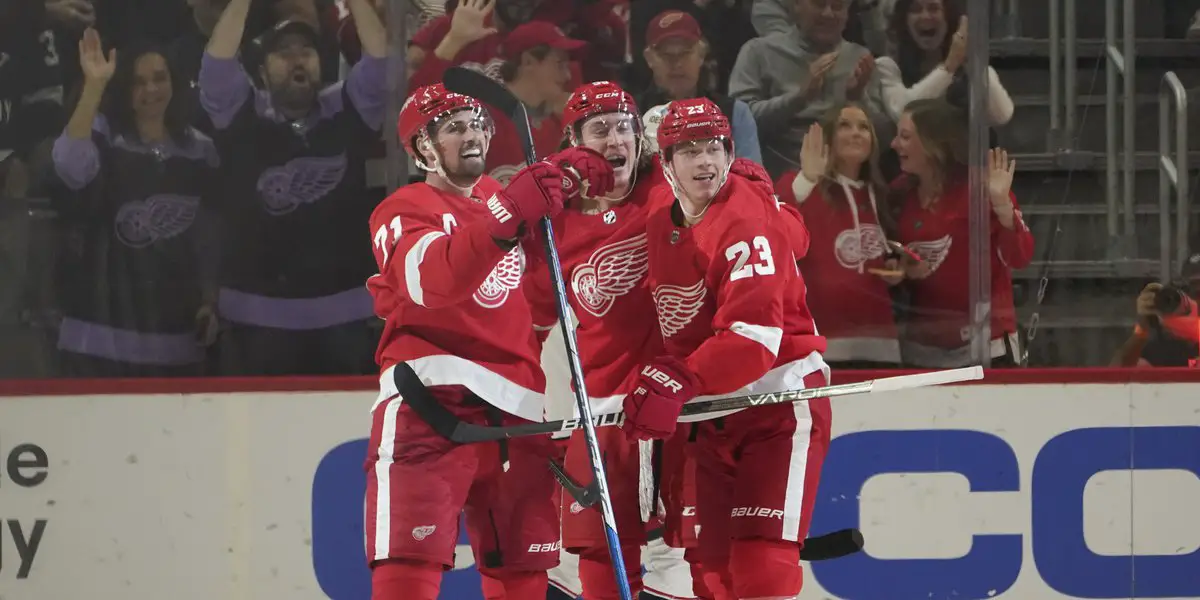 The Detroit Red Wings players are playing for roster spots on next year's team. With only 26 players signed for next season, Detroit's management team, led by General Manager Steve Yzerman, has a lot of work to do this summer. With a .455 winning percentage, the Red Wings are only marginally better than the .429 winning percentage from last year.
Here is an early look at the players the Red Wings have signed for the 2022-2023 season.
Forwards (14)
With 14 forwards signed for next season, this is the area that is likely to be the most similar to this year. The Red Wings have Dylan Larkin, Pius Suter, Joe Veleno, and Michael Rasmussen at center. The Red Wings also have AHL stalwart Kyle Criscuolo under contract for one more season. Mitchell Stephens and Chase Pearson are both RFA's, and it has yet to be determined if either player will be retained for next season.
The Red Wings currently have nine wingers signed for next season. Left-shot wingers include Tyler Bertuzzi, Jakub Vrana, Adam Erne, Robby Fabbri, Givani Smith, Jonatan Berggren, and the recently signed junior player Cross Hanas. Filip Zadina is currently an RFA, and the Red Wings will likely sign him before training camp. Rumors persist that SHL Rookie of the Year finalist Pontus Andreasson will officially sign a free agency entry-level contract with the Red Wings. Apparently, this signing will be announced once Andreasson's SHL season ends later this month.
Right-shot wingers include Oskar Sundqvist and Lucas Raymond.
Defensemen (10)
Although Detroit has ten defensemen under contract for next season, six of these defensemen have never played an NHL game. It will be interesting to see how many of these signed defensemen break camp with the Red Wings on opening night.
Most of the stability on the Red Wings defense is currently on the right side. Moritz Seider, Filip Hronek, and Gustav Lindstrom return and bring with them one extra year of experience. Additionally, Wyatt Newpower and Seth Barton are signed right-shot defensemen currently playing in the AHL who are on NHL deals.
The left-side of the Detroit defense is currently a weak spot at the NHL level. Jordan Oesterle is the only current NHL defenseman currently signed to play on the left side for Detroit. Next year, the Red Wings also have current AHL youngsters Donovan Sebrango and Jared McIsaac under NHL contracts. The Red Wings also have two left-defensemen currently playing in Europe. Albert Johansson and Eemil Viro were signed and loaned to club teams in Sweden and Finland. The Red Wings also have Jake Walman and Olli Juolevi, who will be RFA's this summer. Decisions will have to be made regarding both defensemen before training camp opens.
Goaltenders (2)
Currently, Detroit only has two goaltenders under contract for next season. This is now one of the weak spots in the Detroit organization. The Red Wings have #1 netminder Alex Nedeljkovic back next season. Detroit also has top goaltending prospect Sebastian Cossa signed, and he will likely turn professional and play in the AHL next season.
Unsigned Prospects
There are a number of unsigned prospects that will likely sign and play in the Detroit organization next season. These include top defense prospect Simon Edvinsson and highly touted winger Elmer Soderblom. Defense prospect William Wallinder also showed that he is almost ready to move from the SHL to North America. He will likely play one more season for Rogle before signing with Detroit.
The Red Wings are rumored to be signing goaltender Joren van Pottelberghe to an entry-level contract. He will turn 25 this summer and, after playing five professional seasons in the NL in Switzerland, appears to be ready to make the jump to North America.
Early Lineup Prediction
This is a way too early look at what Detroit's lineup will look like next year. Based on players already under contract, you will notice that several holes will have to be filled through free agency or trades.
Forwards
Tyler Bertuzzi – Dylan Larkin – Lucas Raymond
Robby Fabbri – Pius Suter – Jakub Vrana
Jonatan Berggren – Joe Veleno – Oskar Sundqvist
Givani Smith- Michael Rasmussen – Adam Erne
Defensemen
Jordan Oesterle – Moritz Seider
Albert Johansson – Filip Hronek
Jared McIsaac – Gustav Lindstrom
Goaltenders
Alex Nedeljkovic
Sebastian Cossa
Extras: Kyle Criscuolo, Cross Hanas, Donovan Sebrango, Eemil Viro, Wyatt Newpower, Seth Barton
RFA's: Filip Zadina, Mitchell Stephens, Chase Pearson, Jake Walman, Olli Juolevi
Expected to sign yet remain unsigned: Pontus Andreasson, Simon Edvinsson, Elmer Soderblom, Joren van Pottelberghe, William Wallinder